By Craig Bowles
Overview
Expedia, Inc. (NASDAQ:EXPE) is slated to report 4Q 2013 earnings after the bell on Thursday, February 6. The earnings release is expected at approximately 4:00 p.m. EST followed at 4:30 p.m. with a webcast presentation available through Expedia Investor Relations. This economically sensitive company is one of the top two global online travel agents and could therefore influence direction of the index futures and other broad market gauges.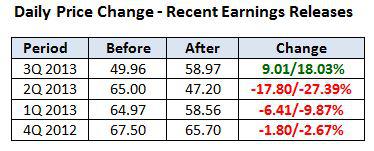 Outliers & Strategy
Key measures:
Adjusted Earnings Per Share: The current Street estimate is $0.86 (range $0.75 to $1.07) (Source: Yahoo! Finance). Estimates were increased by 2c during the last three months and the broad range of analyst estimates reflects their lack of precision in predicting Expedia's previous quarters.
Revenues: Revenues are seen rising 16.7% y/y to $1.14 bln (range $1.10 bln to $1.20 bln).
Expedia shares trade at 63.3x trailing earnings, well above the 5-year average of 30.1x and industry's 32.7.
Expedia shares have a 1-day average price change on earnings of 9.13%. Options are pricing in an implied move of 12.13% off earnings.
Recent News
01/21 FBR Capital reaffirmed Expedia at Outperform with a price target of $85, saying concerns of losing Google search traffic is overdone given the prominence of Expedia owned Hotels.com and estimates the loss of revenue at $4.4 mln, according to a post on StreetInsider.com.
01/21 Susquehanna reiterated a Neutral rating and price target of $74 and said the reaction to losing 25% of its Google search visibility would only impact Expedia 4Q 2013 revenue by -1% as Expedia.com is the only area affected and makes up 50% of total Expedia revenue, according to a post on StreetInsider.com.
01/17 FBR Capital maintained an Outperform rating and raised its price target from $70 up to $85 on signs of accelerating domestic hotel and air transaction growth, according to a post on StreetInsider.com.
Technical Review
Expedia is trading at a similar price as last year at this time but showed 30% downside in between, so the stock has been beyond both sides of the previous $56-$64 balance area. This past Friday, shares fell below the 50-day moving average with recent relative performance appearing less than optimistic about the earnings report and emerging market chaos worries. Analyst estimates, however, have remained firm, so a positive earnings report could get the stock back above $66 level which would push shares to retest the high. A negative report and it's hard to make a case that the stock will find support at the $57.50 200-day moving average. (Chart courtesy of StockCharts.com)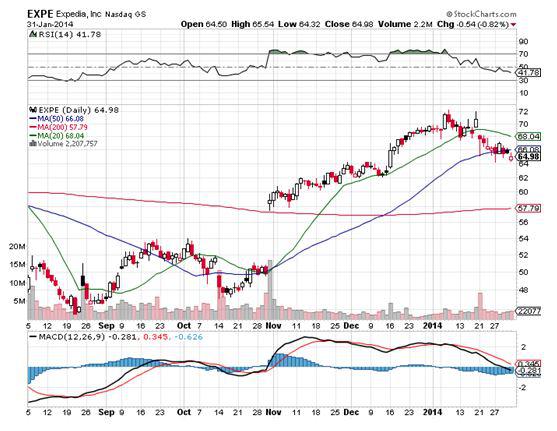 Summary
As great a company as Expedia is, being the king of global travel booking has a severe downside when global chaos emerges as we found out in 2008. Expedia is an exciting story that also pays a 0.9% dividend yield. The stock has fluctuated wildly during the last year, partly because earnings have missed and beaten estimates by such large margins on two out of the four releases. Given the potential for earnings surprises and large price moves in the past year, a disappointing report on Thursday could exacerbate an already precarious test below the 50-day moving average. Conversely, the stock has rebounded back to similar levels as a year ago which were all-time highs, so upside technical resistance is limited above $66.00. Given the P/E is double Expedia's 5-year average, risk of a downside move is higher.
DISCLAIMER: By using this report, you acknowledge that Selerity, Inc. is in no way liable for losses or gains arising out of commentary, analysis, and or data in this report. Your investment decisions and recommendations are made entirely at your discretion. Selerity does not own securities in companies that they write about, is not an investment adviser, and the content contained herein is not an endorsement to buy or sell any securities. No content published as part of this report constitutes a recommendation that any particular investment, security, portfolio of securities, transaction or investment strategy is suitable for any specific person.
Disclosure: I have no positions in any stocks mentioned, and no plans to initiate any positions within the next 72 hours. I wrote this article myself, and it expresses my own opinions. I am not receiving compensation for it (other than from Seeking Alpha). I have no business relationship with any company whose stock is mentioned in this article.