AML Communications (OTC:AMLJ) is a designer, manufacturer, and marketer of specialized amplifiers and integrated assemblies that address the defense electronic warfare markets. Its key customers include Raytheon (NYSE:RTN), Lockheed Martin (NYSE:LMT), Northrop Grumman (NYSE:NOC), L-3 Communications (NASDAQ:LVLT), BAE, and others.
The company's extensive range of microwave low noise amplifiers and power amplifiers can be found in leading defense projects. The company has been growing nicely even through the downturn of 2008, and expects to continue its growth track. AMLJ has two business units: Catalog Sales and Defense Programs.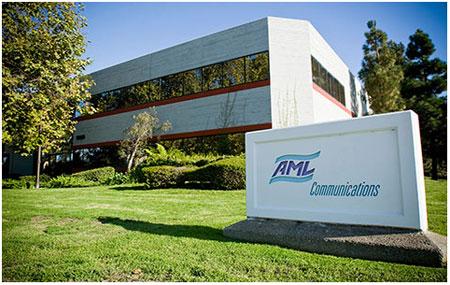 The company markets thousands of its custom components via a catalog which is advertised in trade journals etc. Many places in the world still don't fully utilize the internet, thus many still are placing orders for components through a catalog. Catalog Sales are a very consistent business, and the company hopes to increase this business with the rollout of their new catalog which will have 20% more products available.
Catalog Sales currently make up ~$10 million in annual revenues to AMLJ with 40% margins on average. Catalog Sales have a diverse set of ~100 different customers from many different countries. What is interesting is that many of their Defense Program customers initially buy product via the catalog for quality control before approaching the company directly for a specific Defense Program.
The Defense Program business (50% margin) has been growing quickly over the last 5 years. Defense Program contracts have long pre production development time frames (1 - 5 years), but they also have long production lifecycles (3 – 20 years). In AMLJ's last conference call they outlined several pending contracts that they feel they have a good chance of winning. The CEO stated several times that they are working on new projects every day.
Here are a few of the programs AMLJ is working on and close to winning:
MALD via Raytheon (RTN):

AML communications is the sole source supplier and expected to enter mid level production in fiscal Q1 2011 (April – June 2010) with Raytheon's MALD (Miniature Air Launched Decoy) program.

MALD is an unmanned aerial vehicle decoy with jamming capability.

AML has supported Raytheon's MALD program since inception and stands to benefit from larger production orders through 2015.

Raytheon released in late March that the MALD program could see significant growth as other branches of the armed forces place orders and international/foreign agencies place orders.

Current MALD contract size to AMLJ: $3.9 million 2010, $5 million per calendar year 2011, 2012, 2013 and 2014.

MEADS via Lockheed Martin (LMT): Medium Extended Air Defense System.

AMLJ is the sole source supplier. MEADS Lockheed Martin potential contract size to AMLJ: $15 million over 5 years.
THAAD via Raytheon (RTN): Terminal Altitude Aerial Defense.

There is an incumbent bidding as well, but AMLJ feels they will win all or part of it due to their relationship with RTN.

THAAD Raytheon potential contract size to AMLJ:

$10 million over 5 years.

Starlight via Northrop Grumman (NOC): Potential to AMLJ: $2 million over 5 years.

ACES via Raytheon (RTN): Advanced Counter Measure Electr System. Potential to AMLJ: $2 million over 5 years.

Firefighter via Raytheon (RTN): Potential to AMLJ: $2 million over 5 years.

Undisclosed US Fighter Radar Upgrade: Potential to AMLJ: $3 million over 5 years.

G-ATOR via Northrop Grumman (NOC): Ground Air Task Oriented Radar. Potential to AMLJ: $1.5 million.
Due to the Defense Program business, I do expect some lumpiness from quarter to quarter but nothing major (+/- 10% lumpiness factor). I expect the overall trend in revenue to continue upward especially into fiscal Q2/Q3 2011 (calendar July – Dec 2010) when first deliveries of MALD program occur.
It is hard to find comps when looking at how to value AMLJ shares. Most of their competitions are private companies or part of larger conglomerates like Teradyne Inc (NYSE:TER). The company is open to M&A when the opportunity arises, and with a growing cash position, I wouldn't be surprised to see an acquisition.
AML Communications (OTC:AMLJ) has a very strong balance sheet with $3 million in cash, $17.5 million in assets vs $3 million in liabilities. Operationally, the company is doing exceptionally well as they produced almost $900,000 in cash this last quarter. It is also quite rare that you have a fully transparent net income statement ie net income is fully taxed. AMLJ produced 0.04 in after tax net income for the quarter ended Dec 31, 2009. I believe the company is currently on a 0.16 fully taxed EPS run rate (up from .10 a year ago).
I believe the company will likely produce $18-20 million in revenues and 0.18 – 0.20 fully taxed EPS this year (AMLJ's fiscal 2011). The stock price at $1.30 ($14 million market cap) looks to be significantly undervalued.
Disclosure: Author holds a long position in OTC:AMLJ