Steven Kiel is the president and chief investment officer of Arquitos Capital Management, an Annandale, Va.-based money management firm. A registered investment advisor, he manages client accounts using a conservative, value-oriented investing approach, incorporating arbitrage and special situations, seeking deeply undervalued securities and companies with superior leadership.
Seeking Alpha recently had the chance to ask Steven about the highest conviction holding in his portfolio.
To start, can you tell us a bit about your investing approach?
We strive to maximize returns while minimizing risk. Many investors wrongly assume that in order to produce higher gains, you must take higher risks. Our experience tells us that by examining the downside risk first, we have a much higher chance for positive returns. As Warren Buffett has said, "Rule No. 1 is to not lose money. Rule No. 2 is to never forget Rule No. 1."
What is the highest conviction stock position in your client accounts?
Our favorite stock for the next decade is Biglari Holdings (NYSE:BH-OLD). You may know it better as Steak n Shake (SNS); they officially changed their name last Friday.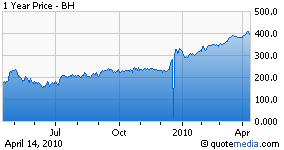 Let me go into a little more detail on how we manage client accounts and how Biglari Holdings fits into our portfolios. In order to reduce volatility and strive for absolute return, we put a portion of our client portfolios in things like mergers, spinoffs, tender offers, or other special situations. An example of this is Sycamore Networks (NASDAQ:SCMR), which paid a large one-time dividend at the end of last year that wasn't fully reflected in the stock price. These are short-term holdings where we're trying to take advantage of the situation and then get out.
We also put a portion of client portfolios in deeply undervalued securities. I recently wrote a post analyzing Huron Consulting (NASDAQ:HURN), which fits in this category. Here, we're willing to hold on until the stock becomes fully valued. If this happens in three weeks, great - we'll sell then. If it takes three years, no problem, we'll still have a good gain.
Finally, we like a few companies that we want to hold onto forever. We call these our superior leadership stocks. For these companies, we have a tremendous amount of respect for management's ability to create value for us, and we want to ride on their coattails. Think Berkshire Hathaway (NYSE:BRK.B), Joe Massoud's Compass Diversified (NYSE:CODI), and David Einhorn's Greenlight Re (NASDAQ:GLRE), all of which we own - or Eddie Lampert's Sears Holding (NASDAQ:SHLD), which we don't own. Biglari Holdings falls into the superior leadership category for us, which means we value it differently from the stocks in the rest of our portfolio and our holding period is, we hope, forever.
Tell us a little bit about Biglari Holdings and its industry.
Sure. For those who haven't been following the transformation over the past few years, it is no longer a casual dining restaurant company. It's a holding company controlled by Sardar Biglari. I first found out about Biglari a few years ago when his hedge fund, The Lion Fund, bought into Western Sizzlin (NASDAQ:WEST). I really respect his approach and am a big fan of his ability to allocate capital to its best use.
A little bit about Biglari: He started The Lion Fund soon after college. It was seeded with money he made from the sale of an Internet service provider he had founded and sold, and by all accounts he had tremendous returns in the last decade. Did I mention he's only 32?
Like many young money managers, Biglari is a fanatical Buffett follower and value investor. A few years ago, as I mentioned, he bought into and took over Western Sizzlin and then proceeded to merge it into Steak n Shake, which he bought in 2008. That merger just closed a few weeks ago. He has some other small holdings as well, which fall under the control of the home office in San Antonio.
I didn't go to the annual meeting this past week, but apparently Biglari is considering merging his hedge fund into the company. If any of the readers did attend the meeting on April 8, I'd love to hear about it. Please feel free to contact me. I can't make any judgment about that potential merger since there isn't a lot of public information out there, but I would trust Biglari's judgment.
As for its industry, I would call Biglari Holdings a conglomerate that currently owns two restaurant properties. If you're valuing it against McDonald's (NYSE:MCD) or Darden Restaurants (NYSE:DRI), you're making a mistake. Undoubtedly Biglari will be adding companies outright, and making large investments in public companies. We don't know where he'll next find value, but we know he will. Just recently Biglari was rebuffed in his attempt to take over Fremont Michigan InsuraCorp (OTC:FMMH). It's a good bet that he would go after another insurance company in the future in order to gain control of the float.
Biglari has really gone his own way, which has been great. He did a 20-for-1 reverse stock split in order to raise the price of the stock, not to protect if from being delisted, but to get the price into the hundreds! He caught a lot of flak for that, but I loved it, and I loved the rationale. If you're trying to attract long-term investors, a stock price at $400 is better than a stock price at $20, even though the value of the company is the same.
So where's the value in Biglari Holdings?
You can't use simple metrics like the P/E ratio to value Biglari Holdings. In fact, Biglari himself tells you in the annual letter that he cares about generating cash, not earnings. Remember, the key is to pretend a company is a private company, and figure out how much you would pay for it then without having a daily stock price. If you look at it that way, you'll care a lot more about cash, and a lot less about stated earnings.
In order to invest in Biglari Holdings, you have to buy into the story, and you have to have a tremendous amount of respect for Biglari's ability to properly allocate that cash. Let's not be blind about it, though. The fact is that Biglari turned the company around in a tremendous way, and within a short time period.
Biglari can be held responsible for 2009's full-year results. In 2009, more free cash was generated than any of the past ten years. Revenue wasn't much different, but capital expenditures were only $5.8 million for the year. Compare that to $68.6 million in 2007, and an unbelievable $67 million in 1999. Where did all this money go? It seems to have been wasted.
In my visits to Steak n Shake over the last year, I thought the restaurants were cleaner than in the past, the menu was more interesting and enticing, and the customer service was better. The steakburgers and milkshakes still tasted as great as ever. It seems obvious that there had been an egregious misallocation of capital through the years. Those times are over, and an extra $60 million of cash annually will be flowing to company headquarters for Biglari to invest.
There are a number of other opportunities for Biglari Holdings. They have said they will be implementing a new franchise model, which will allow the brand to grow in a low-cost, effective manner. In order to raise even more cash, they will have the opportunity to sell some of their real estate and lease it back, if the real estate market ever turns. Right now, at the parent company, Biglari has about $62 million to invest and about $9 million already invested.
They're building a big cash pile, but are there other factors to determine the firm's value?
In terms of valuation, it's not going to be easy to judge this one. There have, obviously, been a lot of changes over the last two years, and it's difficult to make assumptions. I try to use some of the cash flow estimates and the cash on hand, which Biglari can use to invest, to come up with a range. I use a sum-of-the-parts analysis for it and have a price between $350 and $450. If he's able to buy into an insurance company, which I think he'll do at some point, growth will be higher because the float would allow him to lever the company up.
Don't get me wrong, I usually like much more predictability, but I take more of a Charlie Munger approach with this one and with the other stocks in our superior leadership category. Really, though, no matter what the price estimate is, if you don't believe in the Biglari story, you really shouldn't be in the stock.
What is the current sentiment on Biglari Holdings? How does your view differ from the consensus?
Wall Street analysis of Biglari Holdings is virtually nonexistent. Yahoo Finance lists one analyst estimate. There have been a few general articles about Biglari in Forbes, but the best analysis has been in some of the great articles on Seeking Alpha. I've only heard one money manager talk about Biglari Holdings on any of the investing television or radio shows I follow (Scott Rothbort of LakeView Asset Management).
So, the current sentiment on Wall Street is… "We don't care about some regional restaurant company led by a wanna-be Warren Buffett." This is actually great news for us as investors. The story is not even thought about enough to be unloved. At some point, coverage will change, though.
If no one follows it, what are the catalysts?
I do follow the maxim that value is a catalyst by itself, but here the value isn't as obvious. If a casual investor looked at Biglari Holdings they would see a regional restaurant company led by an inexperienced CEO, whose same-store sales are improving, but whose forward P/E is more than 20. Not the most compelling investment case, if you're too lazy to look into it.
Since the company is still misunderstood, I do think there is the chance for a few catalysts. The name change will certainly help investors understand that it is a holding company. That was the purpose of the change. The closing of the Western Sizzlin merger has made some news and will help to provide certainty to those investors who are watching the company. When a new company is added to the portfolio, Biglari's strategy will also be highlighted. Fundamentally, though, as more cash is generated, the value will naturally be recognized. We may just have to wait for that.
If you're looking to hold on to a company for a decade, I really don't think it matters if there are any upcoming catalysts that you can predict. If it's a successful company, investors will find it. The problem is, you don't know when they'll find it. You can't predict when institutional buyers will decide to get in. You won't know when Biglari is about to make a purchase that will add tremendous value to the company. Unless you're privy to inside information, you couldn't predict when an analyst from a large firm will initiate coverage. That's when the stock will begin to reflect its true value. Until then, you just have to have trust that the market will eventually find it.
The story sounds compelling, but what are some of the risks?
There are risks. I mean, he did name the company after himself, right? I understand the charge that he's a little full of himself. I look at it differently, though. I think he's trying to tell us that this company will be his life's work. He won't do anything to it that will damage his reputation. If you owned a local restaurant and had it named after yourself, you might care a little more about the quality of the food, right? You don't want your neighbor bad-mouthing the food and your name.
That being said, I think a lot of us had higher expectations about Eddie Lampert and Sears Holdings a few years ago. While there is still value there, it's not reflected in the stock price. A similar thing could happen here. Biglari could overreach, or he could fail to adequately invest in the restaurants, he could fail to find other companies to buy into, or he could lose his magic touch. He's said that he likes to use a very focused investment approach. He could use a lot of that cash flow from Steak n Shake in one investment and it may not turn out well. That would crush the stock. I think Biglari is a smart guy, though, and will be able to work through any problems that come up. I don't think the situation is really comparable to Sears Holdings either.
Some people are calling Biglari the next Buffett, while others aren't nearly as kind. Let's put all that aside and just say that he's a guy with a proven track record, running a company that has tremendous prospects for creating free cash flow. He's good at investing that cash. If you put those things together, the stock will have a good return and that will make all of us happy.
Thanks, Steven, for sharing your pick with us.
Disclosure: Arquitos Capital Management is long BH-OLD.
Read more High Conviction Picks »
If you are a fund manager and interested in doing an interview with us on your highest conviction stock holding, please email Rebecca Barnett.