We recently published a report on AXIS Capital Holdings Limited (NYSE:AXS) and delved into the advantages held by those insurance companies who accompany direct insurance services with reinsurance. RenaissanceRe Holdings (NYSE:RNR) is stationed out of Bermuda just as AXIS, because of the tax advantages inherent in the region. Financial "type" companies' performance in many ways has improved significantly due to the positive performance of equities over 2013 and a relatively stable year for the bond market. The Barclays ishares Aggregate Bond Fund (NYSEARCA:AGG) conveys an image counter to that of the financial press in reference to the bond market for 2013. We view the fund as an appropriate proxy for judging the returns of the bond market in total, and that fund was down roughly 2% for the year. RenaissanceRe is similar to AXIS in terms of the insurance/reinsurance services offered as well as a tendency to provide specialty insurance on a global level, capitalizing on the company's perceived (and proven) superior underwriting capabilities.
All in all, the main cause of our attention paid to these two companies comes from two ideas: the fact that there are few reinsurance and insurance companies whose growth capabilities match its underwriting skills, and the fact that it appears cheap. RenaissanceRe has the global footprint we are looking for in the reinsurance/insurance industries, as well as the size and recent performance. The current valuation relative to its peers has also played a large role in causing us to take a closer look. As of late, numerous articles regarding the expectations of 2014 have conveyed the idea that this year is "surely" to be a bad year for catastrophe insurers. We are not here to address the weather expected during 2014, but instead why RenaissanceRe has a good chance to stand out in terms of appreciation. We will start off by addressing the company's track record in addition to its product mix, and then move on to where RenaissanceRe is heading from here.
After initially starting out as a property catastrophe reinsurance company in 1993, RenaissanceRe became a global provider of reinsurance and direct insurance over the ensuing 20 years. The company's goal as stated in the 2013 10-K is to be "The world's best underwriter of high-severity low frequency risks." We look to judge specialty insurance/reinsurance companies based on metrics that convey the extent to which the companies exhibit underwriting skill and most importantly how judicious the company is when acting on its studied and well-calculated findings.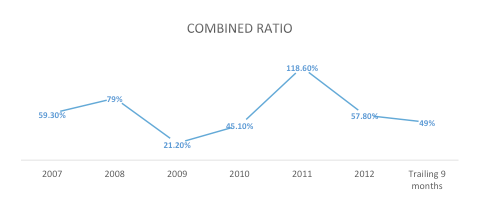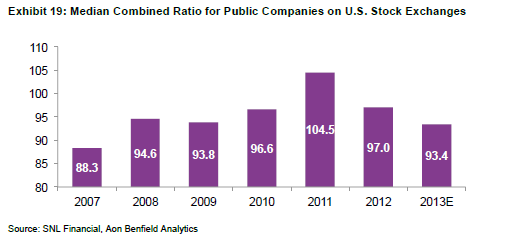 An all-encompassing profitability measure for insurance companies as mentioned in our article on AXIS Capital Holdings is the combined ratio, which is calculated as (incurred losses-expenses)/earned premiums. For the sake of brevity we will not compare every metric inherent of the insurance companies against RenaissanceRe, but we encourage you to examine the filings of the company in addition to others, as you are likely to see RenaissanceRe outperforming the broader market to an even greater extent than conveyed by the combined ratio presented above. In terms of this metric we see management live up to expectations as stated earlier. The ratio is incredibly low (the lower the better) on average, especially when compared to the average of insurance companies for the same period. We also see that in 2011, catastrophe was not exactly few and far in between, and as a result RenaissanceRe had its worst year for the period. You should expect this company's earnings to be more volatile than that of strictly health and life insurers. This is why we like RenaissanceRe and AXIS; each are "aggressive" global insurers and offer far higher risk adjusted returns through superior underwriting abilities as measured by the company's track record. And by the way, an average combined ratio of below 50% is uncommon, even for strictly specialty insurers. RenaissanceRe's combined ratio was below 50% in 3 of the 7 periods examined.
In June 2009 a syndicate was formed between Lloyd's and RenaissanceRe in order to broaden RenaissanceRe's product base. This may seem a bit abstract, but Lloyd's is not a company, it is a "market" where insurers in addition to reinsurers are able to join together to insure risks. This combination for RenaissanceRe plays into its global strategy due to the fact Lloyd's accepts business from over 200 countries worldwide. Lloyd's is currently holding A+ ratings from both Standard & Poors as well as Fitch rating agencies. This collaboration has allowed RenaissanceRe to enter the direct insurance industry, further reduce risk in the reinsurance services provided, and continue to grow globally. Since the formation of the syndicate, RenaissanceRe has benefited significantly from Lloyd's contribution.
As a percentage of gross premiums written for RenaissanceRe, Lloyd's contribution has increased from 5.7% in 2010 in its first year of inception to 10.2% as of the end of 2012. We expect the growth from this segment to continue to be robust, as the company pushes to expand its global footprint. Catastrophe insurance remains the bread winner for the company capturing roughly 76.3% of the gross premiums written, followed up by a slowly growing specialty segment which has increased its contribution to gross premiums written from 9.3% in 2009 to 13.5% as of yearend 2012. When looking at with the trailing 6 year average combined ratio of 61.4%, and combining this with the growth in gross premiums over the same time period, we are able to view RenaissanceRe as the intelligent risk taker we are looking for.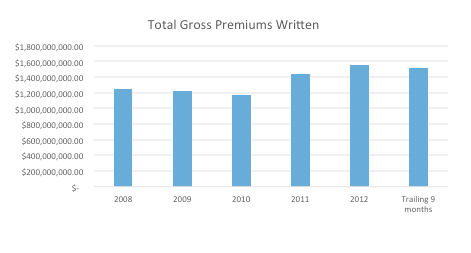 Gross premiums written are on pace to increase for the third consecutive year, at a rate we also feel comfortable with. Ibis World currently categorizes the reinsurance industry's concentration as "medium" and "increasing" and competition as "medium" and "steady" The top two firms are Berkshire Hathaway (NYSE:BRK.A) (NYSE:BRK.B) and Reinsurance Group of America Inc. (RGA, which combined account for roughly 39.2% of current market share. As RenaissanceRe reaps the benefit of the addition of the Lloyd segment introduced in 2009, and continues to grow on a global scale we expect this to be the company's driver for growth through the next few years.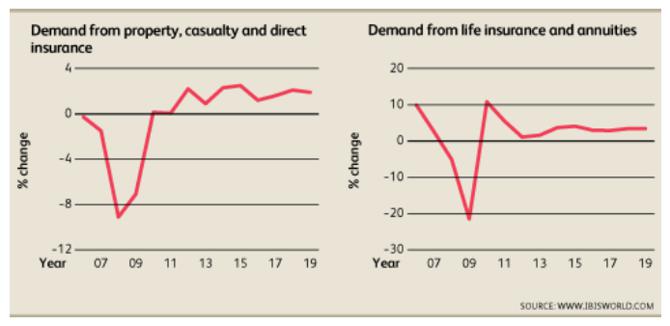 Focus on the left sides of each of the charts above. Demand for reinsurance from life insurers and annuities dropped more than twice that of the demand for reinsurance from direct property and casualty insurers during the downturn. This is both a good and bad thing for reinsurance companies. The stability in demand is good, although "adverse selection" plays a large role in creating the stability. Adverse selection occurs when those who are in most need for liability or any type of insurance for that matter, happen to be a larger percentage of those applying for the insurance. In RenaissanceRe's case, most of the products offered involve reinsurance to other companies. If you do not think other insurance companies are looking to pedal off either parts or all of the premiums written that it finds to be "riskier" picks, you need to become more educated about the situation. We alluded to the fact insurance companies are as well studied and calculated in each decision making process, so by this logic alone we should automatically understand that reinsurance has its risks as well, otherwise the reinsurance would not be bought in the first place. RenaissanceRe and AXIS are examples of those reinsurance/insurance companies who take on the right type of risks, amongst many direct insurers looking to redistribute the least attractive risk.

Margins are another way of looking at the combined ratio we graphed above. For comparison purposes we wanted to include this as well, and it is apparent as ever as to why RenaissanceRe is being alluded to as being the best of breed. Ibis World's outlook for the reinsurance industry over the course of the next few years is consistent with that of a "soft" market. We expect margins to contract, and maybe even see underwriting policies be slightly loosened. As long as the "loosening" of RenaissanceRe's underwriting policy is categorized as less aggressive than that of the industry average, it can be viewed as simply market forces at its finest causing the company's fluctuation and ultimately adjusted action. Claims expense is sufficient accounting item to monitor whether or not any one company is getting out of hand in terms of underwriting quality, which in turn will affect a company's combined ratio. On average we expect the company to stay extraordinarily disciplined, along with the insurance industry as a whole.

The company is currently repurchasing shares which is always a good sign. It set out to do so in mid-Novemeber and plans to spend $500 million over an unspecified time period. Also note the level of institutional ownership at 89%. We don't suggest you ever utilize strictly this metric to make investment decisions, but 89% ownership of float tied up by institutions is a lot, and there has been a proven relationship between this metric and returns. If markets were fully efficient we wouldn't be here, but they aren't, we do think there is insight to be gained from financial institutions' money spent on research on average.

The current share float is 42.5 million while the current share price $91.36. A repurchase plan of $500 million would reduce the float to 37,027,146 shares resulting in an increase of roughly 13% for all per share amounts. The company is currently trading at a P/E of 9.33 which significantly below its trailing 5 year earnings multiple of 11.45. If we expect the company to stay fairly valued on a per share basis through 2014, we would expect a minimum increase of 13%. If the earnings multiple reverts back to its trailing five year average of 11.45 along with the 13% increase in per share data, the company could see appreciation in share price to upwards of $121, an increase of roughly 33 percent, even when holding performance constant.
Disclosure: I have no positions in any stocks mentioned, and no plans to initiate any positions within the next 72 hours. I wrote this article myself, and it expresses my own opinions. I am not receiving compensation for it (other than from Seeking Alpha). I have no business relationship with any company whose stock is mentioned in this article.
Additional disclosure: This article was written by Hunter Orr, CFA the Director of Research with Alpha Street Research, and our team of supporting analysts specifically Mr. William Hambley.