The Pantry, Inc. (NASDAQ:PTRY) has made numerous changes to the company and its operations, hired a new CEO, remodeled stores, and even attracted a modicum of activist investor attention. Yet the company continues to see a steady slide in EBITDA, uses all of its cash flow to service debt and spruce up its stores, and has leveraged up its balance sheet in the process to the point where the firm has little room for error. The Pantry appears to be an obvious short based on declining operating performance, high leverage, and management's apparent inability to stem the deterioration of both the business and the balance sheet.
The Pantry is an independent convenience store/gas station operator with 1,537 locations in 13 states across the southeastern US primarily under the proprietary "Kangaroo Express" banner. In the most recent quarter ended December 26, 2013, the company had $1.8 billion in revenue with about 24% in merchandise sales and the balance in fuel sales. The bulk of the company's merchandise sales are made up of tobacco, beer, wine & soft drinks, and other grocery items to customers buying fuel at the company's stores. The Pantry has been struggling in recent years as store count has steadily declined and EBITDA has been on a declining trend. According to the most recent 10K, The Pantry has posted adjusted EBITDA performance and number of stores for the past three fiscal years as follows:
| | | | |
| --- | --- | --- | --- |
| | 2013 | 2012 | 2011 |
| Adjusted EBITDA (million $) | 202.4 | 210.1 | 231.7 |
| Locations, period end | 1,548 | 1,578 | 1,649 |
There appear to be a variety of reasons for the company's struggles. No doubt a general environment of soggy consumer spending has not helped the company's fortunes. Adding to this general negative background, higher fuel economy standards and challenging economic conditions have reduced consumption of gasoline and diesel in the US since the mid-2000s. This chart from the US Energy Information Administration illustrates the reduction in transportation fuel usage and the projected trend: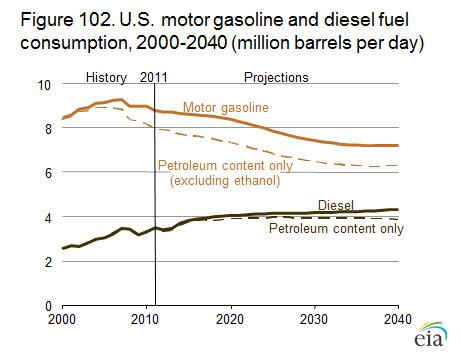 Less fuel usage means fewer stops at The Pantry's fuel pumps. Fewer stops for fuel means the company must work harder and harder to maintain (let alone increase) merchandise revenues by enticing more of the fuel buyers into the store and/or selling ever increasing amounts to the customers that do walk into the convenience stores. With a flat to downward sloping demand for transportation fuel in the future, life is not likely to get easier for The Pantry in the future.
Management has issued guidance for fiscal 2014 which does not point to any near term relief for the balance sheet. As can be seen from the following table which translates management's updated fiscal 2014 guidance into summary operating results, 2014 is not expected to be a banner year:
| | | |
| --- | --- | --- |
| | Low | High |
| Merchandise sales | 1,830 | 1,860 |
| Merch Gross Margin | 33.70% | 34.10% |
| Merchandise Margin | 617 | 634 |
| Retail Fuel Gallons billion | 1.61 | 1.64 |
| Retail Fuel Margin Per Gallon | 0.11 | 0.13 |
| Fuel Margin | 177.1 | 213.2 |
| Store Operating and G&A Expense | 615 | 625 |
| EBITDA | 179 | 222 |
| Depreciation & Amortization | 110 | 115 |
| Op Income | 69 | 107 |
| Interest Expense | 84 | 87 |
| Pre Tax Income | (15) | 20 |
| Cap Ex | 95 | 110 |
| Cash Interest Coverage | 2.13X | 2.56X |
| EBITDA-Interest-CapEx | (0) | 25 |
In millions of dollars
The last line of this table is worth noting: assuming management's guidance is accurate, The Pantry will generate just barely enough cash over the course of the year to cover interest and planned capital expenditures. That means there is no prospect of deleveraging the balance sheet, expanding the store count, pursuing material acquisitions, or doing much of anything else that could turn the business around. The poor expected operating performance also forced the company to seek an amendment from its bank group to loosen an interest coverage covenant requirement, never a sign of good things to come.
With unrelenting pressure on the company's business, the balance sheet has been declining in quality for some time. The Pantry has racked up $500.5 million in debt split evenly between a high yield bond issue and a term loan. In addition, the company has in the past done sale-leaseback transactions on a number of its formerly owned store locations, resulting in on-balance sheet financial leases of $441.7 million. Finally, The Pantry makes significant use of operating leases to finance its store locations, incurring $69.5 million in operating lease expense in fiscal 2013. Capitalizing the operating lease expense at 8 times to arrive at a debt-equivalent results in another $556 million of lease equivalent debt. Funded debt plus financial leases plus operating lease equivalent debt equals $1,498.2 million in total leverage. The Pantry is heavily leveraged by any measure. Taking the midpoint of management's guidance for fiscal 2014 and using operating lease expense from fiscal 2013, the following table illustrates the company's leverage level:
| | |
| --- | --- |
| ST Debt | 2.6 |
| ST Financial Lease | 11.0 |
| LT Debt | 497.9 |
| LT Financial Lease | 430.7 |
| Op Lease Expense X 8 | 556.0 |
| Total Debt | 1,498.2 |
| Cash | 32.5 |
| MV Equity | 333.0 |
| EV | 1,798.7 |
| Midpoint EBITDA | 200.6 |
| EV/EBITDAR | 6.7X |
| Adjusted Net Debt/EBITDAR | 5.4X |
In million $
As can be seen above, The Pantry is attempting to carry a debt load of 5.4X EBITDAR while refurbishing as many stores as possible, seeing its store count continue to decline (the company ended the first quarter of fiscal 2014 with 11 fewer stores than the prior year end), and struggling to keep operating performance from further declining. The company is operating on an increasingly sharp knife edge and has little room for error. If the above leverage figure is calculated with the low end of management's guidance, the debt load would be just over 6X EBITDAR.
The Pantry's weak financial condition has not gone unnoticed. The company's major vendors (including Marathon Oil, BP, and McClane) have required significant letters of credit be posted by The Pantry in order to do business with the company. As of the first quarter of fiscal 2014, The Pantry had $83.6 million of letters of credit outstanding. Although some of these letters of credit are related to self-insurance programs and regulatory requirements (the company does not break out letter of credit usage), the need for letters of credit in such volume means that if The Pantry ran into trouble with its bank group over covenant violations the loss of letter of credit availability would likely be devastating to the company in a short period of time.
An activist group has appeared and has agitated for the addition of new directors to The Pantry's Board. In January 2014, "Concerned Pantry Shareholders," a group made up of JCP Investment Management LLC and Lone Star Value Management LLC announced their intention to start a proxy fight to attempt to add three new independent directors to the company's Board. While all three of these individuals appear to have strong retail backgrounds and could no doubt offer some advice to the company, Concerned Pantry Shareholders hold a whopping 1.9% of The Pantry's shares and management almost immediately rebuffed the dissident director nominees. The Pantry is a Delaware corporation (which gives the company significant anti-takeover protection) and both the credit facility and the bond indenture make the turnover of 50% of the Board without the existing directors approving the nominees an event of default. It is unclear what Concerned Pantry Shareholders' intentions are, but their commitment of such a small amount of capital to the company's equity suggests that they may be intending something other than dramatically increasing shareholder value.
In summary, The Pantry is highly leveraged and on a declining operating performance trend. The company is barely generating enough cash to keep up with its debt obligations and maintain its stores. The store count continues to drop and the fundamental outlook for the primary driver of the company's business (transportation fuel demand) is negative. The Pantry shares look a lot like a lottery ticket, with the jackpot being an unlikely major turnaround in the company's operating fundamentals. Lottery tickets are usually priced at $1. I believe it is likely that The Pantry shares will be priced at $1, too.
Disclosure: I have no positions in any stocks mentioned, and no plans to initiate any positions within the next 72 hours. I wrote this article myself, and it expresses my own opinions. I am not receiving compensation for it (other than from Seeking Alpha). I have no business relationship with any company whose stock is mentioned in this article.