Guiding Thesis:
Despite Urban Outfitters' (NASDAQ:URBN) flagship brand encountering consumer fatigue, the company's wholly owned subsidiaries Anthropologie and Free People provide steadiness at current levels. This leaves Urban in an intriguing position. Should the flagship brand right the ship there's an upside of 15-20%. Technicals are a bit cloudy at the moment, though, and suggest there may be a cheaper buying opportunity in the near future.
Company Summary:
Urban Outfitters, Inc. is a specialty retail company which offers a variety of lifestyle merchandise to highly defined customer niches via 229 Urban Outfitters stores in the United States, Canada, and Europe, catalogs and websites; 188 Anthropologie stores in the United States, Canada and Europe, catalogs and websites; Free People wholesale, which sells its product to approximately 1,400 specialty stores and select department stores, 89 Free People stores in the United States and Canada, catalogs and websites; 2 BHLDN stores and a website and 2 Terrain garden centers and a website, as of December 31, 2013
Urban Today:
Urban's 52 week low is basically $35-flat, which, after the Federal Reserve's tapering announcement today, was tested but survived. It closed on 1/29/2014 at $35.41, Their market cap is just above $5-billion, and their forward P/E of 19.67.
Urban Tomorrow:
1. They intend to continue to grow direct to consumer and wholesale channels.
2. Plans to open 35-40 new stores in 2014. 15 Urban Outfitters location, 8 Anthropologie locations, and 13 free people locations.
3. Refine offerings at Urban Outfitters to step in line with Anthropologie and Free People sales.
Some Fundamental Observations:
Urban is perhaps most desirable when compared to its competitors when you look at their debt and debt-ratios: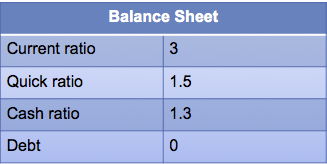 They've got the cash to handle the expensive challenges associated with refreshing a stale brand - marketing, web redesign, etc. Additionally, the CEO, Richard Hayne, recently said that he is keenly aware of the here-to-stay decrease in foot traffic and uptick in web and mobile app traffic. If that means they intend to take better advantage of those areas, then solid balance sheet provides the capital wiggle room needed to be successful. Urban also bests most of its competitors in Net Margin, cheaper P/E, and time of inventory held prior to sale.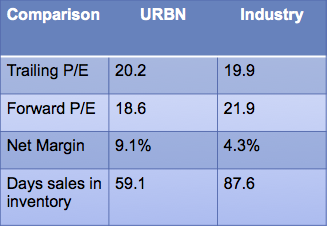 The standard value-metrics are relatively sound. As we've seen trailing P/E is in line with the industry and forward p/e is cheaper. Price to sales isn't too expensive and the PEG and forward PEG are attractive, too. If price-to-book or price-to-free cash flow are your thing, then maybe you'll want to hold off here. Realistically, however, for a company with improving secondary brands and a stale flagship brand about to make a revival attempt these ratios are fine - not great, but acceptable. Urban is a relatively inexpensive buy fundamentally and historically without all cylinders firing - a classic value investor set up. It's secondary brands could be on the verge of taking off, coming off of a strong 2013 - a classic growth investor set up.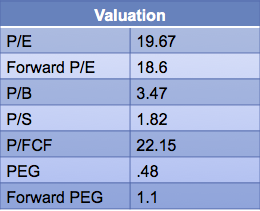 Sales were up 8 percent over the holiday season and Q-4 last year comprising 35% of total profit, the estimated income for the 2014 fiscal year ending January 31 is just shy of 280 million dollars - up nearly 18% from the prior year. Inventory continues to climb in a healthy correlation with sales.
Over the course of the recent holiday season the company's eponymous brand reported a 6% drop in comparable sales. However, investors proved optimistic and willing to overlook weakness on the strength of successes at the company's secondary brands. Both Anthropologie and Free People increased comparable sales, up 21% and 11%, respectively.
Anthropologie now makes up around 40% of the company's revenue, while the Urban Outfitters brand accounts for about 45%. Right now, Anthropologie is the company's strongest brand. In contrast to the wildfire remnants Urban Outfitters is pushing, Anthropologie is selling classic lines and shabby-chic -- covering all the bases, even the most conservative palette.
Anthropologie's resurgence was able to compensate for the falling margins at Urban Outfitters. The net result over the first three quarters of the fiscal year has been a minor pop in operational income margin. Bullish analysts predict Anthropologie's margins will remain strong and Urban Outfitters will work their way back toward vitality.
Technicals:
From roughly January 2013 to late September Urban traded in a range between $39 and $44. Once it broke out to the downside it tested $35 multiple times only to experience some buyer's (seller's, in this case) remorse before recovering to $40.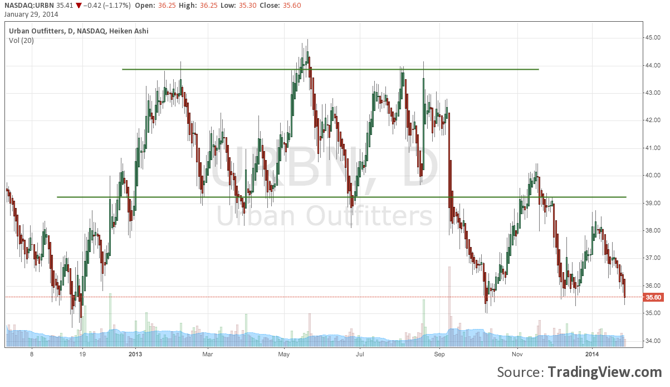 Since touching $40 we've seen $35 retested multiple times - first in late November/December, then again this afternoon after the weight of a poor month couple with the Fed's tapering announcement that sent the broad market sharply lower. All of this has established a clear downtrend that began from the mid-August high of $44.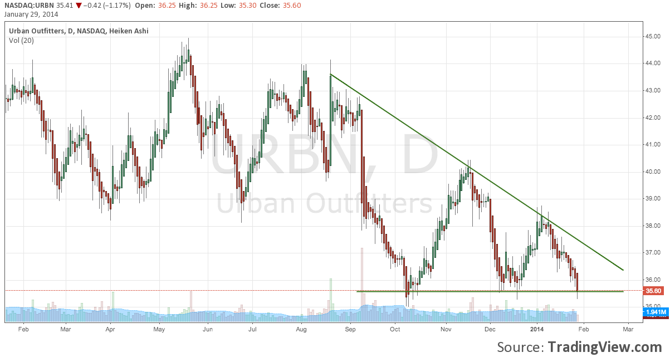 This chart perfectly illustrates Urban's current confused position. Yes there is a clear downtrend. But at the same time, yes there is a clear level of strong support that has served as a floor many times already. Which breaks first, the floor or the trend?
Potential Trades:
Market is still bullish: Begin scaling into a long equity position. If you see the market going down for a correction of 10% or so before returning to the upside and, as I've suggested it is, see Urban as technically weak, then you should get cheaper entry opportunities. If $35 breaks there's a relatively clear path to about $31.50. So, build a position over 25% increments: here ($35.25), $34, $33, $32. If things turn earlier than expected there's room to get in before the $39-area resistance, but I would wait to make sure that the price action clears the downtrend line at $37 first.
Market has finally turned bearish: Or maybe you see our bull market finally giving up and today's losses are just the beginning. If that's the case and you see more pain moving forward then buying March 22 $35 puts might suit you better. Like I said earlier, after $35 there is around 10% of technical breathing room before the next relevant support line at $31.50-ish.
Here's the play broken down:
Buy 10 March 22 $35 Puts @1.50
Cost/Risk: $1,500; Target share price: $31.50.
Hitting $31.50, according the binomial or Black-Scholes suggests an option prices of $3.53 per contract.
Position valued $3,530; net profit: $2,030. For a risk:reward just under 1.5. Of course, if the price made it to $31.00, the net return would be about $2,500.
I'm hesitant to recommend an expiration further in the future given Urban's current relevant strength within its industry.
My Opinion:
I'm looking to the $35 level before making a decision. If I were to abide by the analyst's buy-hold-sell rating system, this is a resounding "Hold." For me there's too much uncertainty to pull the trigger up or down. Relatively it's better off than it's competitors, so I'm long biased here. I think the market's bull run isn't over yet and that this down time we've been experiencing is corrective and healthy for a bull market. If $35 breaks, which I believe it will, and there are no in-house revisions to upcoming quarter estimates, then I would look to get long around $31.50-$30.
** If you're going to play it with me, then look to get long at $31 with a stop at $29 and a target of $36. A solid 2.5:1 risk-reward ratio. But, like I said, "Hold." **
Risks:
As James Ryan reported, Urban recently denied an SEC disclosure request. We can't know if this was done in hopes of delaying competitor knowledge of Urban's new business strategy because it's working, or if it's simply trying to hide underperformance to prevent competitors from smelling blood in the water.
Anthropologie may be in the midst of potential comeback, but the company is still walking on thin ice despite a few jumpy analysts predicting massive gains. Andrew Marder smartly said,
"Like the aftermath of a controlled burn, there's hope that new green shoots will spring up from the fire."
Brand weakness was a direct result of the company not having a clear vision for itself. And again,
"It mixed and matched silhouettes and cuts, leaving customers confused about what the look was meant to be. Instead of selling a concept and a look, it simply sold an assortment of things, like a flea market concessioner. That pushed sales down and increased the need for promotions, which were already in high demand across the mall."
For 2014 to be a big year the flagship, Urban Outfitters, needs to make significant steps in updating and clarifying its product line. Anthropologie and Free People are in no position to carry the entire corporation significantly higher by themselves.
Disclosure: I have no positions in any stocks mentioned, and no plans to initiate any positions within the next 72 hours. I wrote this article myself, and it expresses my own opinions. I am not receiving compensation for it (other than from Seeking Alpha). I have no business relationship with any company whose stock is mentioned in this article.