Wednesday, many of the for-profit educational companies got a lift after Credit Suisse (CS) upgraded Devry Inc. (DV) and ITT Educational Services (ESI). The report basically stated that regulation changes for the industry are not likely to be as severe as originally expected and investors can now purchase these companies with better visibility for future profits.
The Department of Education recently submitted "Gainful Employment" proposed language to the Office of Management and Budget to estimate the costs of the new proposed language. Credit Suisse expects this language to be submitted to the public by mid-May or at the latest June 1. From that point there would be a comment period followed by enforceable regulation likely to start November 1.
At question is the issue of federal student loans to pupils enrolled in for-profit institutions as they pursue undergrad or graduate degrees. Since most student loan programs are federally insured, the government has a vested interest in making sure these education programs are up to standard quality, and that graduates are able to perform well in the workforce (and therefore pay off their student loans.)
There have been widely circulated reports (including a cover story in Barron's Magazine titled Leveraging Up to Learn) which claim that students who graduate from for-profit institutions are less likely to find gainful employment and more likely to default on their loans. The negative press has caused investors to think twice before committing capital to for-profit schools and by extension, what used to be lofty multiples on these growth stocks are now actually attractive compared to expected earnings.
If Credit Suisse's analysis is correct, and these institutions end up facing less regulatory pressure, we could quickly see multiples on stocks increase as investors focus on the growth aspect rather than the risk dynamics. Since risk seems to be ignored in nearly every other sector right now, I don't have a hard time believing that traders could quickly jump on the educational bandwagon.
Devry Inc. – Over the last four quarters, Devry has seen its revenue increase between 28% and 43% for each of the quarterly reports. Earnings per share has been even more impressive with growth of 40% to 69% using year-over-year comparisons.The stock is trading at less than 20 times earnings even though analysts expect 53% growth in fiscal 2010 (the company's fiscal year ends June 30) and another 24% in 2011. A strong balance sheet with no debt should help to inspire confidence, and the stock just broke out of a consolidation on strong volume. Buying near $70 could turn out to be a very attractive trade over the next three to six months.
ITT Technical Institute – The company has similar growth characteristics to DV, but a bit more of a leveraged balance sheet. The most recent report showed a debt to equity ratio of 96% which is manageable as long as cash flow continues to increase.ESI is trading at a much cheaper multiple of 11 times 2010 estimates which could either imply a better value proposition, or less growth potential than DV. Tuesday's trade broke the stock out of a relatively healthy looking consolidation, but in early trading Wednesday the stock was giving back much of the gains. I would recommend keeping ESI on the watch list and potentially buying once the stock rallies above $118 again.
There are plenty of other education companies in the sector to look at – a few of which may actually offer better trading opportunities. I'm lining up one of these trades for readers of the free ZachStocks Newsletter so make sure you're subscribed and looking for the trade in the morning. As always, manage risk carefully and know where your stops will be. The industry is likely to trade much higher, but if my analysis is premature or even dead wrong, you want to have an exit strategy if the positions head south.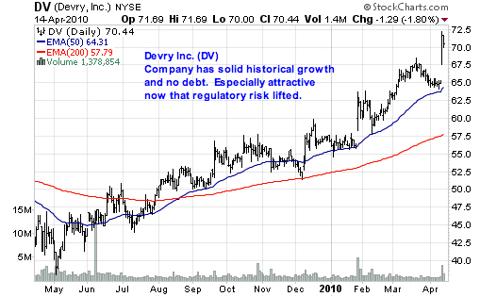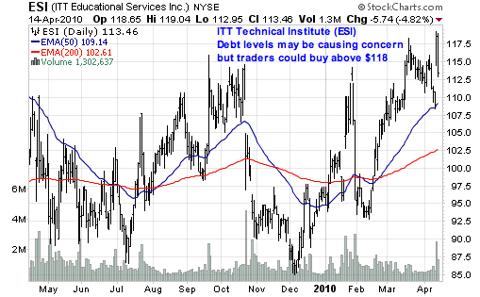 Full Disclosure: Author does not have a position in any stocks mentioned in this article.