Michael Kors (NYSE:KORS) is a luxury brand that, focused on North America, produces handbags, jewelry, watches, and general apparel. They design primarily for women, but also produce some menswear.
Michael Kors has traded well over the past 12 months, up 43.4%. So far in 2014, the stock has held steady around the $80-$81 mark, off its highs near $85.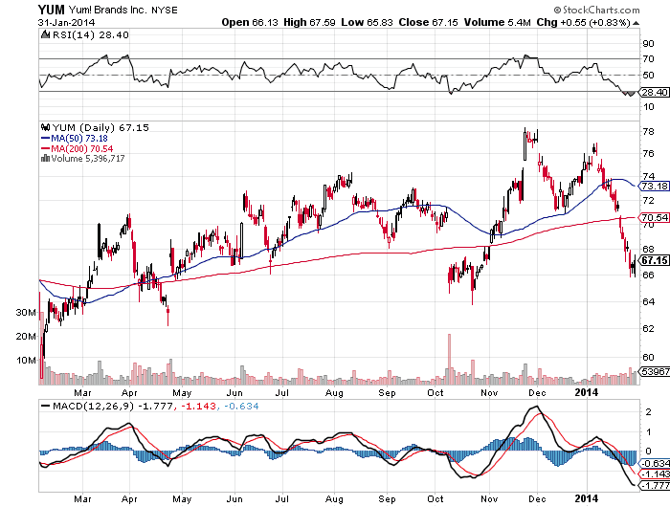 Kors was suggested to me by a friend, and I wrote it off at first. I didn't know much about the brand, but wasn't too keen on investing in luxury goods, especially with how things have been going for companies like Coach (NYSE:COH).
Upon heading over to the Michael Kors website, it struck me. I recognized the little "MK" in the circle logo - I had been seeing that everywhere of recent: cities that I live in, out and about, the airport - everywhere. So, that's what that brand was.
Fueled by the common sense argument that if I'm seeing it pop up more often, it's obviously growing - I took another look. Seeing, apparently, is believing, too - the company has done nothing but skyrocket and impress investors since it first IPOd in 2011. I was seeing it everywhere, because Kors is considered luxury that's also affordable.
Michael Kors is set to report on Tuesday of next week. Investors in Kors are going to be watching to see if the company can continue to accelerate its growth, as it was doing before slowing in the past two quarters. The company is going to let people in on how it did over the holidays and it's looking for growth in the face of its competitors, like Coach, who have experienced sagging revenues during the holiday quarter.
Analysts are expecting to see earnings of $0.86/share on revenues of $859.66 million. Coach, which recently reported on January 22nd, missed estimates on both lines. If Kors can come in above estimates this quarter, it'll be a continued nod of the market share it is taking away from Coach.
Analysts have a consensus price target of $88 on the company, representing about a 11% increase from the company's current levels. A major portion of analysts rate Kors a strong buy or buy.
(source - NASDAQ.com)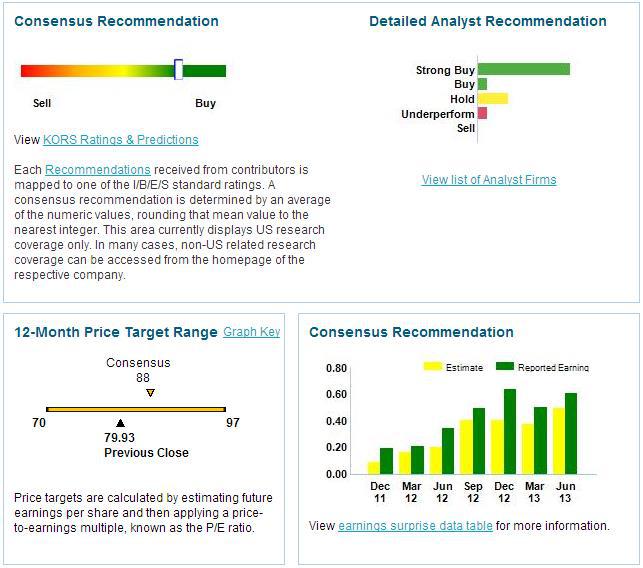 The stock is trading at a relatively modest 25x forward P/E. For the growth that the company is capable of in Europe, where they have a virtually untapped market that they're continuing to grow, I find this multiple attractive, despite looking a little lofty.
SA Contributor Stock Gamer talks about the room for expansion into Europe for Kors in his/her recent article "The Uptrend Will Continue":
In the most recent quarter, KORS generated 101% sales growth in Europe, which significantly exceeded the overall sales growth of 39%. Given that 1) KORS' current business footprint in Europe (approximately 10% of total revenue) is considerably less than North America (89%) and 2) sales of luxury goods in Europe represents about 38% of the global sales, management expects the region will become a $1B market for the company over the next 5 years. Based on management's estimated $350M sales in Europe for 2014, the sales target implies a growth potential of 286% in about 5 years.
With a considerable amount of room for growth worldwide, I'll be buying into any weakness into - and after - earnings on expectations of Kors being a mid-to-long-term winner (1 year to 3 years) in the retail sector. It is the only stock I own in the area of retail, so it represents the entire sector in my portfolio.
I'm bullish into Kors earnings this week and for the long-term.
Best of luck to all investors.
Disclosure: I am long KORS. I wrote this article myself, and it expresses my own opinions. I am not receiving compensation for it (other than from Seeking Alpha). I have no business relationship with any company whose stock is mentioned in this article.