Even after shares of companies in the Oil and Gas Refinery and Marketing sector surged in the fourth quarter of 2013, investors are still cautious when it comes to taking profits. Unlike the oil- and gas exploration sector, which was rocked by disappointing results from Royal Dutch Shell (NYSE:RDS.A) (NYSE:RDS.B) and Exxon Mobil (NYSE:XOM) in January, the refinery sector holds up fairly nicely and is much less affected by the overall profit-taking mentality that could be witnessed in the stock market over the last two weeks. The remainder of the article focuses on the refinery giant Valero Energy (NYSE:VLO).
Trailing twelve month share performance
Valero Energy shares hold up well despite the recent market downturn and shares are now quoting just below its most recent 52-week High at $53.64 from the beginning of January.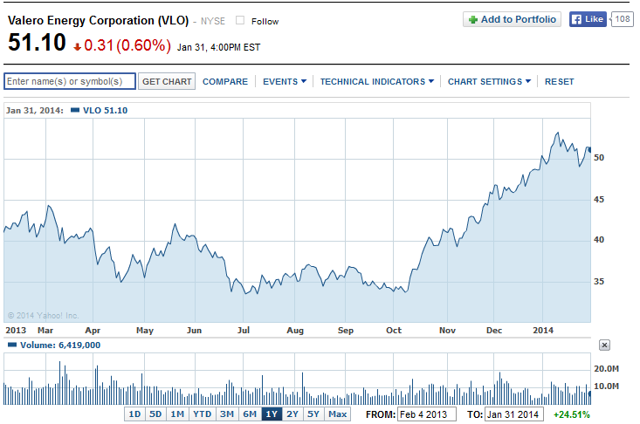 The Oil and Gas Refinery and Marketing sector has done well for investors: Western Refining (NYSE:WNR) gained 214% over the most recent five-year measurement period, Tesoro Corporation (TSO) 191%, Valero Energy 135% and Phillips 66 (NYSE:PSX), ConocoPhillips' (NYSE:COP) old refinery business that was spun off, returned 115% since it was listed two years ago.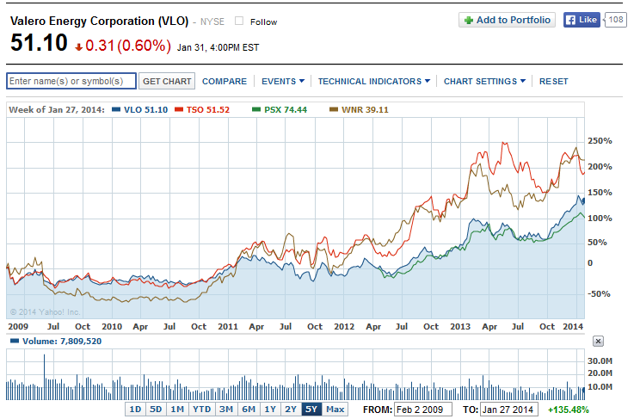 Fourth quarter results
Valero Energy had a great fourth quarter 2013. The refinery company reported net income of $1.3 billion vs. $1.0 billion in the year ago quarter. Valero Energy's diluted EPS came in at $2.38 in Q4 2013 compared to $1.82 in Q4 2012 (a y-o-y increase of 31%). Fourth quarter 2013 operating income was nearly flat at $1.6 billion with y-o-y decreases in the refining segment being offset by increases in Valero Energy's ethanol segment.
Valero Energy Chairman and Chief Executive Officer Bill Klesse commented on the company's achievements:
"We had a great fourth quarter and ended the year on a strong note. Our refineries and ethanol plants ran well and at a high utilization rate in the fourth quarter. In refining, we took advantage of favorable crude oil discounts at most locations, while our ethanol business enjoyed high margins and set a record high for quarterly and annual operating income."
Domestic oil and gas boom supporting the refinery business
What is currently happening in the domestic oil and gas business is not simply a cyclical surge in production. Something much more fundamental is happening that will transform the energy business in the United States in the coming years: The US is on the brink of becoming energy independent and transitioning into an energy exporting country. The United States experiences a boom in onshore oil and gas production that is driven by new drilling technologies such as hydraulic fracturing and horizontal drilling. These technologies allow access to oil and gas reservoirs that were previously unattainable. Consequently, the entire energy infrastructure in the US needs to be upgraded in order to be able to accommodate larger oil and gas production and throughput volumes: Pipeline networks, transportation, processing and storage capacity as well as fractionation capabilities must be expanded. Massive infrastructure investments are necessary to transform the domestic energy business and facilitate the large-scale export of energy commodities.
The graph below shows that US and Canadian estimated crude production increases materially until 2020 which will raise the demand for US refinery capacity.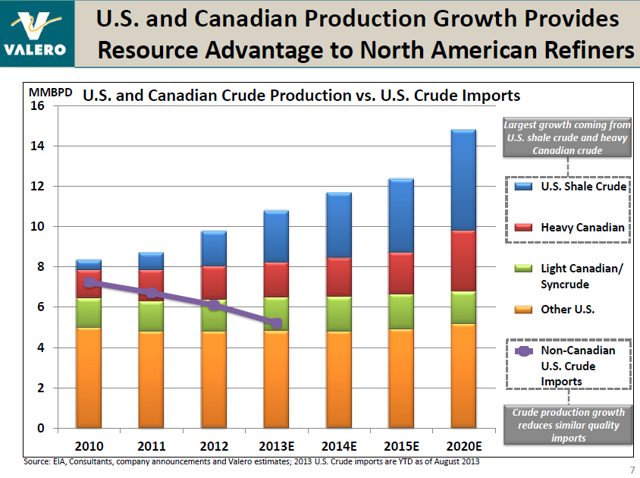 Valuation
Refineries, despite the run-up in share prices, are still dirt cheap. Just like many other oil and gas exploration companies, refineries appear to be deeply undervalued given their long-term earnings prospects. Their earnings prospects are largely driven by domestic production growth in high-impact shale regions as well as by Canadian crude production.
Valero Energy trades at less than 9 times forward earnings which provides investors with a sizable margin of safety and limits the risk of overpaying. The entire Refinery and Marketing sector trades at almost depressed multiples: The peer group average P/E ratio stands at just 9.56 while three of the four refinery plays in the peer group exhibit forward P/E ratios of less than 10. The following two charts depict Valero Energy's P/E and D/P ratios and compare them to the respective ratios of Valero Energy's peers.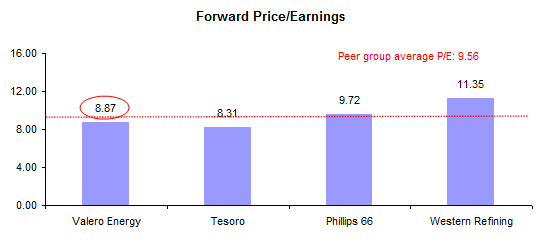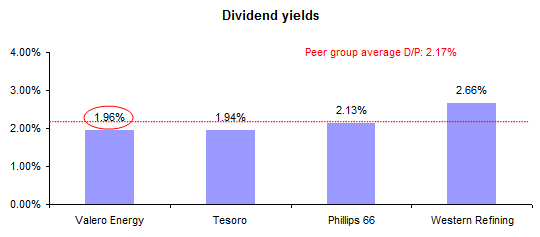 As usual, the table below summarizes Valero Energy's key metrics market cap, forward Price/Earnings, PEG and D/P ratio and compares them to the peer group mentioned above.

Conclusion
Refinery businesses are indispensable for the domestic oil and gas industry. With the ongoing boom in US shale oil and gas production, the need for transportation, storage and refinery capacity increases. As the United States moves toward becoming energy independent, new export pathways open up that also require substantial energy infrastructure upgrades. In addition to favorable long-term production forecasts that will require North American refinery capacity, the energy sector is still extraordinarily cheap both compared to its earnings prospects and other sectors of the stock market. Since I last wrote about Valero Energy and the numerous catalysts created by Valero Energy's savvy management, shares of the refinery heavyweight have increased by 9%. Valero Energy now trades at just 8.87 times forward earnings which is equivalent to an earnings yield of 11.3% and the company has still meaningful upside potential left. Long-term buy.
Disclosure: I am long RDS.A. I wrote this article myself, and it expresses my own opinions. I am not receiving compensation for it (other than from Seeking Alpha). I have no business relationship with any company whose stock is mentioned in this article.