Our prediction that 2014 would see increased volume in M&A is certainly holding true, with data from S&P Capital IQ to prove it. According to their figures, worldwide merger volume was $355 billion in January, making it the best January since 2000. Market returns have been lagging with all of those deals, but there are a number of other deals in the works which would be sizeable and could provide a boost to investor confidence moving forward.
Chart of the Day:
Japan's Nikkei fell hard last night, and the nearly 300 point decline has now taken the index well below the 15,000 level where it appeared that support had been found. Now we are forced to look at the 14,500 level for immediate support (roughly 120 points lower) and should that fail the 14,000 level.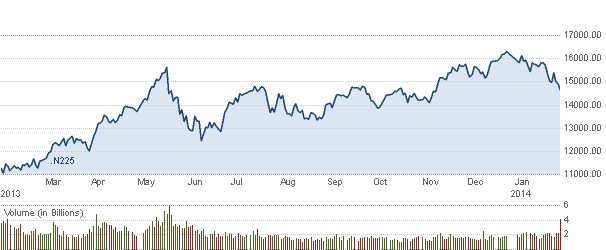 Source: CNBC
We have economic news today and it is as follows:
ISM Index (10:00 a.m. EST): Est: 56.0 Act: 51.3
Construction Spending (10:00 a.m. EST): Est: 0.1% Act: 0.1%
Auto Sales (2:00 p.m. EST): Est: N/A
Truck Sales (2:00 p.m. EST): Est: N/A
Asian markets finished lower today:
All Ordinaries -- CLOSED
Shanghai Composite -- down 0.82%
Nikkei 225 -- down 1.98%
NZSE 50 -- down 0.51%
Seoul Composite -- down 1.09%
In Europe, markets are trading lower this morning:
CAC 40 -- down 0.99%
DAX -- down 0.93%
FTSE 100 -- down 0.24%
OSE -- down 0.99%
Merger Mania, Rumors Prevail
It has been years since we have seen the wheeling and dealing that is now taking place in the M&A space. It seems that everyone wants to be the acquirer and not the acquire, and if not the acquirer then they would simply like to be left alone. This holds true in both the Joseph A. Bank (NASDAQ:JOSB) and Time Warner Cable (TWC) situations.
Both companies' performances have lagged recently, but neither management team wants to sell their company currently. Both have been locked in tense public discussions with their suitors and unable to arrive on a price. Time Warner Cable has informed Charter Communications (NASDAQ:CHTR) that they would accept a $160/share bid, composed of $100/share in cash and $60/share in stock that would have downside protection. Time Warner Cable's management was on CNBC and other media reaffirming their commitment to the $160/share demand on Friday, and this morning there are rumors that Charter is set to offer a revised bid somewhere in the low $140s per share, but only after nominating directors to run for Time Warner Cable's board. Our view is that a deal gets done at $150/share, but a third name might very well have to step in to assist with the higher price to be paid.
Time Warner Cable shareholders should obviously want the best price, but they better hope management does not chase off the one suitor which appears capable of pulling a deal off single handedly. Other potential deals would be much more difficult to close.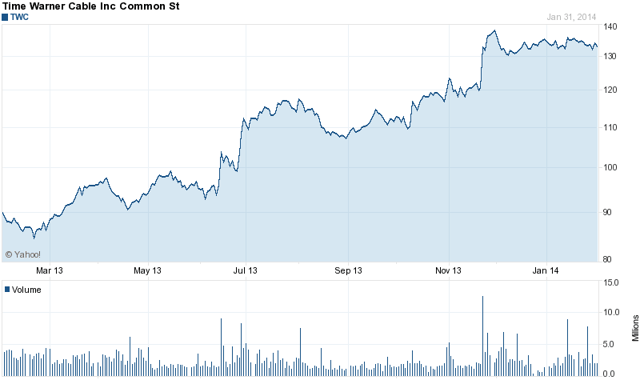 Source: Yahoo Finance
There has been a change in direction at Joseph A. Banks after their bid for an industry rival backfired on them and put the company in play. Now, rather than agree to be bought by the competitor, the company is looking to buy privately held Eddie Bauer in a transaction that makes little sense to us as there appear to be few synergies. One thing is for certain, the merger game has become complicated in the past few years and seems to be less about poker faces and more about playing chicken with investors' money.
An Icahn Style Buyback
Having recently received their audited financials not that long ago, Herbalife (NYSE:HLF) has spent little time in taking the offensive against the shorts in its shares. They have held some meetings with high profile investors in hedge funds, held presentations for analysts and now essentially pre-announced the current quarter while also announcing a debt issuance to allow for a share buyback. Herbalife will sell $1 billion in convertible securities to institutional investors, while taking a portion of the proceeds and applying them to the company's buyback program, thus increasing it to $1.5 billion in total.
Judge Approves Settlement
The big news Friday for one of our favorite banking names is that a judge approved the settlement, which helped shares show strength to close out the week. The previously announced $8.5 billion settlement had been called into question, and some analysts thought that there was a possibility that Bank of America (NYSE:BAC) would be forced to pay a much larger sum. This is why there has been talk in some circles about the lack of reserves being set aside to cover any larger damages. The New York state judge's approval of the settlement did have one exclusion which could leave the door open to further litigation, but our guess is that after this victory that Bank of America will have the leverage and should be able to bring this to a close with little extra cost to incur. The news came out around midday on Friday, but we did want to make sure readers did not miss it.
Disclosure: I have no positions in any stocks mentioned, and no plans to initiate any positions within the next 72 hours. I wrote this article myself, and it expresses my own opinions. I am not receiving compensation for it (other than from Seeking Alpha). I have no business relationship with any company whose stock is mentioned in this article. BAC has previously been recommended.