In a move to expand its branded product pipeline, generic player Teva Pharmaceutical Industries Ltd. (NYSE:TEVA) recently entered into a research and exclusive license agreement with Mersana Therapeutics for the development and commercialization of oncology compound, XMT-1107.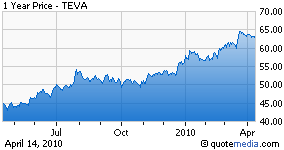 Mersana will be eligible to receive up to $334 million based on the achievement of development, regulatory and commercial milestones. Mersana is also entitled to receive royalties on product sales. Teva's license for the candidate covers all indications including cancer and relates to all territories excluding Japan.
Mersana intends to commence a phase I study with XMT-1107 in the second quarter of 2010.
This deal is in-line with Teva's goal to expand its innovative product pipeline. XMT-1107 is the second oncology candidate to be in-licensed by Teva over the past few months.
In late December 2009, Teva had entered into a global license and collaboration agreement with OncoGenex Pharmaceuticals, Inc. (OGXI) for the development and commercialization of OncoGenex's late stage pipeline candidate OGX-011 which is being studied for the treatment of different types of cancer.
Given the demand for new treatment options for cancer, the successful development of the oncology pipeline candidates would be a major boost for Teva. However, we note that XMT-1107 is a very early stage candidate which is several years away from commercialization.
We currently have a Neutral recommendation on Teva. We are pleased to see the company working on expanding its branded product offering. While we expect Teva to continue performing well thanks to new product launches, both generic and branded, we remain concerned about the intense competition and pricing pressure in the generics market.
Moreover, the patent challenge on lead branded product, Copaxone, remains a matter of concern. With Copaxone contributing more than 20% to total revenues in 2009, the entry of generic versions would have a devastating effect on the company's performance.