The natural gas trade has calmed down in recent sessions, however there are three more storms scheduled to hit the US this week so we could continue to see volatility in trading this week.
Looking at the headwinds the market is facing has caused many investors to panic, and the resulting market turmoil has pushed the prices of the precious metals sharply higher. We did close the short trade we had with the gold miners that was offset by a long position in gold (to hedge a little of the risk), but that was because we saw better opportunities out there with less risk. Sadly we did not see this strong move higher, just that the move lower appeared tired.
With that said, we would not be long the SPDR Gold Shares ETF (NYSEARCA:GLD) heading into Yellen's testimony in the middle of this month because one of the most powerful tools that the Fed has is their language and guidance...two things the new Chairman will be able to clarify during her two days at the Capitol.
Chart of the Day:
The US 10 Year Treasury is at three month lows. There is obviously a flight to safety occurring, as evidenced not only by this move but also the move in gold.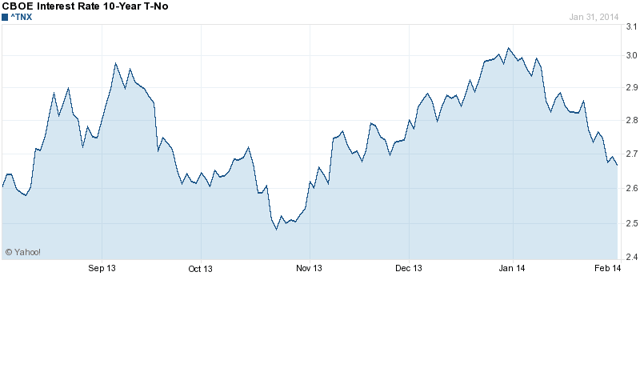 Source: Yahoo Finance
Commodity prices this morning are as follows:
Gold: $1,264.20/ounce, up by $20.40/ounce
Silver: $19.425/ounce, up by $0.305/ounce
Oil: $96.39/barrel, down by $1.10/barrel
RBOB Gas: $2.5988/gallon, down by $0.0326/gallon
Natural Gas: $4.912/MMbtu, down by $0.031/MMbtu
Copper: $3.19/pound, down by $0.007/pound
Platinum: $1,390.60/ounce, up by $14.90/ounce
Big Oil Names Lagging
This weekend we were going over our notes from some of the integrated oil names and were kind of shocked at the disappointing results across the board. This quarter was disappointed for a number of the names, but as we looked at older press releases as well our thinking on names such as Chevron (NYSE:CVX), Royal Dutch Shell (NYSE:RDS.A) and ExxonMobil (NYSE:XOM) began to dim a bit.
Now we are still bullish the sector, but when you look at the recent moves the companies have been making one has to wonder how these guys are going to grow significantly. ExxonMobil seems overdue for an acquisition that would allow them to significantly increase their oil and liquids production. Chevron, after the latest quarter, appears in need of further growth assets as well - although we are willing to give them a pass on this quarter if it was indeed caused by their continued pruning of assets. Those two make plenty of sense to us as to what the issues were, but with Royal Dutch Shell we do wonder about the company's overall plan to grow production and diversify their geographical risk.
All three of these names are facing issues with finding large enough projects overseas to grow as quickly as they would like, but we have to believe that Mexico is going to be a key area that Chevron, ExxonMobil and Royal Dutch Shell look at for growth, especially with their expertise in offshore drilling and the deep pockets to undertake the expensive projects Mexico's PEMEX is likely to pass over and allow international companies to explore and develop.
We have been calling for a wave of consolidation within the sector, and now that the stock prices of smaller E&P names have pulled back we might see a deal or two of significance. Possibly even with the next name we are about to discuss.
A Value Trade
Over the years we have made decent money and returns playing the ups and downs in Rosetta Resources' (NASDAQ:ROSE) stock price. With this latest move lower we think that readers have another opportunity to pick up shares on the cheap before another inevitable move higher.
We have long enjoyed buying Rosetta shares in the lows $40s to sell in the high $40s or even somewhere above the $50/share level. This looks and feels like another one of those opportunities.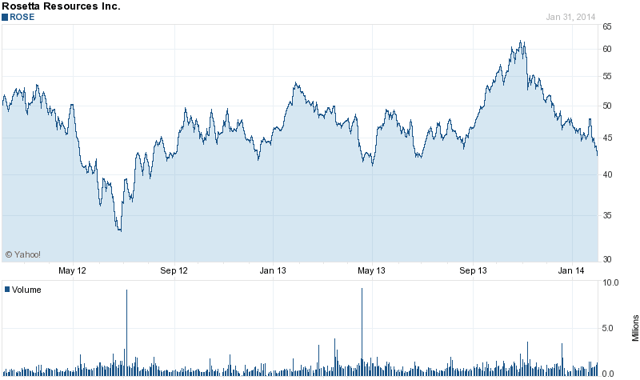 Source: Yahoo Finance
Our base case for the company has remained unchanged, but over the past year the management team, which we hold in very high regard, has continued to create value for shareholders by venturing into areas that should provide excellent returns. The company continues to add acreage in the Delaware Basin and this new area should continue to drive growth for the company's liquids production. Depending on how quickly the company decides to grow their production, and also dependent upon the prices realized on that production, we see minimal dilution for shareholders moving forward as we think that Rosetta will be able to use debt to finance their exploration.
Looking at the shares right now, we think that there is a 10-15% short-term upside available at the current stock price and still think that Rosetta could see $60/share in the next 12-24 months in a best case scenario
Disclosure: I have no positions in any stocks mentioned, but may initiate a long position in ROSE over the next 72 hours. I wrote this article myself, and it expresses my own opinions. I am not receiving compensation for it (other than from Seeking Alpha). I have no business relationship with any company whose stock is mentioned in this article.