Though it's hard to predict any lasting trends after one month, utility sector equity closed-end funds (CEFs) are leading a rebound in equity CEFs so far in 2014. In my last article on January 21st, I took a rather dim view of the overall markets asking how much better it could get, particularly for the broader market stock based Exchange Traded funds (ETFs) in light of the Federal Reserve's tapering of its Quantitative Easing (QE). It's been pretty much downhill for the equity markets since then, and you can read my article, Will ETFs Beat CEFs Again?, and see why CEFs may be a better place to invest in 2014 over ETFs.
Certainly emerging markets are contributing to a more turbulent 2014 so far this year, but I still feel it's the withdrawal of the Fed's QE which is having the biggest psychological effect on the markets since confidence can play as large a role in market direction as fundamentals. This is not to say that 2014 will end up being a negative year for the stock markets since if there's one thing I have learned, nobody can predict the events, which will affect the markets positively or negatively. Heck, it was just a month or so ago that everyone was predicting interest rates would continue to rise in 2014 and that utilities would be one of the worst places to invest. And what has actually turned out to be the best sectors so far this year? Utilities and bonds, of course.
So I don't try to predict where the markets are headed and I would recommend that investors look to securities that can offer a hedge just in case a -5% pullback in the markets turns into a -10% correction or worse. Hedges can be in the form of shorting broad market ETFs or owning inverse ETFs for retirement accounts. In my Advisory business, I don't own individual stocks and I get pure long or short stock exposure through the heavily traded broad market ETFs such as the SPDR S&P 500 (NYSEARCA:SPY), the SPDR Dow Jones Industrial Average (NYSEARCA:DIA), the iShares Russell 2000 (NYSEARCA:IWM) or sector ETFs. They may not be exciting but they are liquid and you know what you get with them.
CEFs can also be a form of hedging though certainly not like being short ETFs. CEFs, both stock based and bond based, can be more unpredictable than ETFs in the short run and trade with more volatility, though over time, I believe they are very predictable. CEFs give you the diversification of an ETF or a mutual fund with the higher beta and appreciation potential of an individual stock. In addition, CEFs generally offer much higher yields than ETFs, typically between 6% and 9%, and can trade at discounts and premiums to their Net Asset Values (NAVs). Though CEF market prices can be subject to enhanced volatility during market unrest periods and are certainly not immune to corrections or bear markets, their NAVs may actually be exhibiting far less volatility and outperforming their broader market indices. Knowing how a fund's NAV performs in different market environments is the key to knowing, which funds to own and which to avoid because ultimately, a fund's market price will follow its NAV just as surely as day follows night.
What hurt CEFs in 2013, i.e. higher interest rates and defensive income strategies that could not keep pace with the broader market averages, is now what is helping them in 2014 as the vast majority of equity CEFs I follow are currently outperforming the S&P 500, as represented by SPY. Here are the top performers sorted by the Total Return NAV column in which green means they are outperforming SPY, currently down -3.5% through January 31st, 2014. NOTE: Only about 35 of approximately 100 equity CEFs I follow can be shown in a screenshot.
Table #1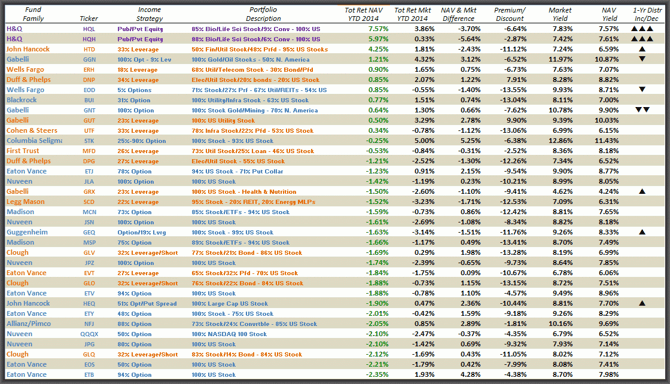 The table also gives you a Total Return Market Price column, the current Premium/Discount as well as the Current Yields for each fund. Though most investors are only concerned with the market price performance of a CEF, a fund's market price is really only useful in determining its premium or discount as well as its market yield. Otherwise, I would encourage investors to follow the NAV instead and that is why I sort these tables by their NAV performances.
Flipping this table over will show you the bottom 35 or so performers in which red in the Total Return NAV column means the fund has underperformed the SPY so far in 2014. Note: My tables do not include REIT, MLP or country specific CEFs.
Table #2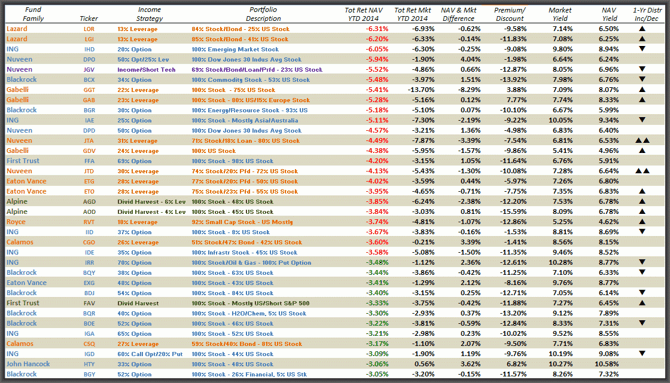 Utility CEFs For A More Defensive Market
So now that we know which funds are leading and lagging so far in 2014, let's go over some specific funds since sometimes the trend established in January can be a good indicator for the rest of the year. I'll be referring to the tables above where Table #1 includes the top performers and Table #2 includes the bottom performers. Again, one month does not a trend make and my recommendations also take into account longer-term NAV performances going back to bull and bear market environments.
What often happens in a market transition period is that the underperformers from last year will often trade at the widest discounts even though their NAVs are starting to outperform. Such is the case with the utility CEFs. Looking at Table #1, funds such as the BlackRock Utility and Infrastructure fund (NYSE:BUI), a fund I have liked for a long time, and the Wells Fargo Global Dividend Opportunity fund (NYSE:EOD), a fund I have NOT liked for a long time, are now both offering exceptional values at -13% and -13.5% discounts respectively while seeing their NAVs rebound.
EOD in particular, a fund I had written negatively on several times, like here in March of 2012, Other CEFs Due For Distribution Cuts, has gotten extremely cheap. Two years ago, EOD traded at a premium valuation due to an excessive market and NAV yield that seemed attractive at the time but was actually eroding its NAV. Since then, EOD has cut its distribution twice and its market price has fallen from $9.23 (when I wrote the article at the fund's peak) to $7.21 today. However, EOD's NAV has actually been performing much better recently as its portfolio of global utility stocks, domestic REITs and preferred securities has been holding up much better. Here is EOD's 1-year market price and NAV graph. NOTE: Ticker symbol XEODX represents EOD's NAV. Both graphs do NOT include distributions, which would add roughly 10% to performance.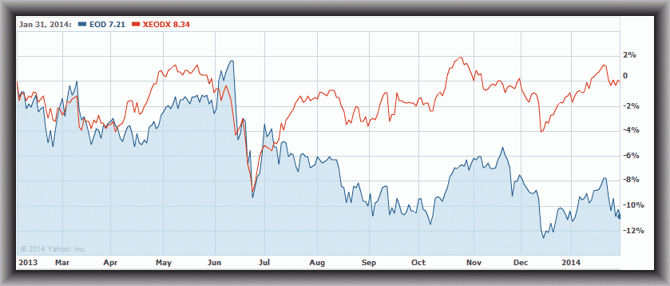 At a -13.5% discount and a current 9.9% market yield (and more importantly a much more manageable 8.7% NAV yield after two distribution cuts), EOD is a fund you can own here if the markets continue their downside momentum. Though EOD is not without risk, currently selling minimal options as well as including a high percentage of REITs in its portfolio, I believe EOD's exceptionally wide discount valuation and more manageable distribution policy will provide support at current levels and thus, the fund's risk/reward has dramatically improved.
The Wells Fargo Advantage funds also offer another utility based CEF, the Wells Fargo Utilities and High Income fund (NYSEMKT:ERH), also among the best performers YTD, but ERH uses leverage and doesn't have near as attractive a valuation as EOD in my opinion.
Another balanced utility based stock CEF that I have liked for a long time is the John Hancock Tax-Advantaged Dividend Income fund (NYSE:HTD), which is also showing renewed NAV strength after a lackluster 2013. Like ERH, HTD also uses leverage and has a high 35% leveraged portfolio of about 50% US based utility stocks and 50% preferred securities. As a result, HTD can be much more interest rate sensitive and ended 2013 at a -9% discount and a NAV up only 7.7% on a total return basis. But so far in 2014, HTD has turned that around with an NAV already up 4.25% even though its discount has actually widened to -11.2%. Then consider that the fund recently raised its distribution from $0.0985/share to $0.11/share paid monthly, and HTD is also attractive in a defensive market environment when investors look for safe havens in utilities and preferreds.
Other CEF Strategies For A More Defensive Market
Utility ETFs and mutual funds may seem boring to many investors but they can be anything but boring in the world of CEFs. 9%+ yields and -10%+ discounts has a way of doing that when the markets start looking more defensive and investors start looking for safer havens.
But utility and fixed-income CEFs are not the only funds outperforming so far in 2014. Should the markets continue their negative trend, the most defensive option-income CEFs will continue to outperform as well. Option-income funds perform best in trendless markets in which their short option positions are more likely to expire worthless. A volatile up and down market or even just a flat market environment is just fine for option-income funds but like most equity CEFs, they are not immune to a bear market even if their NAVs hold up far better.
For investors looking for income but aren't convinced that interest rates have peaked yet and that bonds are still too dangerous, option-income CEFs could be your ticket. Option-income CEFs are generally non-leveraged and typically own nothing but large cap stocks, either US based or global.
The most defensive option-income CEFs sell the highest percentage of options against their stock portfolios and none get much higher than the Nuveen Equity Premium Opportunity fund (JSN), the Nuveen Equity Premium Advantage fund (JLA) and the Nuveen Equity Premium Income fund (JPZ).
Selling index options (S&P 500 and NASDAQ-100) against 100% of their large cap US stock portfolios, JSN, JLA and JPZ are three of the most defensive option income CEFs around that don't also use put options. Not only do these funds sell a high option percentage but they can also sell the options "in-the-money" depending on the strength of the underlying index. "In-the-money" means the option strike prices are sold below the current index prices which brings more income and offers even more defensive option positions.
Of the three, I like JLA the best due to its larger discount at -10.2% and higher market yield at 9% paid quarterly. From Table #1 above, you can see that JLA's NAV is down only -1.4% YTD, the best of all three and one of the best of any option-income fund (light blue) primarily because JLA has a higher percentage of NASDAQ-100 and technology stocks in its portfolio. With the SPY down -3.5% and the NASDAQ-100 down -1.9% YTD, JLA's NAV will continue to hold up better the more its benchmark indices go down.
For example, in 2011, which was a flat year for the S&P 500 and a down year for the NASDAQ-100, JLA's NAV was up 6% on a total return basis, i.e. including distributions, even though investors mistakenly sold off JLA's market price. It's sometimes appalling to see the most defensive option-income funds sell off as much if not more than the most aggressive equity CEFs when the markets go down but that's your opportunity when other investors don't know which fund's NAVs will hold up the best.
Conclusion
We're not in 2013 anymore and investors who continue to believe the CEF winners from 2013 will continue to outperform in 2014 have another thing coming. Hello Gabelli Equity Trust fund (NYSE:GAB) holders? In my next article, I'm going to focus on Table #2 and point out some equity CEFs that should be sold before investors realize that their fund's NAVs are now underperforming.
Disclosure: I am long HTD, JLA, BUI, SPY, DIA. I wrote this article myself, and it expresses my own opinions. I am not receiving compensation for it (other than from Seeking Alpha). I have no business relationship with any company whose stock is mentioned in this article.
Additional disclosure: Short IWM