Enterprise Products Partners (NYSE:EPD) is the largest MLP after its acquisition of TEPPCO, another large MLP, last year. EPD is very proud of its outstanding track record and is optimistic about the future. It's a leading North American provider of midstream consumer energy services with 48,000 miles of onshore and offshore pipelines moving natural gas, natural gas liquids (NGL) and crude oil. The bulk of its business is moving natural gas and NGLs for import and export services from the largest supply basins in the US, Canada and Mexico. EPD's pipelines handle approximately 20% of the US demand for natural gas.
The record of growth is impressive. EPD had assets of less than $1 billion in 1998, which grew to $26 billion last year. Growth for stockholders (1/1/99 to 12/31/09) has been very rewarding (including reinvested income):
EPD_____________830%
Alerian MLP Index__430%
S&P 500__________10%
In July 1998, its annual distribution was $.93. This week, EPD increased the quarterly cash distribution to $0.5675 per unit, $2.27 annualized. The higher distribution represents a 5.6% increase over the distribution in Q1, and is the 32nd increase since 1998 and the 23rd consecutive quarterly increase.
EPD raised $4 billion of debt and equity during the recent financial crisis. EPD expects to generate cash flows in 2010 from $1.6 billion of growth capital projects put in service in 2009. Enterprise Products Partners yesterday sold 13.8 million units at $35.55 per unit, which will net them almost %500 million. Proceeds will be used to pay a portion of the purchase price of the pending acquisition of natural gas gathering assets in the Haynesville Shale area from M2 Midstream LLC and for general purposes.
Dan Duncan, the Chairman and largest investor in EDP, died 3 weeks ago. Forbes estimated his fortune at $9 billion, the biggest portion was invested in Enterprise Products. He was a generous Texan, using much of his wealth for philanthropy. Enterprise management will continue his work moving the company forward as demonstrated by the distribution increase and large equity offering this wee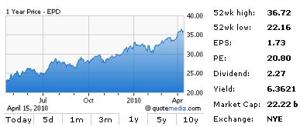 k.
The yield for EPD is 6.3% based on the new rate and a market price of $36. This is a little below the 6.8% yield on the Alerian MLP Index, but EPD has a longer history than many MLPs along with a more consistent record of increases. At a time when speculative stocks, many under $5, are garnering more than their fair share of interest, value investors may be attracted to this company with its demonstrated track record and expected participation in building more miles of pipelines primarily to move natural gas products.
Disclosure: No positions