The current bankruptcy cycle kicked into high gear in late 2008/early 2009. A large number of these filings have been pre-negotiated, balance sheet (and not operational) restructurings.
This dynamic has resulted in very short turnaround times - as I recall, in the 2001-2002 cycle, the average time from filing to emergence was 14 months. In the current cycle, the average time in bankruptcy has been less than six months.
So far, I have tracked 18 post reorg stocks. To calculate stock returns, I have taken the average price of the first week of trading and compared it with the closing price on April 14, 2010.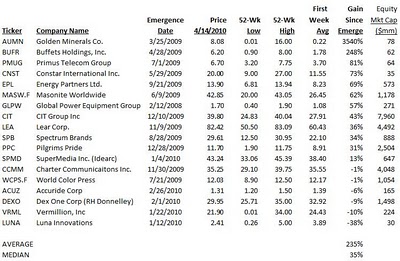 Excluding the outliers Golden Minerals (NYSEMKT:AUMN) and Buffets (BUFR.PK), the average and median returns drop down to 27% and 33%, respectively. Not too shabby for a basket of equities. However, these returns look less impressive in the context of the overall market, which has been on a tear since the beginning of 2009.
But what if you were a good stock picker and able to avoid the low-return stocks in the group? In that case, you could have easily outperformed the market (easier said than done) and made a handsome return.
Disclosure: Long PMUG, Long EPL