In early January, US crude-oil production surged to 8.15 million barrels per day - the highest level since September 1988. As we explained in Growing Oil Production, Growing Pains, the six shale oil and gas plays tracked in the Energy Information Administration's monthly Drilling Productivity Report account for almost half of America's oil supply.
The Bakken Shale in North Dakota, the Eagle Ford Shale in south Texas and the Permian Basin in West Texas and New Mexico have accounted for much of the US oil boom, with production from these plays jumping by more than 2.5 million barrels per day since the beginning of 2010.
Although these unconventional basins have led the push toward US energy independence, investors shouldn't discount the base production that comes from mature oil and gas fields.
In fact, older oil and gas fields - some of which have produced for more than a century - are critical to the continued success of the US shale energy boom.
No Respect
Hedgeye Risk Management earned a great deal of attention for its ostensible takedown of Linn Energy LLC (LINE); after adopting Bronte Capital's criticism of the upstream operator as its own, the research firm waged a savvy (and unsavory) media campaign to publicize this view.
Much of Hedgeye Risk Management's bearish argument centered on Linn Energy's use of puts to hedge its natural-gas production and questions about the MLP's maintenance capital expenditures.
Critics also denigrated the quality of Linn Energy's asset base, particularly its focus on mature wells that were well past their peak production rates.
Bronte Capital, an international hedge fund sponsor that offers investment advisory services, raised these concerns in a sensationalist blog post that was long on bluster and short on reason. Here's an excerpt:
These wells are valuable. A well flowing 3 barrels per day still generates $70-100 thousand a year of gross revenue. There is only a small fraction of that left after production taxes and maintenance. Someone has to fuel and maintain the nodding-donkey oil pump after all. And someone has to drive the truck around to collect the oil.

This is gritty work. Apart from anything these fields are laden with environmental problems - because typically the pump is pulling up a barrel of oil and fifty barrels of salt water per day. The salt water needs to be disposed of. And the oil collected and spills dealt with.

So you are under no illusions this what a typical unit producing one barrel per day (and 150 barrels of salt water) looks like check out this video from You Tube.

What you own if you own Linn Energy is simple. It is thousands of these things.

But let's get back to the natural owner of this well. I know the guy. Sun burnt but would be far more sun burnt without the hat. A pick-up truck. Dog and a shot-gun in the back. Political views well to the right of mine.

You have to admire this guy - he is a self-reliant individual who works without much corporate overhead. Has nobody to blame when the electric motor burns out than himself. And he works hard. Real hard.

This assets owned by Linn Energy are not normally the sort of asset owned by a 14 billion dollar enterprise valuation listed entity. They are owned by the red-necked, gun-toting self-reliant individual who works hard and does not mind getting his hands dirty.

When this MLP runs out of cash to distribute it is likely to be dismantled and the assets will be sold to those fine people with their politics, dogs and shotguns. Assets like these tend to find their natural owners.

In liquidation I seriously doubt if there will be anything like enough to make whole the $7 billion owned to the banks and other lenders. If you are a Linn Energy debt-holder beware.

Something substantial for the residual equity holders? Surely you must be joking?
Setting aside the article's ignorant hyperbole, Bronte Capital's thin argument is dead wrong and betrays a misunderstanding of the realities at play in the US energy landscape.
To raise doubts about the quality of Linn Energy's assets, Bronte Capital estimates the average production of the MLP's wells at 6 barrels of oil per day. Investors should consider this figure in context.
First, let's update this calculation based on the upstream operator's 2012 results.
Linn Energy operated 4,206 productive oil wells at the end of 2012 and 3,785 net wells at the end of 2011-an average of 3,996 net oil wells. The MLP produced about 29,200 barrels of oil per day in 2012, which translates into 7.3 barrels of daily oil output per well.
Based on the current price of West Texas Intermediate crude oil, this production generated about $690 per day in revenue, or $250,000 per year.
Although these volumes pale in comparison to the 24-hour initial production rates that upstream operators have announced in the most prolific shale basins, the wells owned by Linn Energy are hardly undesirable, clapped-out assets.
In fact, mature oil wells of this nature predominate in the US. And per well production statistics reveal that Linn Energy isn't the only oil and gas company that owns a significant number of older wells.
For example, Exxon Mobil Corp.'s (XOM) upstream portfolio included about 13,430 productive wells that flowed an average of 418,000 barrels per day in 2012, equivalent to daily output of 31.1 barrels per well.
Although the energy giant owns plenty of prolific wells in Alaska and the deepwater Gulf of Mexico that produce thousands of barrels per day, the world's largest oil company also owns thousands of onshore wells with flow rates that are on par with Linn Energy's asset base.
Investors should also note that Exxon Mobil's production statistics don't differentiate between crude oil and natural gas liquids (NGL), a group of hydrocarbons that includes ethane, propane, butane and natural gasoline.
If we factor in NGL production, Linn Energy's portfolio of 8,415 wells produced 112,410 barrels of oil equivalent per day, or 13.4 barrels of oil equivalent per day.
Even Chevron Corp. (CVX) and Occidental Petroleum Corp. (OXY) - two of the leading oil and gas producers in the US - exhibit similar levels of liquids production per well.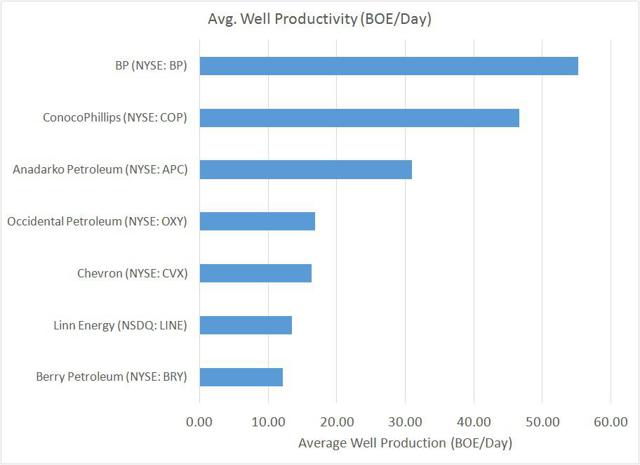 Source: Bloomberg, Company Filings, Energy & Income Advisor
In the US, average well productivity correlates closely to the geographic footprint of an oil and gas companies' producing acreage.
Chevron and Occidental Petroleum have significant exposure to California, where many of the state's largest fields were discovered almost a century ago.
About 20 percent of California's oil production came from wells producing less than 10 barrels of oil per day in 2009, while 78 percent of the state's oil output came from wells that flowed less than 50 barrels per day.
When you consider that California imports more than half its oil supply from outside the US, dismissing the value of these mature wells for their low production rates appears asinine.
Texas, which leads the nation in terms of annual oil production, in 2009 generated about 30 percent of its output from wells producing less than 10 barrels per day and 43.5 percent from wells that flowed less than 15 barrels per day.
In other words, Texas lifted about 150 million barrels of oil from low-production, stripper wells.
Given Linn Energy's presence in Texas and California, one shouldn't be surprised that the MLP, like Chevron and Occidental Petroleum, owns a significant number of mature wells.
The Energy Information Administration (EIA) publishes data on the average productivity of oil and gas wells in the US. As of 2011, the average oil well in the US produced about 10.6 barrels per day - only slightly more than Linn Energy's average oil well.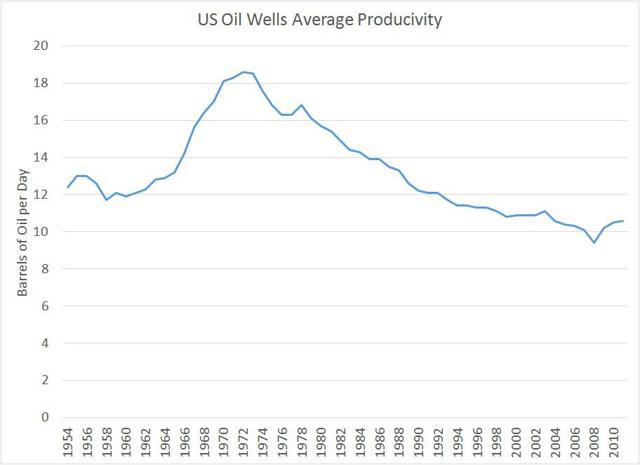 Source: Energy Information Administration
And when you consider that higher production rates from deepwater oil wells skew the data set, the average output rate for onshore wells would be lower.
In short, mature oil wells producing less than 15 barrels per day - stripper wells in industry parlance - in 2009 accounted for 16 percent of total US oil output.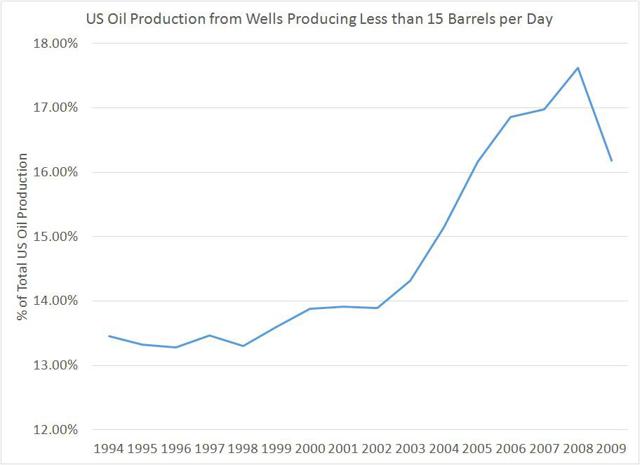 Source: Energy Information Administration
Bronte Capital's assertion that production taxes and maintenance spending gobble up profits likewise twists reality to support a specious argument.
Berry Petroleum, acquired by Linn Energy in December, produces an average of 10.1 barrels per day from its wells, the majority of which are in California. The company's production expenses (including lease operating and transportation costs) totaled about $23.00 per barrel in 2012, while the oil producer realized an average price of more than $90.00 per barrel.
Bronte Capital also makes a big deal about what it calls a nodding-donkey pump, a term used to describe a form of artificial lift known as a sucker-rod pump. Schlumberger (SLB), the world's largest oil-field services company, highlighted the growing demand for artificial-lift solutions in the US onshore market during its fourth-quarter earnings call:
Another market we are focusing on in North America land due to a significant growth potential is the artificial lift market. In line with what we have in the past few quarters we have acquired a number of rod pump companies covering the key liquids producing shale basins in the US and Canada.

We will now combine the offerings from these strong basin-specific companies with our existing artificial lift business in North America land to provide a life of well lift solution to our customers using our production engineering expertise and extensive monitoring and data integration capabilities.
If oil wells produced using sucker-rod pumps were as unprofitable as Bronte Capital would like them to be, demand for artificial-lift technologies wouldn't be soaring in the US and Canada.
Last year, General Electric's (GE) oil-field services and equipment unit acquired Lufkin Industries, a company that specializes in artificial lift, for $3.24 billion.
And given the steep production decline rates of most shale oil wells, these projects require artificial lift earlier in their life cycles than conventional wells. Many of the blockbuster wells in the Bakken Shale will produce at low volumes within a decade.
Funding the Shale Revolution
The importance of mature oil and gas wells extends far beyond their profitability and contribution to the US energy mix.
Producers and oil-field services companies have reduced costs and boosted production rates significantly in the nation's major shale oil and gas plays; for example, an Eagle Ford Shale well cost more than $10 million to drill and complete in 2011, compared to about $6.3 million in 2013.
Although the energy industry has made progress reducing production-related expenses, the horizontal wells drilled in shale plays entail significantly higher costs than conventional vertical wells.
Many oil and gas producers that focus on North American shale plays have outspent their cash flow in recent years. In 2013, two of the 14 largest upstream operators outspent their earnings before interest, taxation, depreciation and amortization (EBITDA), resulting in a cumulative deficit of more than $5 billion.
This trend should continue in 2014: The 14 largest operators in US tight-oil basis are expected to overspend their cash flow by 15 percent to 20 percent in 2014.
Industry estimates peg the total costs for exploration and production companies to drill and complete all the wells planned in the nine largest US shale plays at more than $2 trillion.
Although this development will occur over decades, supporting the US oil and gas shale boom will require major capital expenditures.
North American exploration and production companies have raised more than $500 billion in capital since 2007, with a good chunk of these funds going toward development activities beyond their internally generated funds.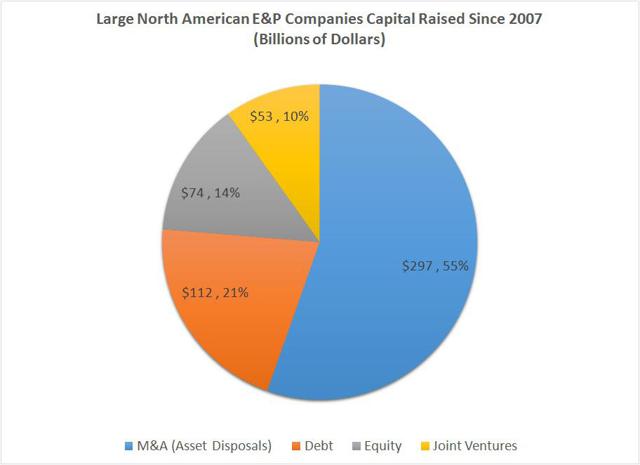 Source: Vanguard Natural Resources LLC
Among the various avenues through which independent oil and gas companies have raised capital, asset sales have emerged as the preferred path.
The market tends to favor exploration and production outfits that grow their hydrocarbon output at a rapid clip, while a period of depressed NGL and natural-gas prices has shifted the industry's preference to names that produce significant volumes of crude oil.
We've benefited from this growth story via former Focus List holding Oasis Petroleum (OAS), which had delivered a more than 50 percent return before we took our profits off the table amid concerns about valuation and volatile oil prices.
For these companies, mature wells have less value because of their declining output and cash flows. However, these assets are a perfect fit for master limited partnerships (MLP) such as Linn Energy and Vanguard Natural Resources LLC (VNR), which investors flock to for their above-average yields and sustainable distributions.
The reliable, low-cost production from these mature fields generates a steady stream of cash flow, especially if the operator hedges its output to reduce exposure to fluctuations in commodity prices.
Focusing on mature oil wells has several advantages for a publicly traded partnership. Not only do decades of oil and gas development in these regions mean that operators can predict production profiles with a higher degree of accuracy, but these areas also have plenty of existing pipelines and other midstream infrastructure needed to deliver hydrocarbons to their end-markets.
Upstream MLPs can also fend off gradual production declines through modest capital expenditures on well maintenance, a low-risk investment that can enhance production.
The majority of these publicly traded partnerships hedge a significant proportion of their anticipated oil and gas production for several years down the road.
These puts, swaps and options allow the MLP to lock in future oil and gas prices over time by layering in additional hedges periodically to minimize exposure to short- and intermediate-term swings in commodity prices.
All these characteristics add up to stable revenue and cash flow that enable the best MLPs to sustain their distributions despite temporary downdrafts in oil and gas prices.
A natural symbiosis has emerged between growth-focused exploration and production companies and upstream MLPs: Oil and gas producers organized as C-corps can monetize these mature assets to fund drilling in new basins, while the purchasers add reliable production to their portfolios, offsetting the gradual decline in their legacy assets.
This relationship has proved crucial to the shale oil and gas revolution and manufacturing renaissance.
M&A Boom
Over the past year, upstream MLPs have come under fire, with some critics warning that these names amount to little more than Ponzi schemes because these producers rely on purchasing undesirable assets to offset natural declines in output and grow their cash flow.
These sensationalist claims should require an asterisk. That these publicly traded partnerships drive distribution growth via acquisitions shouldn't come as surprise to anyone who invests in the space.
And given the capital expenditures needed to sustain the shale oil and gas boom, master limited partnerships stand to benefit from a steady supply of high-quality, mature assets coming to the auction block.
Recent acquisitions made by Linn Energy and Vanguard Natural Resources, two of the largest upstream MLPs, demonstrate that these purchases aren't worthless acreage from small-time, mom-and-pop operators.
In fact, both companies have stepped up their acquisitions of properties that include the potential for organic growth, either through additional drilling or the application of enhanced oil recovery techniques that involve injecting water or carbon dioxide into the field to boost reservoir pressure.


Source: Bloomberg, Company Filings
In 2012, Linn Energy announced two acquisitions from energy giant BP after the latter embarked on a program of strategic divestments to help fund potential costs related to the Macondo oil spill in spring 2010.
Linn Energy took advantage of BP's pain to acquire 600,000 net acres in Kansas' Hugoton Basin and the Jayhawk gathering and processing system for US$1.2 billion. This property contains proven reserves of 730 billion cubic feet of natural-gas equivalent, with NGLs accounting for about 37 percent of production.
Management estimates that this acreage includes an inventory of about 800 additional drilling sites, while the area's existing midstream infrastructure can easily accommodate an uptick in production volumes.
All told, Linn Energy paid about $1.64 per million cubic feet of natural gas production. At the time, natural gas fetched about $2.80 per million cubic feet, a depressed price that reflected robust domestic production and the no-show winter of 2011-12. A mixed barrel of NGLs, on the other hand, traded at about $50.00 per barrel; the high liquids content of the Hugoton would have boosted price realizations on the extracted gas.
In keeping with its long-standing policy, Linn Energy hedged 100 percent of the expected natural-gas output from this acreage for the next five years.
The MLP didn't lock in future production at these ultra-depressed prices.
Although natural gas traded near a 15-year low at the time of the deal with BP, prices remained higher in the futures market-a situation called contango.
Accordingly, Linn Energy could have hedged its expected 2014 natural-gas production from these assets for an average price of about $4.00 per million cubic feet and its 2017 output at $4.80 per million cubic feet.
Locking in these forward prices effectively ensures that the MLP will enjoy solid profit margins on these volumes.
Linn Energy also closed deals with several other larger independent exploration and production companies, including Anadarko Petroleum Corp. (APC) and Plains Exploration and Production Company over the past three years.
The upstream MLP's recent moves likewise suggest that the firm aims to grow production through the drill bit.
To that end, the firm inked a joint venture with Anadarko Petroleum in April 2012 to produce oil in Wyoming's Powder River Basin by flooding the field with carbon dioxide (CO2). Linn Energy owns a 23 percent interest in this project, where management expects production to expand to 3,800 barrels of oil equivalent per day by 2016 from 1,600 barrels of oil equivalent per day.
More important, Linn Energy will gain insight into this enhanced oil recovery technique from an experienced operator-knowledge that can be applied to bolster output from some of the MLP's own legacy assets.
Of course, Linn Energy's biggest acquisition involved the groundbreaking purchase of Berry Petroleum in December 2013, a long-delayed deal that marked the first time an upstream MLP had completed the whole-company acquisition of a C-corp.
To facilitate the deal, Linn Energy in late 2012 formed its own C-corp, LinnCo LLC (LNCO). LinnCo's sole asset consists of an equivalent number of shares in Linn Energy, a structure that makes it easier for institutional investors to add exposure to the MLP's story. More important, Linn Energy used LinnCo's shares as the currency to complete the all-stock purchase of Berry Petroleum.
Although the decline in Linn Energy and LinnCo's share prices last year forced the companies to sweeten their offer for Berry Petroleum, the MLP ultimately paid about $15.75 per barrel of oil-equivalent reserves-a reasonable valuation.
Crude oil accounts for between 75 and 80 percent of Berry Petroleum's reserves. Equally important, the majority of the C-corp's upstream assets are located in California, a coastal market that still imports about 55 percent of its crude-oil supply from abroad. This geographic footprint provides a degree of insulation against price volatility in the Midcontinent region and Gulf Coast for light-sweet crude oil.
And the regulatory approval of this deal, coupled with the $525 million purchase of properties in the Permian Basin, suggests that the Securities and Exchange Commission's (SEC) informal inquiry into Linn Energy won't escalate into something scarier.
Although the SEC never formally closes these investigations, the regulator would be unlikely to sign off on the deal if its field office in Fort Worth, Texas, had uncovered major problems with Linn Energy's accounting methods.
Mergers and acquisitions activity among upstream MLPs has also accelerated after a brief lull around the time that Linn Energy announced that the SEC had launched an informal inquiry into the company.
Vanguard Natural Resources' recent $581 million acquisition of 14,000 net acres in southwestern Wyoming from a unit of Anadarko Petroleum, for example, suggests that deal flow has normalized and that the industry isn't worried about the SEC handing down accounting changes.
This asset purchase also marks a shift in strategy for Vanguard Natural Resources, which has completed 19 asset acquisitions since its initial public offering in October 2007. Unlike previous deals that focused on producing assets, this latest acquisition includes 2,000 wells and 970 low-risk drilling sites, providing an opportunity for organic growth.
Vanguard Natural Resources and its partners plan to run about eight drilling rigs on this acreage; each of these units will be able to sink two wells each month, which equates to 24 wells each year. Assuming the MLP maintains this development program, the firm would exhaust its inventory of 970 potential drilling locations in about five years.
Although the undeveloped acreage included in this deal increases the potential for execution risks, Vanguard Natural Resources' experienced partners - QEP Resources (QEP) and Ultra Petroleum Corp. (UPL) - will conduct the drilling. The MLP's average drilling interest in these wells will hover around 10 percent.
Moreover, Vanguard Natural Resources plans to hedge the bulk of the anticipated natural-gas production from the acquired acreage through 2017.
Prior to the deal, the MLP had hedged about 75 percent of its expected oil production through 2015 and 85 percent of its anticipated natural-gas output through the first half of 2017; expect the publicly traded partnership to hedge a similar proportion of its newly added hydrocarbon output.
Vanguard Natural Resources purchased these reserves for about $0.69 per million cubic feet, assuring the outfit a solid profit margin with futures contracts ranging from $4.00 to $4.50 per million cubic feet.
Linn Energy and Vanguard Natural Resources aren't Ponzi schemes that acquire marginal assets to maintain their distributions.
Both companies have purchased oil- and gas-producing assets from leading integrated oil companies and large independent exploration and production outfits.
The two MLPs have also partnered with leading players in the US onshore market to develop their acreage.
And Linn Energy's innovative acquisition of Berry Petroleum provides a playbook for other upstream MLPs to follow, creating a wider array of potential opportunities for its peer group.
Learn more about our favorite energy-related MLPs in 3 Master Limited Partnerships to Buy Now.
Disclosure: I have no positions in any stocks mentioned, and no plans to initiate any positions within the next 72 hours. I wrote this article myself, and it expresses my own opinions. I am not receiving compensation for it (other than from Seeking Alpha). I have no business relationship with any company whose stock is mentioned in this article.