Looking for a great short opportunity? Look at Millennial Media Inc. (NYSE: MM) starting this week. A rare opportunity to profit on shorting this company starts on Tuesday, February 4th, and is expected to last several weeks. The reason? A massive amount of shares will be released from lock up, and the owners of these shares are probably eager to dump their holdings and meet cash. The amount of shares about to reach the market is over 20% of the market cap, which is nearly 15 times the average daily trading volume.
The story begins in August of last year, when Millennial acquired Boston based privately owned Jumptap Inc. By way of background, Millennial is a hi tech company providing mobile advertising and data platform services. The company is competing with the giants of the advertising world: of Google's (NASDAQ: GOOG) AdMob platform, Facebook's (NASDAQ: FB) mobile advertising platform, and Apple's (NASDAQ: AAPL) Quattro advertising platform. Unfortunately, for Millennial, their direct competitors are the strongest and most aggressive companies in the world, who can crush any rival in their path. The most relevant company of these 3 to compare Millennial to, is Facebook Inc., which derives half its advertising revenues from mobile platforms. On Thursday of last week, Facebook reported third quarter revenues of $2 billion, a growth of 60% compared to Q3 2012. Facebook reported that "Mobile advertising revenue represented approximately 49% of advertising revenue for the third quarter of 2013." Facebook's growth in mobile advertising revenues in the past year was amazing, and we expect their success in mobile space to erode Millennial's business prospects.
On August 13th, 2013, Millennial announced that it has entered a definitive agreement to acquire Jumptap for an amount of $232 million in a predominantly stock transaction, whereby shareholders of Jumptap received nearly 24.7 million shares of Millennial, which are approximately 22.5% of Millennial's outstanding shares.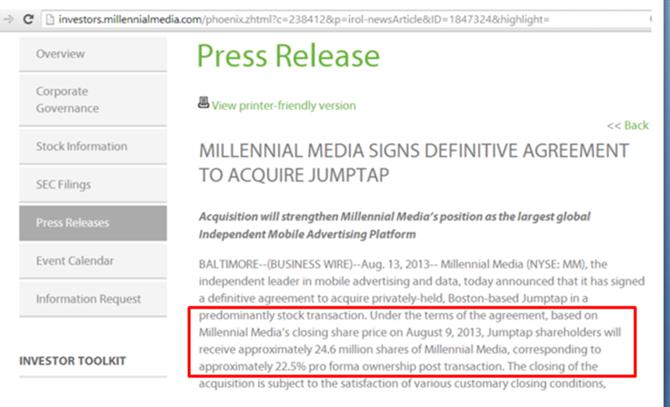 Full details of the transaction can be read on the company's investor relations section and on SEC's EDGAR database.
The issued shares were subject to a lock up period that applied to main shareholders. Under this lock up agreement, these shareholders committed "not to sell, transfer or dispose of any shares of our common stock through February 4, 2014" (see below).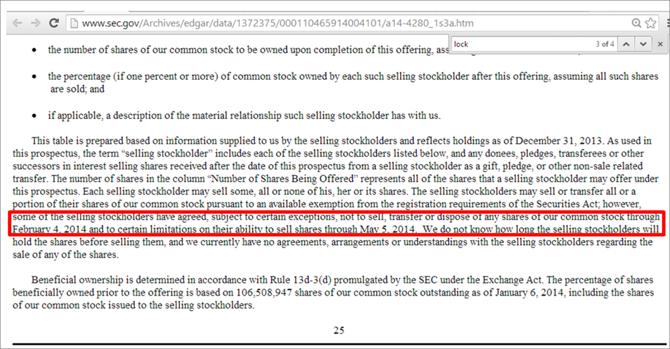 The initial phase of this lockup is ending this week, and releasing 8.3 million shares immediately into the market. The additional 16.4 million shares not being released this week will end their lock up period in early May of this year (in 3 months time).
The volume of shares released from lock up is huge, and amounts to over 20% of the company's outstanding shares. Of extremely high relevance is the identity of the soon to be selling shareholders, and their investment profiles.
Jumptap was a high tech startup company, financed heavily by venture capital firms. In fact, over nearly a decade, the company raised $122 million from professional venture capital funds, including General Catalyst Partners, Redpoint Partners, Summerhill partners and global advertising giant WPP (NASDAQ GS: WPPGY). WPP is the world's largest publicly trading advertising group by market cap, number of employees, and net profits, compared to its rivals Publicis Groupe SA (OTCQX:PUBGY), Omnicom Group (NYSE: OMC) and Interpublic Group (NYSE: IPG).
A list of investors in Jumptap is detailed below, as appears on Techcrunch's Crunchbase database.
TOTAL

$122M

FUNDING TOTAL

$122M

$4M

$17M

$22M

$26M

$20M

$5M

$27.5M
So why are these investors expected to sell their shares? Quite simply, because this is their business. But not only is it their business, it is their duty towards their investors. Venture capital (also known as VC) funds such as Catalyst, Redpoint and Summerhill, work according to a charter granted to them by their investors. These investors invest in the VC funds, and the VC funds invest in private companies, such as Jumptap.
There are 2 main reasons that most of the above VCs will soon sell their shares in the market:
As part of their standard investment practice, VC funds sell their holdings in startup investments they have made, in order to distribute profits and proceeds from these investments to the investors in the funds. These VCs invested in Jumptap since 2005, and are eager to convert their 8-year old investment into cash, and split the profits between the investors in the VCs and the partners managing these VCs. This is a huge pile of money for investors and partners alike.
But not only is it their ordinary course of business, most VC funds are obligated to sell their shares in investments that have turned into public companies if they became owners of shares in publicly traded companies as a result of a transaction in which their shares in a private company were traded for shares in a different publicly traded company, such as the case in the Jumptap - Millennial transaction.
For these reasons, we expect the bulk of the 8.3 million shares issued to reach the market in the coming weeks, and the balance of over 16 million shares to reach the market in 3 months time. In addition to the VC funds that will be selling shares, the founders and senior former employees of Jumptap, among them founder and former CEO, Mr. Dan Olschwang, and VP sales, Yishai Waxman, who collectively with other former employees hold MM shares worth over $15 million, are also expected to join the selling spree.
What will be the impact of this lock up release on MM's share price? Currently, an average of 1.8 million shares are traded daily in Millennial shares. This volume represents a more or less balanced proportion of share sellers and share buyers, as indicated by the relatively stable share price in the past 5.5 months. An imbalance of sellers and buyers causes a massive drop in share prices, such as can be seen on the days surrounding the announcement of the Millennial - Jumptap transaction (see chart below).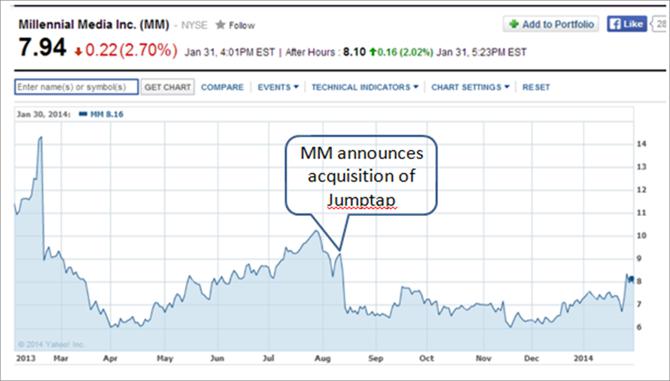 Source: Yahoo! Finance
A few words about Millennial's business: Last week, on January 27, the company issued preliminary results for Q4. The company reported that Q4 results will exceed the company's previously announced expectations. This report raised MM share price sharply to over $8, in a very convenient timing for the soon to be selling shareholders. We are sure that these holders will jump on the opportunity and bounce in share price to cash out on the years old investment.
Sharp investors will start selling short MM shares this week, and stay ahead of the massive expected selling. How long will the sale pressure last? At least 4 months, since the lock up is 2 phased (Feb & May 2014). Last week's 20% jump in the share price has created a great entry point for short positions ahead of the massive share dump by VCs and founders of Jumptap.
Disclosure: I am short MM. I wrote this article myself, and it expresses my own opinions. I am not receiving compensation for it (other than from Seeking Alpha). I have no business relationship with any company whose stock is mentioned in this article.