In my previous article, I explained my move in switching some of my Rogers Communications (NYSE:RCI) shares for some shares in Union Pacific (NYSE:UNP) and Enbridge (NYSE:ENB). In January, I added to some core positions. Because I have an all equity portfolio, it's prudent for me to be conservative in selecting my core.
Here's a quick overview of my core changes:
| Company | Note |
| --- | --- |
| RCI | sold most shares to leave only a starter position. Split proceeds between UNP and ENB |
| Kinder Morgan (NYSE:KMI) | bought starter position |
| Royal Bank of Canada (NYSE:RY) | added (by selling some Silver Wheaton (SLW) for 12% gain) |
| Coca-Cola (NYSE:KO) | added close to 3% yield; with expected dividend increase in Q1 2014, will be over 3% yield |
| Chevron (NYSE:CVX) | added ~3.5% yield (by selling DE for 11% gain with aid from favorable foreign exchange rate from USD to CDN) |
I tend to park my money in opportunities (non-core holdings), which I more or less expect a quick gain. When I see opportunities in buying core holdings on the dip, I tend to look at which non-core holdings I can profit from. This can be a dangerous strategy if the whole market is heading downwards; at which time I may be stuck with excessive non-core holdings which have unrealized capital loss and am unable to add core companies on the dip.
Kinder Morgan
Kinder Morgan is the largest midstream company in North America, operating about 80,000 miles of pipelines. Its core businesses include transporting natural gas, refined petroleum products, and CO2. Its assets generate large, stable cash flows to be distributed to its shareholders. KMI's dividend growth rate averaged 13.5% in 2 years. On the FAST graph, its price seems to follow the orange Operating Cash Flow line more closely than the Earnings line.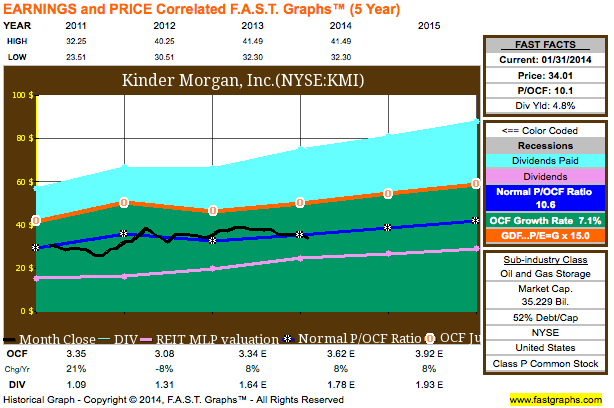 KMI is priced in the fair value range at an attractive yield of 4.8%.
Royal Bank of Canada
By market capitalization, Royal Bank is the largest bank in Canada. It has operations in 46 countries, with more than 15 million clients globally. It has been rewarding shareholders by distributing dividends growing at a CAGR of 9.6% from 2004 to 2013.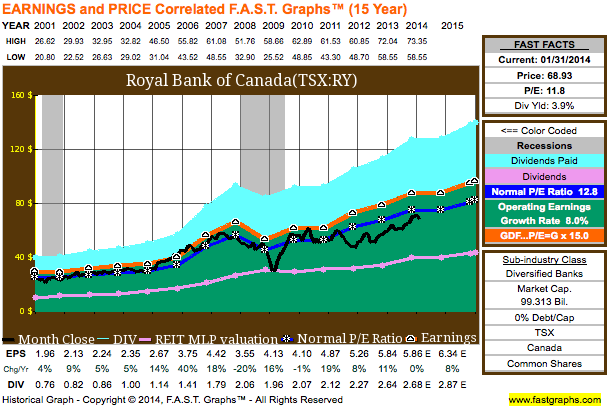 From a long-term view, the FAST graph shows Royal Bank to be slightly undervalued currently. With the payout ratio at 46%, it is expected to continue raising dividends bi-annually, the next one in Q2 2014.
Coca-Cola
Coca-cola delivers its 3500+ products to over 200 countries via its global distribution system. Known to trade at a premium, with Coca-cola's current P/E of 18, it is a fair deal. This is especially true when one could grab shares now at 3% yield. Its expected dividend raise should come sometime in Q1. An investor may get better growth elsewhere, but I added more shares of Coca-cola to my portfolio for increased stability and improved safety. I also believe it will continue to grow its dividend at a rate faster than inflation.
Chevron
Not too long ago, I commented that it'd be nice to add some shares in Chevron if it reaches the yield of 3.5%. Well, investors have the chance now. It currently yields 3.58%. I managed to grab some shares around the 3.5% yield this past week.
When I first identified my core holdings, the core made up 63% of my portfolio. Initially, I thought adding to my core in last month will raise my core holdings to make up a larger portion of my portfolio. It turned out that now, the core makes up 62.5% of my portfolio. Thinking more logically, the price of each holding goes up and down everyday. The best I could do is to buy more core holdings when funds become available. However, as soon as the price changes, the portfolio composition percentages changes. Another reason maybe that I also added shares in a few of my non-core holdings. If anyone is interested in what I added, I can write up an article about that. Nonetheless, at the end of the day, my portfolio currently yields 3.3%.
Disclosure: I am long CVX, KMI, KO, UNP. I wrote this article myself, and it expresses my own opinions. I am not receiving compensation for it (other than from Seeking Alpha). I have no business relationship with any company whose stock is mentioned in this article.
Additional disclosure: On the Toronto Stock Exchange, I'm long ENB, RCI.B, RY, and SLW.