WebMD Health Corp. (NASDAQ:WBMD) provides health information services to consumers, physicians, healthcare professionals, employers and health plans. This company provides its services via public and private online portals and health-focused publications. This article will go through WebMD's sources of revenue and future growth prospects, as well as an explanation to why the stock is overvalued.
Q3 Summary
Most recently, the company reported Q3 GAAP EPS (earnings per share) of $0.06, which was $0.04 below the average of Wall Street predictions. Both user views (138 million), and total page views (2.95 billion) helped drive public portal revenue of $110 million for the quarter. User views (UVs) were up 29% year-over-year and page views were up 15% year-over-year. Margin performance also improved as gross margin increased (+50bps), as well as operating expenses for sales and marketing decreased (-220bps). When comparing revenues from Q3/2013 to Q3/2012, WebMD had a positive revenue increase in public portal advertising and sponsorship (12.3%) and a positive revenue increase in private portal services (6.9%).
Current and Future Revenue Drivers
WebMD generates revenue via its public portables and mobile platforms through the sale of various types of advertising and sponsorship programs to their clients who are: pharmaceutical, biotech and medical device companies. In addition, the company generates revenue from advertising sold in the WebMD Magazine, which is distributed to physician office waiting rooms. And lastly, WebMD has private portals through licensing of its technology and content to employers and health plans, either directly or through its distributors. Below are the historical revenues:

2013E was annualized using the first three quarters of data.
While WebMD took a dive in 2012, the company has recovered and has positioned itself to have an increase in revenues in the future and here are the reasons why:
Healthcare Reform Center - WebMD's launch of this information center offers interactive tools and content to help consumers better understand and figure out the new healthcare landscape with the introduction of the Affordable Care Act in 2014. Healthcare providers and insurance companies will now provide a tailwind for public portal revenues. These companies will hopefully start moving advertising dollars online as they begin to compete for patients and build their brand awareness.
Mobile & Tablet Growth - With new recent hires including a new Head of Marketing Sciences, Sales and Marketing, and new COO of the Private portal segment, WebMD will make strides towards closing the monetization gap between mobile devices and desktop computers. During the third quarter of 2013, approximately 34% of page views came from U.S. desktop, 31% from smartphones, 8% from tablets, and 26% from non-U.S. sources. Desktop views have decreased dramatically (13% for Q3 compared Q3 of 2012), which was a significant improvement over the declines of 19% and 21% of the first and second quarters of 2013, as compared to the prior year periods. WebMD must generate revenues from the smartphone market to be successful in the future. The flagship WebMD App for the iPhone was released in Q3, and it helps customers customize content based on his or her own health interests and goals. This App will continue to help WebMD broaden its mobile offerings for consumers and physicians, as well as expand its mobile sponsorship for products and advertisers.
Online Healthcare Product Marketing - Currently, pharmaceutical, biotech and medical device companies spend large amounts of money on educating their customer base about their products; however, only a small amount of these companies' advertising budget is going to online advertising. This could be another tailwind for WebMD and its future growth if these companies decide to spend more on online advertising.
Valuation
The discounted cash flow analysis is used below, which normalizes everything in terms of revenues and uses the balance sheet growth as a proxy for capital expenditures. The goal of this model is to determine the cash flows that will be available to shareholders under average conditions. To calculate the discount rate, I used the weighted average cost of capital and used a 2% terminal growth rate. The historical averages I created are shown below: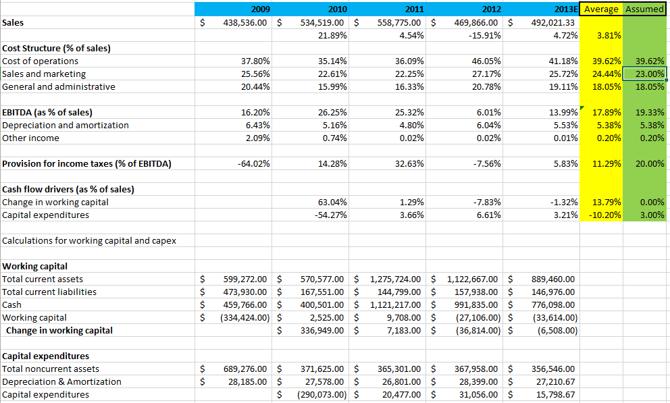 By looking at the historical averages, WebMD has done a good job at increasing their margins. All three key expenses (Cost of operations, Sales and marketing, and general and administrative) have decreased from 2012 to 2013, and WebMD's management believes that their margins will improve in the future. WebMD needs to continue to increase margin performance in the long run in order to be more profitable and deliver better returns to shareholders.
The assumptions above are used in the actual discounted-cash flow model I created that is shown below, which will help find the intrinsic value of the stock. At a 5% growth rate over 10 years, the stock price comes out to be about $30, which is significantly below the current price.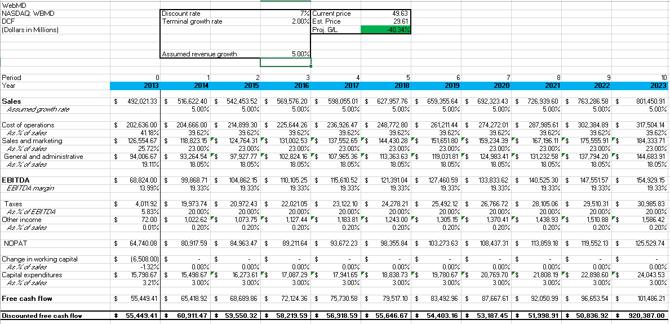 Since growth rate is difficult to determine with so much uncertainty in WebMD's future, the sensitivity analysis I created shows the Assumed Growth Rate vs. Cost of Operations. I used cost of operations because WebMD's leadership has stated that they will continue to improve this margin. Either a decrease in revenue growth rate or an increase in the cost of operations (as % of revenues) will send the stock much lower.

While the DCF shows that WebMD's stock price is overvalued, if we change the revenue growth rate to 9% and cost of operations to 39% (keep all else constant), WebMD's price would be about $41, which is closer to the current price.
Stock Price Graph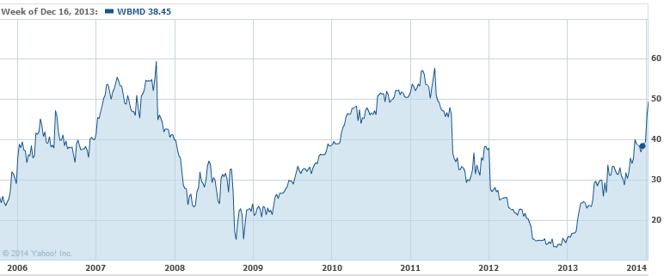 Source: Google Finance.
As seen in the graph above, WebMD's stock price models that of a rollercoaster. In the past year, WebMD's return has been 190.5%, which is extremely high compared to that of the S&P 500 (19.7%). I believe that the increase in stock price is due to belief in the future revenue drivers and speculation. Eventually, this bubble will pop as it did in 2007 and 2011. Could this happen in 2014?
Conclusion
WebMD's stock price's rollercoaster-like performance could be subject to a large drop in the future. While WebMD has some positive aforementioned tailwinds, the discounted-cash flow shows that the stock's intrinsic value is overvalued in the current market. Since there is a large disconnect between the stock price and the business value, I would not buy WebMD's stock.
Disclosure: I have no positions in any stocks mentioned, and no plans to initiate any positions within the next 72 hours. I wrote this article myself, and it expresses my own opinions. I am not receiving compensation for it (other than from Seeking Alpha). I have no business relationship with any company whose stock is mentioned in this article.