Banks are the biggest beneficiaries of the healthy economic recovery that has been occurring over the past year or so. Many banks have posted double-digit growth in recent quarters. In light of this, the PNC Financial Services Group, Inc. (NYSE:PNC) posted fourth quarter and full year 2013 earnings on January 16, 2014. PNC provides products and services relating to retail banking, corporate and institutional banking, asset management, and residential mortgage banking. The net income of PNC grew by 41% and achieved an EPS of $7.39 in 2013, which represents an increase of 39% compared with the previous year. Cost-cutting measures, better performance of noninterest income-generating operations, and the effects of improved credit quality primarily drove this kind of improvement in earnings. Total interest expense declined by 21.4%, and total noninterest expense declined by 7.4% in 2013.
As was the case for many other banks, 2013 was a year of consolidation of operations for PNC, which resulted from low interest rates and continuity of stable growth story (without drastic changes) of the economy from the previous year. Provision for credit losses declined by 35% from 2012 to 2013.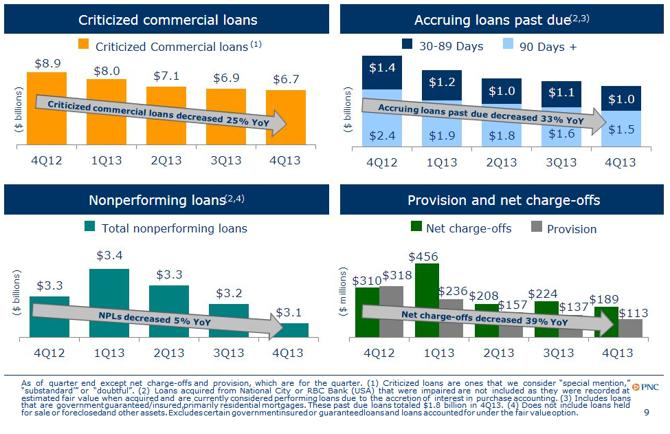 (Source:Earnings Presentation)
Credit quality of the bank loans saw a significant improvement in 2013. Total deposits grew by 3.7% and net loans grew by 5.6%. While the bank's net interest margin was 3.57% for the year, 2013 declined from 3.94% in 2012. One of the factors that influenced the net interest margin of the bank was preparation for the anticipated Liquidity Coverage Ratio (LCR) requirement. A recent earnings call has the following information on the LCR requirement.
"John E. McDonald - Sanford C. Bernstein & Co., LLC., Research Division

Okay. One quick follow-up on the NII. You mentioned LCR, are you now fully prepared for your understanding of what LCR is?

William S. Demchak - Chief Executive Officer, President, Director, Member of Executive Committee and Member of Risk Committee

We -- well, we still have some moving parts on their proposal in terms of what's in and what's out. We are close but not there yet and working towards it. You saw this quarter the big increases in balances at the Fed, and that'll continue to increase. We still have some outstanding questions on Level 1 securities we pledge against municipal deposits and a whole bunch of other random things that we need to work through. But long story short on LCR, we can get there. It's kind of a mechanical exercise. It'll cost us a little bit of money at the margin."
More pressure will be placed on net interest margin [NIM] in the near future (Full year, 2014). It will increase the dependence on noninterest income-generating operations for continued growth in earnings.
Net interest margin of PNC declined 9 basis points [BPS] in the fourth quarter of 2013 compared with third quarter; the 7 bps decline is attributable to the increase in deposits held at banks by PNC in an effort to prepare for the LCR requirements.
As a part of its continuous improvement program, PNC lowered its costs by $781 million and plans to continue its path to lower costs by another $500 million in 2014. It is planning to invest these savings in its infrastructure and retail bank transformation.
PNC, which posted EPS of $7.39 for 2013 is trading at 1.50 times tangible book value, 11.13 times earnings, and has better chances of trading at higher multiples going forward. 2014 is going to be a year with mixed results for PNC as the preparation for LCR requirement - further decreases net interest margin, slow decline of credit quality (impact of long term interest rates - tapering is already on it's way) - increases provision for credit losses. As I already mentioned, PNC is going to highly depend on noninterest income to see growth in earnings or to sustain the growth that it has seen in 2013, it's cost cutting strategies will add some flavor to the earnings but it is not sufficient. As the long-term interest rates start to rise due to the tapering, it will benefit banks earnings. PNC has posted more or less better earnings and trading at a cheap valuation, which make it attractive, and its strategies to cut costs and improve infrastructure to reach more customers and to attain economies of scale show that it has good plans to grow. PNC and Premier Financial Bancorp (NASDAQ:PFBI) are my favorites as of now and I will add many more banks to the favorites list in the near future.
Disclosure: I have no positions in any stocks mentioned, and no plans to initiate any positions within the next 72 hours. I wrote this article myself, and it expresses my own opinions. I am not receiving compensation for it (other than from Seeking Alpha). I have no business relationship with any company whose stock is mentioned in this article.