Perhaps somewhat counter-intuitively, the best performing asset in the financial markets since the Federal Reserve announced its much hyped taper has been gold. I describe this as being counter-intuitive because gold bulls have made their case by arguing that the heavy money printing that the Federal Reserve and other central banks have engaged in over the past few years should push gold prices higher because the yellow metal cannot be manipulated in this way. With that being the case, shouldn't the end of money printing destroy that argument? Well, no, because the taper was never billed or intended as an end to money printing as so many investors feared. Instead, the Federal Reserve only reduced the rate at which it prints money. There is a significant difference between the two. The fact that the taper was not an end to money printing, as many believed it would be, may have revitalized the bull case for gold somewhat. In addition, there are some geopolitical factors at work which may have also revitalized the gold market. Regardless of the reason, the market for gold appears to have come back to life in a powerful way, turning it into the best performing asset since the taper as this chart from Zero Hedge shows: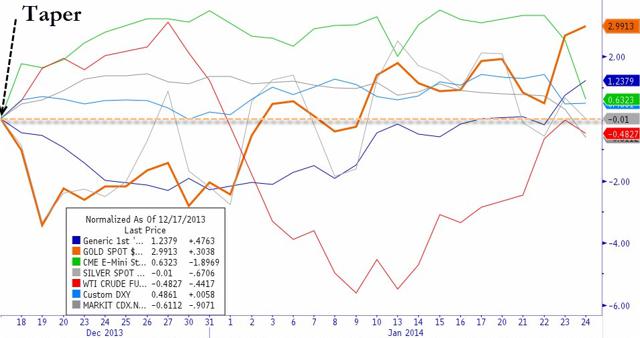 Source: Zero Hedge
We can also see similar outperformance if we compare the year-to-date return of the largest gold ETF, the SPDR Gold Shares (NYSEARCA:GLD), against the S&P 500.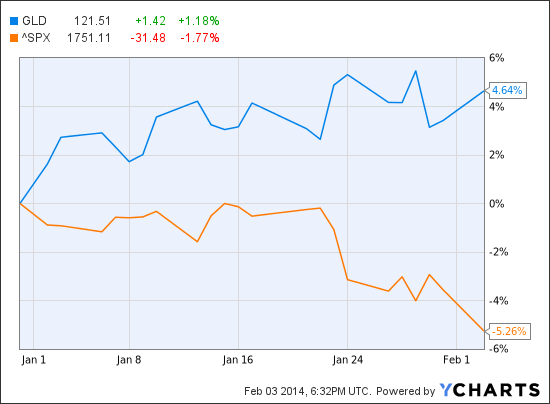 So, how do we as investors take advantage of this trend? Well, one way is to buy gold outright or buy one of the various gold ETFs such as GLD. However, another, and potentially more profitable way, is to buy shares in those companies that extract gold from the ground. There are some large mining companies that do this such as Barrick Gold (NYSE:ABX) or Newmont Mining (NYSE:NEM). However, there may be greater potential rewards in the shares of smaller gold producers. In this series of articles, I will take a look at some of these companies and analyze their investment potential.
One company that could benefit as a result of this renewed strength in gold prices is Lake Shore Gold (NYSEMKT:LSG). Lake Shore Gold is a small Canadian gold mining company that is headquartered in Toronto, Canada and trades on both the NYSE and the TSX exchange in Toronto. The company operates two gold mines that are located within the century-old Timmins Gold Camp in Northern Ontario. In addition, the company has three more gold mining projects which it is currently developing and which are likely to serve as the drivers of the company's forward growth. These operating and development projects are all operating within the same general area which allows the company to save some money on administration costs as it does not need to manage mines in far off countries with the necessary local staff or deal with multiple governments and multiple sets of governmental regulations. This area is one of the richest in the world in terms of total gold deposits, evidenced by the presence of other companies' gold mines nearby: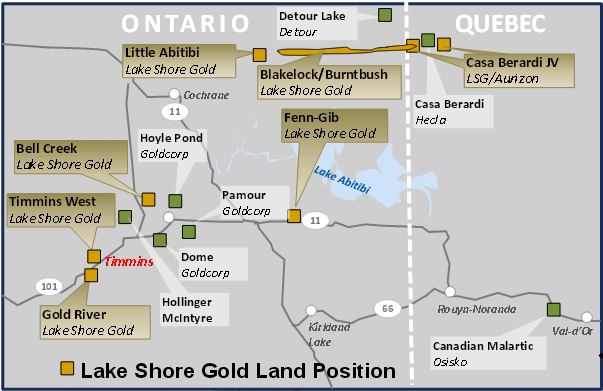 Source: Lake Shore Gold
One of the biggest problems that all gold mining companies have been faced with since the price of gold collapsed from its previous highs last year is the difficulty of producing gold economically. In many gold mines, the costs of extracting an ounce of gold from the ground was greater than the price at which the gold could be sold. Lake Shore Gold has not had this problem. This is because of the company's relatively low operating expenses. On Friday, January 24, Lake Shore Gold announced that its operating cost per ounce of gold sold beat its own guidance and came in at $770 per ounce in 2013. This is significantly less than the price of gold over the past year. This has allowed the company to generate a positive operating cash flow in 2013, better than what many of its junior gold mining peers have managed to achieve.
The company has the potential to grow its cash flow going forward due, at least in part, to its expected production growth in 2014. In 2013, the company extracted and milled 134,600 ounces of gold and expects to increase this production to 160,000 to 180,000 ounces of gold in 2014. This is simply the continuation of the company's historical production growth.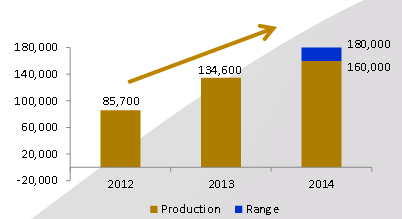 Source: Lake Shore Gold
Like other commodity companies, gold producers like Lake Shore Gold can effectively grow their cash flows by increasing their production. Other ways in which they can grow cash flows include increases in the price of gold (which is out of the control of Lake Shore Gold or any other gold producer) and decreasing operating costs (which Lake Shore Gold is actively pursuing). Therefore, by growing its production, Lake Shore Gold should see growing operating cash flows going forward barring another collapse in gold prices, which I find unlikely.
The company certainly has the potential to achieve this production growth due to its aforementioned growth projects. One of these projects is the Fenn-Gib mine, an open pit project that is estimated to contain more than two million ounces of gold at various densities.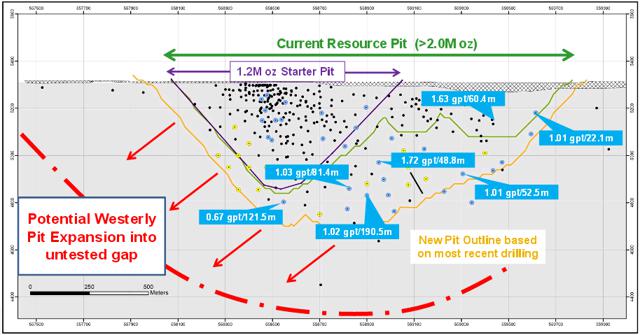 Source: Lake Shore Gold
As the diagram shows, the company plans to extend the Fenn-Gib project significantly beyond its current size. This will allow the company to extract much more of the gold on the property than it can currently due to the mine's limited size. This will give the company access to a greater quantity of gold for it to sell compared to what it has now.
Another growth project that Lake Shore Gold has is the Marlhill Mine property. Marlhill Mine is a property that the company acquired from Goldcorp (NYSE:GG) in 2009 and which formerly produced gold, although it no longer does. On May 2, 2011, Lake Shore Gold released an initial resource estimate for the property. This estimate showed that the property contains a total of 57,400 ounces of gold in 395,000 tons of gold ore. This will, at first glance, appear very meager compared to the resources that the company has in other mines such as Fenn-Gib. However, this estimate was made with certain assumptions that may have underestimated the actual potential of the property.
The resource estimate for the Marlhill Mine that the company conducted and released was only for a single vein, M1, and was for resources located almost exclusively about (between the surface and the stated level) 360 m. However, the previous operators of the mine have traced the M1 vein down to a depth of 400-500 m. This means that there may be greater quantities of gold located at depths below the 360 m level. Additionally, this estimate was for the M1 vein only and was based on historical drilling information. Lake Shore Gold has completed only limited drilling at the site. Therefore, there could easily be more than simply a single vein of gold at the Marlhill Mine site. The presence of additional veins of gold could increase the quantity of resources present at the site by several times over and could turn the property into one with a high potential for future development.
Like many mining companies, Lake Shore Gold maintains some leverage but the company is primarily equity funded. According to the company's most recent financial statement, Lake Shore Gold has current debt of CAD $15.704 million and long-term debt of CAD $124.041 million. This compares to shareholders' equity of CAD $656.359 million. This gives the company a total debt-to-equity ratio of 0.213.
Unfortunately, a substantial portion of this debt consists of convertible bonds which could result in substantial dilution for shareholders should the convertibility feature be exercised. The convertible debt makes up $82.6 million of the total outstanding debt. Fortunately, there is little risk that this debt will be converted to equity, at least not at today's prices. This is because the conversion price is CAD $1.40 per common share or roughly 89.2% over the current stock price. Thus, in order for this risk to materialize, investors buying the stock today would have to see a return that they would likely be very happy with. This debt matures in 2017 so the company's stock price would need to increase quickly in order for investors to suffer dilution from this debt.
The company's debt load has been one of the factors that has been dragging on the stock. However, by all indications, Lake Shore Gold is not having any difficulty carrying this debt. During the first nine months of 2013, the company paid or accrued a total of $18.87 million on its debt. This compares to operating cash flow of $32.5 million over the same period. This is admittedly rather tight, with the company paying out roughly half of its operating cash flow for debt service. However, the company's cash flow is likely to increase going forward as already discussed. This will make the company's debt less of a burden going forward.
Disclosure: I have no positions in any stocks mentioned, and no plans to initiate any positions within the next 72 hours. I wrote this article myself, and it expresses my own opinions. I am not receiving compensation for it (other than from Seeking Alpha). I have no business relationship with any company whose stock is mentioned in this article.