As seen from December's mostly brutal bricks and mortar retail numbers (even online retail was not great), online sales and marketing are becoming more important than ever. Companies with deep resources like Nordstrom (NYSE:JWN) and Macy's (NYSE:M) can build out spectacular web presences using top-notch software internally and with the help of huge enterprise giants like Oracle (NYSE:ORCL).
Enter: Constant Contact
Needless to say, not every company has the dramatic resources of a multibillion-retail goliath. Still, these businesses need to keep in touch with customers via email and social media while having a suite of analytical tools available to evaluate performance. This is exactly where Constant Contact (NASDAQ:CTCT) steps in.
Constant Contact began in 1998 and has grown into one of the top small business CRM (customer relationship manager) platforms available. Constant Contact offers dynamic pricing based on the levels of service, the amount of contacts, and different features. Competitors like MailChimp and JangoMail offer up solid competition in the mailing space, but Constant Contact's large amount of financial resources allows it to additional features and superior customer service.
In 2012, Constant Contact made a huge stride towards becoming an integrated small business services provider when it acquired SinglePlatform. While the deal will eventually be valued somewhere in the neighborhood of $70-$100 million, Constant Contact can now equip its sales force with a full-service suite. SinglePlatform allows businesses to publish across several platforms easily while also monitoring posts and listings on the web. In short, the combined entity provides a valuable product for small business owners-an area often vacated by larger players.
In addition to improving the product suite, the acquisition has given Constant Contact the ability to boost ARPU.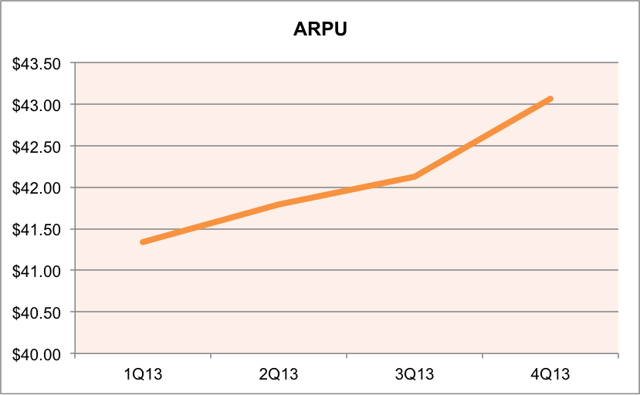 Source: Company filings
The company appears to be on-track to add nearly $2 in ARPU from where it started in the first quarter of 2013. This is incredibly positive for Constant Contact, which currently has a 97.8% retention rate, meaning incremental revenue flows straight to the bottom line. The average customer also stays with the company for 50 months (~5 years), meaning the incremental revenue generates a tremendous value over the lifetime of a customer.
Revenue Growth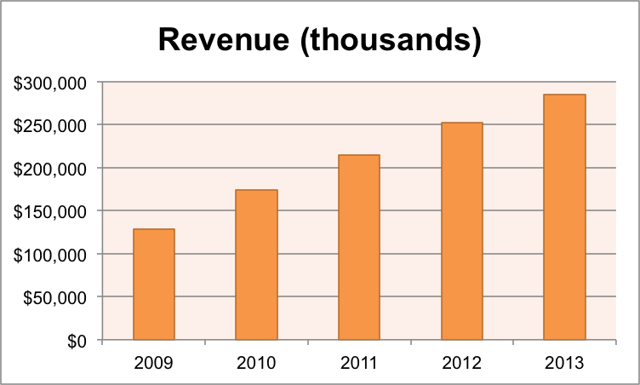 Source: Company filings
Over the past five years, Constant Contact's revenue has soared from $129 million to $285 million, a CAGR of approximately 17%. Though a 17% CAGR is not quite on par with some of the high growth tech names like Facebook (NASDAQ:FB), but it is still relatively robust. However, going forward, I think a low double-digit growth rate is more appropriate given market saturation and the large amount of low-cost/free competition.
Operating Margin Looks Weak…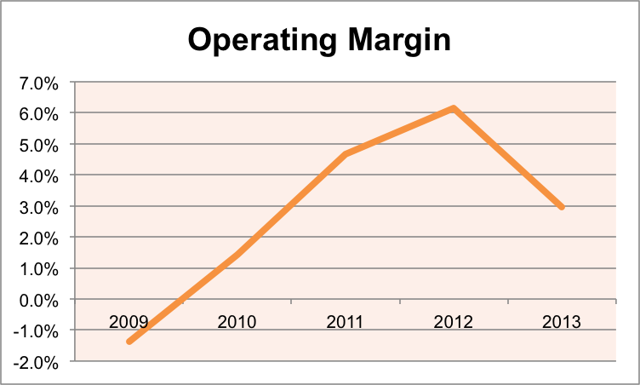 A quick glance at Constant Contact's operating margin would suggest that the company's profitability is declining. In fact, it fell by nearly 50% in 2013. However, the firm has spent over $80 million on acquisitions over the past few years, dragging on GAAP earnings.
…Free Cash Flow is Terrific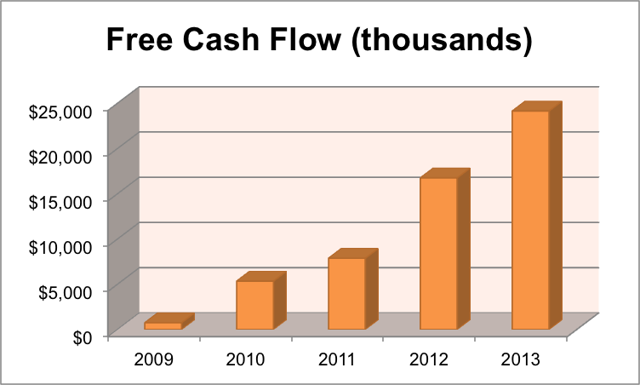 Source: Company filings
As we can see in the above chart, Constant Contact's free increased from under $1 million in to 2009 to nearly $25 million in 2013. This is a tremendous increase in the "owner's earnings" and it demonstrates the high profitability inherent in the company's business model.
It should be noted that Constant Contact has spent a considerable amount of money on acquisitions over the past few years, which does not factor into free cash flow. Thus, it is appropriate to assume that at least some portion of future revenue growth will come via acquisitions, which will eat into cash generation.
Recent 13% Fall
Constant Contact recently posted solid fourth quarter results. Revenue was up 13% to $74.9 million, and earnings per share nearly doubled to $0.30 on a non-GAAP basis. Both were in-line with expectations, and Constant Contact posted robust adjusted EBITDA margins of 19.8%. The firm added 10,000 unique customers during the quarter that now register an ARPU of $43.06 compared to $42.13 during the third quarter. By all accounts, the firm's fourth quarter was a success.
Guidance was solid as well, with the firm anticipating revenue growth of at least 13%, non-GAAP EPS of $0.96, and an adjusted EBITDA margin of 18%. Management even recognized prudence in its capital management, refusing to repurchase shares at what it believed were elevated levels.
In reality, the selloff was probably driven by the firm's high valuation. Shares currently trade at 28x next year's non-GAAP earnings, and 12x forward EV/EBITDA. The valuations were stretched even greater prior to the fall. Considering SalesForce.com (NYSE:CRM) purchased Exact Target for $2.8 billion, or 9x forward sales, and Oracle purchased Responsys for $1.5 billion (roughly 7x forward sales), I think market participants were thinking Constant Contact could be bought.
However, I fail to see a logical buyer. Constant Contact's products are inherently directed at small businesses that cannot afford high-end products. Enterprise companies like IBM (NYSE:IBM) and Microsoft (NASDAQ:MSFT) would be much more interested in a cloud product targeted towards huge corporations-not the small business oriented Constant Contact.
Shares are Expensive
As I noted earlier, shares of Constant Contact trade at a generous forward PE of 28 as well as a rich EV/EBITDA multiple of 12. Given the lack of a natural buyer and pressure from free competitors, I think shares look slightly overvalued. Nevertheless, there are no clear-cut catalysts on the horizon and "overvalued" is rarely a strong enough reason to short a stock.
Plus, CEO Gail Goodman has done a fantastic job of growing profitability since the company's inception 15 years ago. She is aggressively hiring staff in hopes of boosting ARPU and retention. There is an opportunity for Constant Contact to become an even more dominant company in the small business space, but this remains very much a long-term story.
Overall, Constant Contact is a solid company in a competitive space that is facing pressure from low-end competitors. In my view, the company does not warrant its premium valuation, but there is also no reason to short shares at this time.
Disclosure: I have no positions in any stocks mentioned, and no plans to initiate any positions within the next 72 hours. I wrote this article myself, and it expresses my own opinions. I am not receiving compensation for it (other than from Seeking Alpha). I have no business relationship with any company whose stock is mentioned in this article.