Strubel Investment Management's Dumb Investment of the Week for this week is Socially Responsible Investing funds. Socially Responsible Investing or "SRI," sounds great. Who wouldn't want to be socially responsible? But is it worth it financially for your portfolio? Are all of these so-called "socially responsible" funds actually investing as responsibly as they say they are?
Examining Everance's MMA Praxis Funds Yields Big Disconnect
Let's take a look at the MMA Praxis family of funds, owned by Everance.
One of the stewardship requirements that MMA Praxis and Everance say they look for is this:
Companies we invest in provide fair, sustainable compensation for their employees and subcontractors and extend opportunities to the disabled, disadvantaged and marginalized. Company behavior should be based on a standard higher than minimum legal requirements.
They also say they look for this:
Workers' rights to communicate with management should be respected, including the rights to negotiate, organize, bargain collectively and communicate with management in good faith.
With requirements like that, how does the fund justify investing in a company such as Wal-Mart (NYSE:WMT)? Media outlets recently published a leaked internal Wal-Mart document that showed how the company actively tried to discourage employees from unionizing and how they trained store managers to spot early warning signs of any attempts by labor to organize.
In addition to borderline illegal tactics to discourage unionization, Wal-Mart also actively lobbies against any increases to the minimum wage. It's not just Wal-Mart that has been trying to kill wage hikes for its workers. McDonald's (NYSE:MCD), Yum! Brands (NYSE:YUM), Starwood Hotels (HOT), and Walgreen (WAG), all MMA Praxis investments, also made the "star studded" list of companies that insist poverty-level wages for workers are a necessary component of their businesses. Wal-Mart even took the incredible step of refusing to open stores in D.C. after the district passed a resolution increasing the minimum wage there. Another MMA Praxis holding is Dollar Tree (NASDAQ:DLTR), which has been repeatedly sued by workers claiming they were forced to work unpaid overtime and that the company paid female workers less than equivalent male workers.
That's just the tip of the anti-labor iceberg. MMA Praxis says it scrutinizes company relationships with subcontractors as well. How then did it let Apple (NASDAQ:AAPL), who subcontracts the manufacture of most of its electronics to Foxconn, a company with notorious labor issues, including allegations of child labor and suicide epidemics, make the list? Notorious contract labor bad boy Nike (NYSE:NKE) also somehow made the list of its "socially responsible" investments.
Working condition issues aren't limited to subcontractors in foreign countries. Amazon (NASDAQ:AMZN) made the news a few years ago for the horrific conditions workers were forced to endure in its distribution centers.
But, you may say, that is just how companies treat their workers. What about how companies treat their customers and obey all applicable laws? MMA Praxis's guidelines say they are looking for these things:
Company behavior should be based on a standard higher than minimum legal requirements. Products and services should be offered with honesty and without discrimination. Companies should act on a basis of shared prosperity, recognizing the value and contributions of all in creating lasting success.

Companies should be honest, trustworthy, compassionate and responsible. We look for transparency and openness about company policies, finances and behaviors…

We look for companies that obey or exceed all relevant laws for environmental concerns, safety and public disclosure.
Once again, looking at the list of investments reveals a different story. Front and center are investments in two prominent lawbreakers: Goldman Sachs (NYSE:GS) and JPMorgan (NYSE:JPM). These companies have broken the law and been fined so many times it would be impossible to list all their transgressions in one article. In fact, it's so bad they appear to be two of the most corrupt corporations in existence. The list of chronic law-breaking financial companies that MMA Praxis has invested in doesn't end there. They also have Wells Fargo (NYSE:WFC), AIG (NYSE:AIG), Morgan Stanley (NYSE:MS), and Bank of America (NYSE:BAC). The fund even has an investment in some lesser known transgressors like McGraw-Hill Financial (MHFI), parent company of Standard & Poor's, famous for issuing investment-grade ratings on toxic subprime securities. And BlackRock (NYSE:BLK), America's new absentee landlord.
Companies should employ sound practices of corporate governance, including board independence, board and executive compensation, and structural integrity.
This one is another stunner. What reasonable person would view one person (Jamie Dimon, in this case) being both CEO and Chairman of the Board as good corporate governance?
What about Forest Labs (NYSE:FRX)? This is a company that had so many corporate governance and legal problems it attracted professional corporate agitator and activist investor Carl Icahn. Howard Solomon, CEO of Forest, was also the Chairman of its Board and planned to have his son succeed him as CEO. Meanwhile, the company was under investigation for, and ultimately pleaded guilty to, fudging research results and improperly marketing its drugs. The charges were so severe that the government mulled excluding Mr. Solomon from the pharmaceutical industry. Forest Labs has also been plagued with inaccurate and incomplete shareholder disclosures and a board that was unwilling to make any changes. Carl Icahn, not MMA Praxis, has been the force behind the recent changes at Forest Labs.
But the investments in current and former targets of Carl Icahn don't end there. The MMA Praxis funds own Chesapeake Energy (NYSE:CHK). Chesapeake's corporate governance problems included a captive board, undisclosed loans to its CEO, and sky high executive compensation. It was Southeastern Asset Management and Carl Icahn, not MMA Praxis, that led the fight on behalf of investors.
Speaking of executive compensation, of the top 15 companies that paid out the most in executive compensation in 2012, ranging from $96M to $28.5M, MMA Praxis owns 10 of them (Oracle (NYSE:ORCL), CBS, Discovery Communications, Walt Disney (NYSE:DIS), Yahoo! (YHOO), Nike , eBay (NASDAQ:EBAY), Viacom (VIA.B), Starbucks (NASDAQ:SBUX), and Occidental Petroleum (NYSE:OXY)). There is no executive worth $96M, let alone $28M. These companies are all poster children for the increasing disparity between the wages of workers, which have not kept pace with inflation or productivity, and the exorbitant wages of executives.
Like most "socially responsible" funds, MMA Praxis disavows military contractors:
Everence believes violence in all forms hinders growth, prosperity and freedom and has no place in corporate structures. We desire to support companies that are engaged in products and services that support life - not those designed to kill, maim or injure. Because of that, we avoid companies that focus their energy, resources and market development on weapons production and military contracting.
Curiously, MMA Praxis has an investment in Ball Corp (NYSE:BLL), which according to SEC filings gets 9% of its revenue and approximately 9% of its earnings from US national defense contracts. While many companies do Department of Defense work in non-violent and non-combat roles, Ball Corp's work is on actual weapons systems. This includes work on the F-35 Joint Strike Fighter, SeaSparrow missile system, and OH-58D combat helicopter.
What about the environment? Here is what MMA Praxis says its guidelines are concerning the environment:
We understand the natural environment as a finite resource, an inheritance for future generations, and a gift from God. Therefore, we expect companies to respect the limits of our natural resources and work toward long-term environmental health. Companies we invest in will "reduce, reuse, and recycle," pursue cleaner and more efficient production methods, and bear a deep concern for the welfare of animals.

We value companies that are involved in the environmental technology and services arena and which are honest and transparent in their environmental reporting, publicly promoting the value of our environment.
Yet the funds made an investment in American Electric Power (NYSE:AEP) that according to SEC filings produced 71% of its power from coal and lignite fuels. (For reference according to the EIA, the national average is 37% of power from coal fuel sources.) It also has investment in Xcel Energy (NYSE:XEL) which produces 45% of its power from coal. They also have investments in energy companies that utilize fracking, such as Southwestern Energy Co (NYSE:SWN), Devon Energy Co. (NYSE:DVN), and Denbury Resources (NYSE:DNR). They also have investments in Safeway (NYSE:SWY), a company that recently got fined for violating the Clear Air Act and Pepco (NYSE:POM), a utility that is apparently unable to provide reliable power service to its customers.
Other Socially Responsible Funds Have Questionable Investments
The investments of other SRI funds show some curious choices as well.
Fund/Fund Family

Questionable Investments

Pax World

Apple, BlackRock, Morgan Stanley, Starbucks, Goldman Sachs, Amazon,

JPMorgan Chase, Nike

Legg Mason Social Awareness Fund

Apple, Apache Corp, Wells Fargo, Yum! Brands, JPMorgan Chase, Goldman Sachs, BlackRock, Bank of America

Dreyfus Socially Responsible Growth Fund

Ball Corp, Denbury Resources, Apple, Devon Energy
Is Socially Responsible Investing Worth It?
One other question investors need to answer is this: Is socially responsible investing worth it? I believe this is a far more nuanced question than it is usually made out to be. For instance, I have often heard investing in "sin stocks" equated to supporting the company and its products. It's worth noting that unless you are buying newly issued stock or bonds from the company none of the money from your purchase is actually going into the hands of the company.
My 80-year-old grandma owns Philip Morris International (NYSE:PM) stock. Maybe she needs to sell a few shares to pay for a new roof. If you happen to put in a buy order at the same time as her sell order, then your money doesn't go to pay Philip Morris, it goes to support my grandma!
The other issue to consider is the questionable wisdom in excluding stocks that have excellent business characteristics and profitable operations from your portfolio. Defense contractors and tobacco companies in particular have very high barriers to entry, excellent returns on capital, and advantageous cost structures.
Over the long term, each industry has handily outperformed the stock market. The SPADE Defense Index has returned almost double the S&P 500 over the past seven years. The graph below shows the returns of the ETF that tracks the index.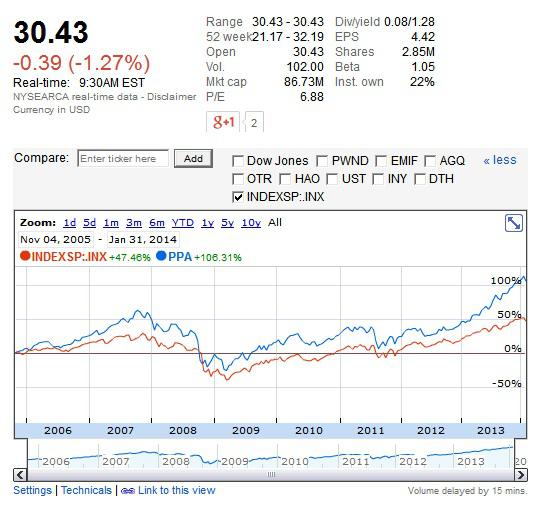 The returns are even greater if you go back farther. (The ETF only came into existence in 2006, but the SPADE Defense Index had been around for several years prior.)
The disparity in returns is even more pronounced in the tobacco industry. The Dow Jones Tobacco Index has trounced the market 687% to 31% since its inception in 2000!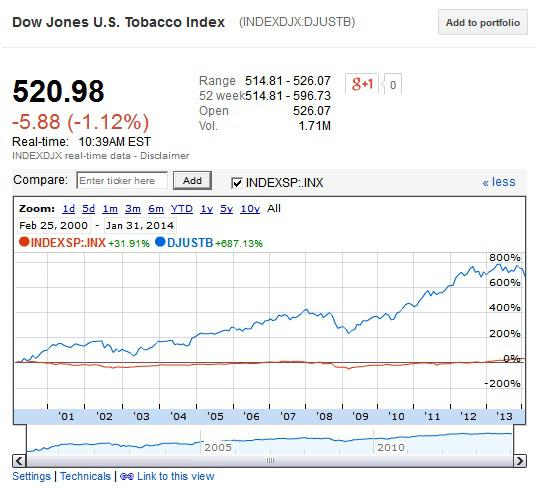 With that in mind, it should come as no surprise that funds that invest solely in "sin stocks" have done very well. The Vice Fund (MUTF:VICEX) with a combination of investments in gambling, alcohol, tobacco, firearms, and defense stocks has more than doubled the market since inception.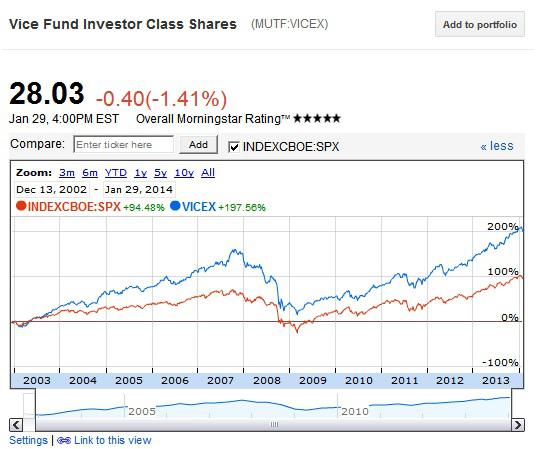 Summary
All of this is not to say that there isn't some good being done in the industry. While many funds like the MMA Praxis series appear just to pay lip service to the concept of SRI, some others, like Calvert Investments and Walden Asset Management, have effected change at companies they've invested in. For example, Calvert helped persuade Region's Financial to drop one their payday loan products and was able to get Church & Dwight to disclose more information about their animal testing procedures.
Instead of excluding profitable industries, funds could better serve their investors by taking on a more activist role. Funds could make a huge difference in curbing outrageous executive pay, breaking up cozy, management friendly boards, and ousting underperforming executives.
Disclosure: I am long PM, ORCL, AEP, XEL, VIAB, MHFI. I wrote this article myself, and it expresses my own opinions. I am not receiving compensation for it. I have no business relationship with any company whose stock is mentioned in this article.