Freeport-McMoRan (NYSE:FCX) is a mining company specializing in gold and copper. It also recently acquired an oil and gas business. Current yield is 3.87% with a 52-week pricing range of $26.37 to $38.09. Of late the mining sector has been out of favor. Is now the time to add FCX to a dividend portfolio? Is it strong enough to go against the tide of a declining sector and supposed oversupply of both copper and gold? Rather than focus on the intricate details of competition, world supply of raw materials and competitive pressures, we will focus on historical perspective and technical review. The FCX investor relations web site has excellent reference information and there are various Seeking Alpha articles focused on management and the mining sector. Last quarter's conference call is also a helpful resource to better understand the operations of Freeport-McMoRan. All charts are sourced from recognia software.
Current pricing is below resistance set at $33.03 and above support at $31.91. This is a very narrow band and does not give us confidence that current pricing is stable enough to warrant increasing our position. Pricing volatility is generally good for investors since new entry points are exposed, but in the case of FCX current pricing is not yet low enough to get excited about. The Relative Strength Indicator reflects a meaningful decrease during January adding to our anticipation of lower pricing. The next technical level down is $31.00.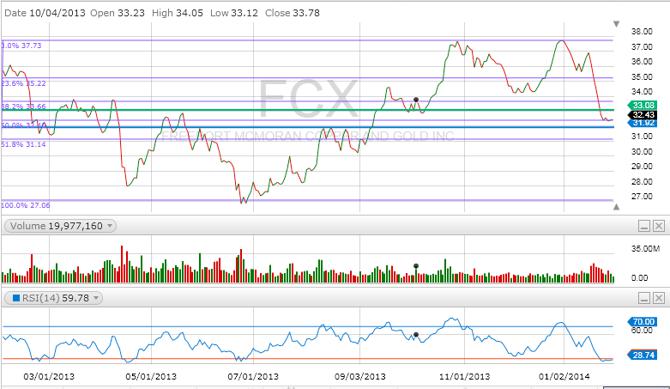 Freeport-McMoRan pays a dividend of $1.25. Comparing current pricing to the dividend payment over time our thesis for lower share pricing is not supported. The chart below demonstrates that FCX is in a low price range for the dividend paid and represents a good value. Earnings relative to price supports share pricing at the current or higher level.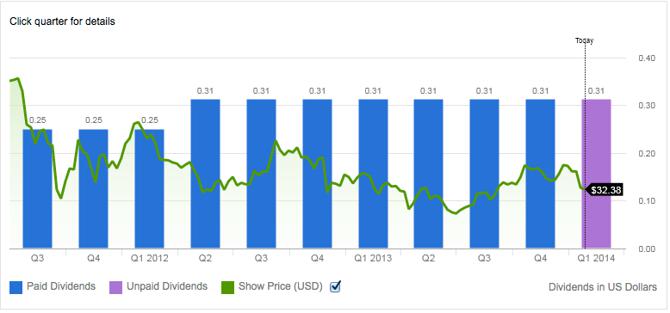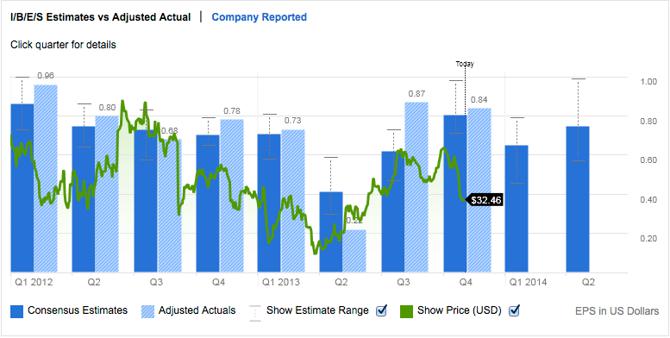 An important item in the chart for estimates verses earnings is the range of estimates above earnings. Simply stated the market is looking for $1.00 in earnings in the second quarter even though FCX recently reported earnings of $.68. This gap is concerning given the punishment stocks have received from not meeting expectations. Perhaps estimates will come down but this gap opens the door to a meaningful price decline looking forward. Support for this hypothesis is in the chart below. Using the 52-week pricing range of $27.00 and $38.00 and a six-month view forward probability calculations predict that pricing over $32.42 is a 50% likelihood.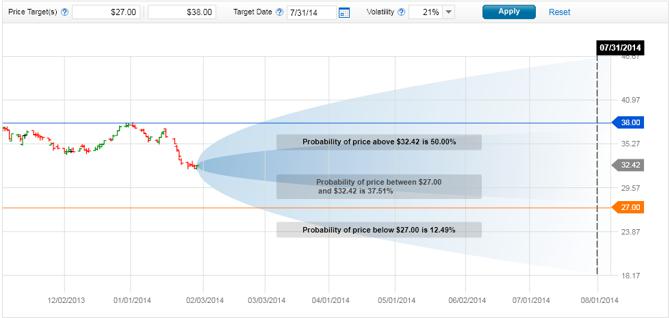 Given these variables our conclusion is that although FCX is an important holding for us, now is not the time to add to our position. We will wait until pricing falls below $30 and then reevaluate. If there have been no critical changes to competition or the business, we will add to our position as pricing decreases. Freeport-McMoRan represents a fair value now relative to dividends but the decline in the market, sector pressure and earnings estimates present enough resistance that we will risk losing today's entry point and delay purchasing.
Disclosure: I am long FCX. I wrote this article myself, and it expresses my own opinions. I am not receiving compensation for it (other than from Seeking Alpha). I have no business relationship with any company whose stock is mentioned in this article.