ARM Holdings Inc. (NASDAQ:ARMH) ended 2013 in great shape. The stock had hit an all time high and ended the year at almost $55 a share and those investors smart enough to see its future in 2009 and had the foresight to buy some stock below $10 a share had netted over five times their money in a scant 4 years. We should all be so lucky.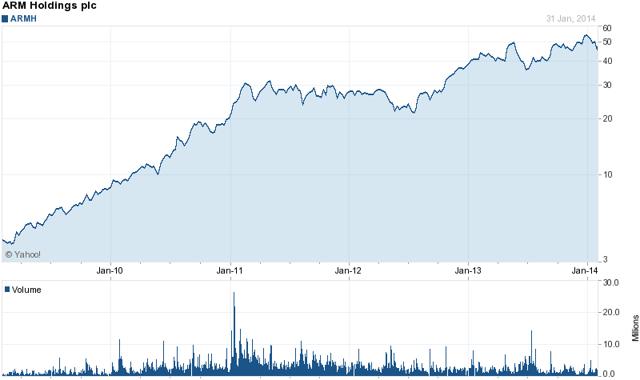 Since that time, ARM Holdings ("ARM") stock has lost $9 a share or almost a fifth of its value. What went wrong?
Part of the answer is the market beginning to recognize that smart connected device growth has pretty well run its course with most markets approaching maturity with big players like Apple (NASDAQ:AAPL) and Samsung (OTC:SSNLF) struggling to show profit growth in recent quarters. Part of it is simply that ARM is an expensive company with a market capitalization of $21 billion on sales of around $1 billion.

Source: ARM Holdings Inc.
ARM sees its future as tied not just to growth in smart connected devices but also to the Internet of Things (IOT), an area that it expects to show explosive growth in the next few years. ARM's December 18, 2013 presentation regarding the IoT opportunity is worth a read. ARM presented a forecast by IHS showing unit volumes of smart devices reaching 4.5 billion by 2017 with each device representing a potential application for an ARM Cortex-M processor. ARM also indicated that it expected to be able to supply a Cortex-M processor for less than $0.30.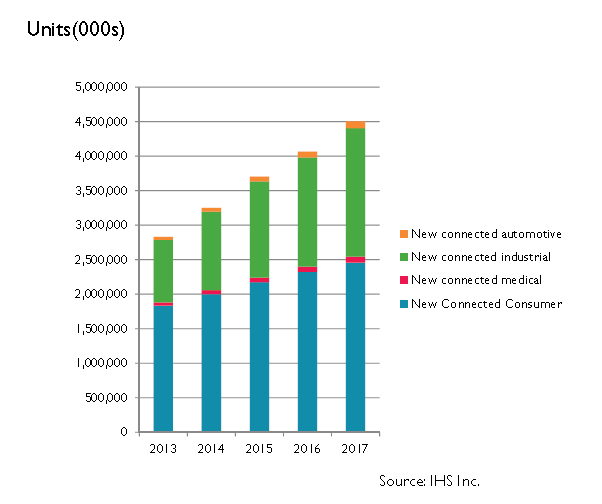 Those two data points suggested to me that the potential for ARM if it were alone in the field amounted to a total of $1.35 billion in potential 2017 revenue if it supplied all the processors, and of course somewhat less if they were supplied by third parties either paying royalties to ARM or not using ARM technology at all.
Intel (NASDAQ:INTC) has announced its Quark processor targeting the same market. Qualcomm (NASDAQ:QCOM) is also targeting the IoT market no doubt using components based on ARM technology and for which ARM would receive royalties. Texas Instruments (NYSE:TXN) has plans for IoT applications.
In October 2013 Samsung announced an IoT program funded with $100 million and managed by former Apple executive Luc Julia who once headed Apple Siri. Hewlett Packard (NYSE:HPQ) has ambitions to develop products and applications for the IoT markets as they develop.
The point is that the IoT will be revolutionary in terms of the consumer experience but very likely quite crowded from the technology supplier perspective, and while ARM will no doubt be a major player it might find the size and scale of the opportunity muted by the number of players sharing in it and perhaps not quite large enough to justify its current 87 times earnings market valuation.
At least that is how I see it.
The fact is that ARM is a relatively small company with an elegant business model harnessing third parties to license its brain power to build their own businesses. It is a model that has allowed ARM to grow rapidly with high free cash flows and a strong investment following. It is also a model that brings too many cooks into the kitchen when it comes to future profit growth.
ARM is a solid company with an enviable track record. Having said that ARMH is more likely to represent value at about half its current share price and in the coming months I expect it will visit that level.
I expect to establish a short position in ARMH over the next few days.
Disclosure: I am long INTC. I wrote this article myself, and it expresses my own opinions. I am not receiving compensation for it (other than from Seeking Alpha). I have no business relationship with any company whose stock is mentioned in this article.
Additional disclosure: I expect to find an opportunity to establish a short position in ARMH over the next few days if it touches my target price of $48.00 a share