Amazon (NASDAQ:AMZN) is no stranger to earnings misses. In fact, the company has reported an EPS miss for 8 out of the last 12 quarters and the stock price has routinely shrugged off after hours losses to ascend to new highs. In a previous article, I argued that AMZN trades primarily on Price to Sales (PS) ratio rather than participating in the Momentum Mechanism. The following chart may illustrate that point more graphically.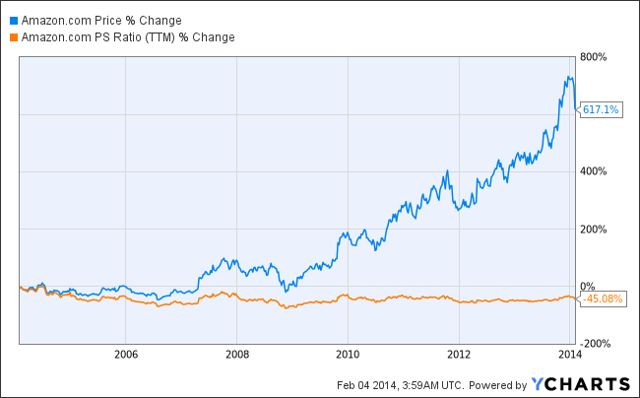 It compares the percentage change in Amazon's stock price to the changes in its PS ratio, showing that although the stock price has risen dramatically, it has always been in line with increased sales (not profits, as bears will be quick to point out). On Thursday, Amazon missed revenue expectations, as well as net earnings, which sent the stock tumbling. This article will examine the latest data in light of the PS correlation, and look at other fundamental factors likely to affect the business going forward.
Note that the recent miss constituted only about a 2% revenue miss, and that a continued PS ratio of 2 would imply a stock price just under $400 per share. Earnings per share missed by a whopping 18 cents, or 26% however. This is roughly in line with the AMZN post-earnings price drop to date. Are shares suddenly switching metrics, after having shrugged off prior misses? Shareholders had better hope not, as the company also disappointed with their forecast. Growth has been slowing for a long time, and if Amazon were simply to be compared to other retailers it would imply a price target under $100, as shown by the PS ratios of its peers.
Amazon
Retailing Peer Valuations
Year
Revenue
(millions)
growth
from prior year
2009
24,509
 
2010
34,204
40%
2011
48,077
41%
2012
61,093
27%
2013
74,452
22%
Of course, Amazon is not simply a retailer. I've long argued that it is (desperately) transitioning from a retailer to a services company. The company's web services division, AWS, has grown consistently, including 52% last year, and 16% in the last quarter. The segment (North American, Other) now accounts for ~4% of total revenue. The AWS infrastructure also serves video for Amazon's Prime customers (as well as on-demand purchases). In conjunction with the latest earnings report, Amazon announced that it is considering changing pricing on it Prime service. Analysts say this could dramatically increase revenue, but customer acceptance should not be taken for granted. The degree to which such an increases are accepted will be a key indicator of Amazon's value as a service provider, rather than simply as a retailer.
Interestingly, one of the largest customers of AWS, Netflix (NASDAQ:NFLX), saw a large drop when it announced a move to change its pricing and split off its DVD business. Netflix rebounded also, of course, but the article highlights just how complicated the situation is. Netflix has made several AWS outages rather high profile and other would-be customers are becoming increasingly wary. Furthermore, Netlfix is clearly feeling uncomfortable about having become locked into a proprietary infrastructure which is owned by a company which may soon become its biggest competitor. AWS offerings are large and cheap, but there are reasons for the pricing, as they are hardly best in class, or the only game in town.
Of course there are other potential growth drivers waiting in the wings as well, such as a recent initiative to launch an e-payment service. Amazon is certainly ideally positioned to gain traction in such a venture, and doing so could easily be enough to sustain momentum. The margins enjoyed by Visa (NYSE:V), Mastercard (NYSE:MA), American Express (AMEX) and Discover (NYSE:DFS) are certainly ripe for the picking.
Conclusion
The last time Amazon missed on revenues was the first quarter report, back in April. That miss was less severe than this one, but it also caused the stock to languish for over a week, before rebounding. This time is more severe, and it coincides with a general market correction, but I as long as the company has creditable service growth options I see no reason to assume the Price to Sales correlation is broken. I caution those who may be thinking this is the beginning of the end for AMZN: the stock has traded with a PS ratio as low as 1.5 and as high as 2.5, and always corrected back towards the median. Using the latest data, AMZN could trade as low $300 without breaking that range, but it could also rebound as high as $500. Amazon's clouds may look dark at the moment, but I suspect the stock hasn't been permanently grounded just yet.
Disclosure: I have no positions in any stocks mentioned, and no plans to initiate any positions within the next 72 hours. I wrote this article myself, and it expresses my own opinions. I am not receiving compensation for it (other than from Seeking Alpha). I have no business relationship with any company whose stock is mentioned in this article.