Ron Saba is director of equity research at Horizon Investments, based in Charlotte, N.C. A chartered financial analyst, he has more than 20 years of experience performing fundamental research and managing equity portfolios.
Before joining Horizon last year, Ron was managing partner and chief investment officer of Charlotte Capital, whose Small Company Value portfolios generated annual 20%-plus returns during his tenure.
Seeking Alpha recently got the chance to ask Ron about his current single highest conviction holding.
What is your highest conviction stock position in your fund - long or short?
Our pick is Eastman Kodak (EK). We bought the stock in the beginning of January 2010 at $4.31.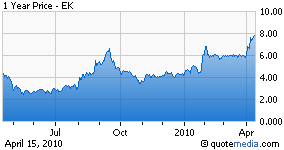 When the average person thinks of Kodak, they think of the little yellow film cartridges sold at Mom and Pop stores. In fact, Kodak has been around since 1880, but has struggled in recent years as digital imaging has steadily replaced film. But the company does a lot more than just make film. It's currently organized into three operating units: Consumer Digital Imaging Group (CDG); Film, Photofinishing and Entertainment Group (FPEG); and Graphic Communications Group (GCG).
The CDG segment sells digital still and video cameras, operates retail photo kiosks, sells consumer inkjet systems, operates the Kodakgallery.com photo storing and sharing Web site and manufactures a line of CCD (charge-coupled device) imaging sensors. The FPEG segment sells traditional photographic and motion picture films, photo chemicals, photographic paper and one-time use cameras. The GCG group sells digital and traditional prepress equipment and consumables, software for driving digital output devices and high-speed and high-volume commercial inkjet printing systems.
Most analysts still hold the traditional view of the company - including that the decline in traditional film will continue to devastate Kodak, and the stock has suffered. But in 2003, management began refocusing the company on "large growth markets that are positioned for technology and business model transformation." These include consumer and commercial inkjet, enterprise workflow and digital packaging printing solutions. Management is focused on maintaining profitability of the declining traditional film and paper business by continuously reducing its cost structure while simultaneously growing high-margin digital products businesses.
How much is this an "industry pick" as opposed to a pure bottom-up pick?
Eastman Kodak is a pure bottom-up stock pick. Our investment approach seeks to uncover investment opportunities, long and short, where changes in company-specific fundamentals are the overriding determinant of returns. Thereafter, we consider industry and sector dynamics as drivers when appropriate.
Can you describe the company's competitive environment? How is this company positioned vis-a-vis its competitors?
Kodak's traditional film business is (unsuccessfully) competing with digital imaging. Management is managing the decline through continuous cost reduction in order to maintain profitability.
In consumer printers, Kodak competes with Hewlett-Packard (NYSE:HPQ), Lexmark (NYSE:LXK), Epson and others. Kodak's high-quality, low-cost solution is rapidly gaining market share.
In most markets around the world, Kodak holds one of the top market share positions in digital cameras. For example, Kodak is the No. 2 market share leader in India with a 21.6% share of the digital camera market, overtaking Canon, according to IDC.
Can you talk about valuation? How does Kodak's valuation compare to the competitors?
We combine multiple company-specific valuation methodologies to calculate appropriate price targets for each of our investments. Because Kodak is undergoing a corporate restructuring, we use normalized earnings and free cash flow metrics in addition to an analysis of what Kodak would be worth to a strategic buyer.
Normalized earnings are calculated using assumptions about an achievable cost structure. In Kodak's case, we assume modest expansion in gross margin as product mix improves. We also assume incremental reduction in operating expenses as a percent of sales. Using a normalized gross margin of 25% (vs. 23.2% in 2009) and a 300 basis-point reduction in operating expenses as a percentage of sales, we arrive at normalized earnings per share for Kodak of $0.68/share. Applying a market multiple of 15, the price target for Kodak is $10.27/share.
To calculate normalized free cash flow, we adjust normalized earnings for projected noncash expenses and capital expenditures. Projecting annualized depreciation and amortization expense of $400 million and annual capital expenditures of $200 million, our normalized free cash flow projection for Kodak is $1.33/share. Assuming the market requires a free cash flow yield of 10%, we apply a multiple of 10 and arrive at a price target of $13.30/share.
Strategic acquisitions are typically motivated by an acquiring company wanting something another company has that the acquiring company does not (product lines, distribution, customer bases, etc.). Under most acquisition scenarios, the strategic acquirer intends to reduce or eliminate most of the general and administrative and other expenses below the Gross Margin line on the income statement. With that in mind, valuing companies based on an Enterprise Value/Gross Profit ratio will help us understand what a company may be worth to a strategic buyer. In Kodak's case, we can study the case of a strategic acquisition by a logical acquirer of Kodak - Canon (NYSE:CAJ) - to understand what Kodak may be worth to a strategic buyer.
Canon is a multibillion-dollar imaging solutions company. Earlier this year, Canon announced the acquisition of Océ N.V., a Netherlands-based provider of imaging solutions. Canon paid 1.23 times Enterprise Value/Gross Profit for Océ. By applying that valuation to Kodak, you arrive at a target price of $13.60/share.
Give these three valuation methodologies, the average price target for Kodak is $12.39/share, more than 61% higher than today's price.
What is the current sentiment on Eastman Kodak? How does your view differ from consensus?
Current sentiment on Kodak is negative. Investors are focused on the declining traditional film business and a seemingly never-ending series of restructurings. Deutsche Bank analyst Chris Whitmore wrote in February: "We maintain our Sell rating as the benefit from IP income looks to be already factored into EK's valuation while EK's core businesses remains under secular pressure." They're overlooking the potential upside from Kodak's valuable intellectual property portfolio (Kodak owns more than 1,000 digital imaging patents) and rapid growth of new high-margin digital products.
Does Kodak's management play a role in your position? If so, how?
Yes. Chairman and CEO Antonio Perez, who joined Kodak in 2003, spent 25 years at Hewlett-Packard, where he was a corporate vice president and a member of the Executive Council. He was also President of H-P's Consumer Business, where he built a $16 billion digital imaging and electronic publishing business. Prior to that, he was President and CEO of H-P's inkjet imaging business where he grew the installed base of inkjet printers from 17M to 100M over five years.
Since 2003, Perez has refocused Kodak on growing digital technologies. Under his leadership, the company introduced new digital products and technologies over the past four years that generated $5.3 billion out of a total $7.6 billion of revenue in 2009.
Perez and Kodak President Philip Faraci (formerly senior VP and general manager of H-P's inkjet group) have been instrumental in successfully launching Kodak's All-in-One Inkjet printers. Since its 2007 launch, the All-in-One has sold more than two million units, doubling its installed base in 2009 alone.
In addition, as a result of Kodak issuing to KKR (KFN) $300 million of senior secured notes and warrants to purchase 40 million shares of stock at an exercise price of $5.50 per share last September, KKR has the right to appoint two representatives to the board of directors.
What catalysts do you see that could move Kodak stock?
The market is just beginning to appreciate Kodak's valuable intellectual property portfolio. In December, Kodak and Samsung entered into a technology cross-license agreement following the filing of a complaint with the International Trade Commission (ITC) by Kodak in November 2008 for infringement of patents related to digital camera technology. In a similar case, Kodak entered into a technology cross-license agreement with LG Electronics last November. Revenue from these cross-license agreements alone could total $450 million in 2010.
Following these wins, Kodak filed a complaint with the ITC against Apple (NASDAQ:AAPL) and Research in Motion (RIMM) in January for infringement of patents related to digital camera technology. Separately, Kodak filed two suits on January 16 against Apple in the U.S. District Court for the Western District of New York that claim the infringement of patents related to digital cameras and certain computer processes. If Kodak were to win against Apple and/or RIM, royalty revenue could more than double.
Kodak's All-in-One printer business is growing rapidly. Sales more than doubled last year (2009) and could double again in the next two years. The competitive advantage of these printers is cost: Kodak's All-in-One printers provide photo printing using only a black cartridge and a color cartridge. The black cartridge costs only $9.99 and the color cartridge costs $14.99, less than half the cost of H-P printer cartridges.
Sales of the recently introduced Prosper color digital printing press will begin to ramp this year. The company has been taking orders in recent months and has a healthy backlog from which to ship. Revenues from the Prosper line could reach $500 million by 2012 and $1 billion by 2014.
Since buying the Ofoto online service, Kodak's had some success with merchandise - photobooks and calendars that aren't the traditional photo-print business. With EK's strong demographic in moms with small children, do you see things like this making an impact against competitors?
Kodak Gallery (formerly Ofoto) joins Shutterfly and H-P's Snapfish as the three survivors in the online photo-sharing space. In addition to Kodak Gallery, Kodak also operates seven sites across Europe. Kodak does not break out results for Kodak Gallery, but the dynamics of this business lead us to believe it will contribute positively in the future.
According to InfoTrends' U.S. Forecast 2010, the market for online photo ordering is projected to be $1 billion, with more than 60% consisting of photo merchandise. IDC expects the worldwide creative photo merchandise market to grow nearly 40% annually from 2009 to 2013.
What could go wrong with this stock pick?
Perez and his team are currently managing the balance between a declining traditional film business and growing digital businesses. Kodak would experience problems should the traditional film business begin to rapidly decline.
Thanks, Ron, for sharing your thesis with us.
Disclosure: Horizon Investments is long EK.
Read more High Conviction Picks »
If you are a fund manager and interested in doing an interview with us on your highest conviction stock holding, please email Rebecca Barnett.