Market Overview
Yikes! The market took quite a dip on Monday after a weak ISM Index report coupled with a continued penchant for correction with which the market has become obsessed. A so-so round of earnings, pullback from the Federal Reserve, weakness in China, and mediocre economic data has led to the market undergoing a serious correction to start out the New Year.
What really seemed to spark the market's downside action today was the miss from the ISM Index. With expectations for the report to come in at 56.0, the report came in at just over 51. After the latest report showed multi-year highs in the employment and order side of the index, this latest report saw the largest one-month drop in new orders since December 1980, and the Employment Index dropped from 55.8 to 52.3. A lot of the weakness was attributed to wintry weather. As we told our clients, the Index, though, is one of the most useless important data points. We always need to be careful with the ISM report, as it is a diffusion index that does not weight its participants for size of firm or the degree at which the company believes things are getting better/worse.
In other news, China continued to show its weak hand to start the year with the non-manufacturing PMI coming in at 53.4 versus 54.6 in December. That drop also helped spur on some of the correcting for the marketplace.
All in all, the Dow Jones (NYSEARCA:DIA) dropped just over 2% with the Nasdaq (NASDAQ:QQQ) dropping 107 points or 2.6%. The S&P 500 (NYSEARCA:SPY) dropped 41 ppoints or 2.3%.
Company News
On the company news side, we will be focusing on Zynga (NASDAQ:ZNGA) today after the company's busy last week in which the company reported key earnings that beat expectations as well as acquired NaturalMotion. The big week of news has led to the stock gaining over 25% in a week, while the rest of the market suffers. We want to report on the latest round of earnings as well as talk about the company's big acquisition. And ask the question, is now the time to buy Zynga?
In the company's latest earnings, ZNGA reported revenue above expectations at $716M versus $712M. Those numbers were down from the $1.1B that the company made in the year prior. Net losses dropped from $209M to only $37M, however, year/year. The signs that the company is increasing margins, cutting costs, and moving towards profitability is a big win for ZNGA.
After the company made it big with games like Farmville and Words With Friends, the company saw a drop off in users and games losing popularity. The result was a drop in users and revenue, and the stock was taken to the woodshed, dropping from $14 post-IPO to just $2 by the end of 2012. Since then, the stock has had trouble getting back over the key $5 level where institutions become more interested. So, let's dive a bit deeper into this report to see what all is working and is not.
Bookings came in above expectations at $147M versus $130-$140M expectations. EPS came in at -0.03 versus -0.05 - -0.04 expectations. Audience metrics, however, continued to decline. Only 27M daily average users used Zynga games in the latest quarter. That compared to 56M one-year prior and 30M one quarter prior. An important metric in ABPU, which shows average book per day per sub came in at 6.1 cents, which is above 5.1 one-year prior and 5.5 one quarter prior.
While ZNGA made less money and had less users, those users were more likely to buy than those one-year prior. WWF saw a 33% booking increase sequentially while Casino achieved sequential growth for the first time in 1.5 years.
Here were comments from new CEO, Don Mattrick:
Over the last 7 months, our teams have been working with a sense of urgency. We finished 2013 in a strong position and expect 2014 to be a growth year. We believe that Q1 will be a solid foundation for that growth and we expect substantial improvements for the remainder of the year across audience, bookings and Adjusted EBITDA. The investments we are making to grow and sustain our franchises are beginning to bear fruit, particularly in Zynga Casino and Words With Friends. We are committed to refining our skills in the art and science of building new hit games and in 2014, we will move aggressively into new genres that align with the timeless, entertainment categories that consumers care about.
What we are seeing is Mattrick's vision for ZNGA playing out well for the company. Mattrick is redoing the game pipeline and pushing for mobile over all else. He, like Facebook (NASDAQ:FB), Twitter (NYSE:TWTR), and other social media entertainment companies, realizes that mobile is the future. And the push to mobile will be one of the most important metrics to follow. What we are seeing is less users, less revenue, but the company is booking more often with its current users, and they are seeing good growth in games that are mobile specific. The company seems to be doing well. They guided well for 2014, and the corner they turned with Poker is a big win.
To further Mattrick's vision, along with earnings, the company announced an acquisition and a workforce cut. The company is acquiring NaturalMotion for around $530M. That move is another sign that the company wants to get into and be a major player in mobile. 451 Research comments on the reasons for doing this acquisition:
Like OMGPOP, NaturalMotion has a big mobile hit in 'Clumsy Ninja,' but it also has animation middleware that has led to licensing deals with movie studios and other gaming vendors. The outside interest in NaturalMotion's core technology suggests that Zynga looked for an asset and team that could boost many games in its portfolio, not just another one-hit wonder like OMGPOP. And the valuation further demonstrates that Zynga is willing to pay up for the possibility to expand beyond its core markets.
The move gets the company a solid game, but it does more to get them middleware they need to be a bigger player in the mobile sphere, and we believe that is a win for ZNGA. At the same time, the deals that the company has made in the past have been so-so (often overpaying). This is the first big deal for Mattrick, and we believe it lines up with his ideologies, so it seems on paper to be a good fit.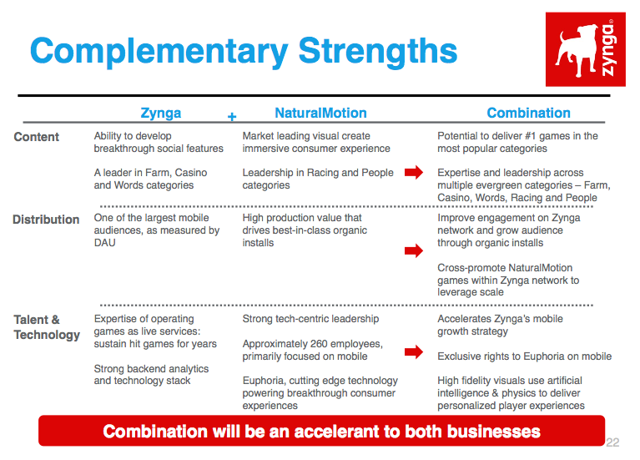 Finally, the company also announced a 300+ reduction in their workforce, which is a big move that will help bring the company into profitability in 2014. For example, the company had over 2000 employees last year while King, maker of Candy Crush, had over 400. King, though, has double the FB users using their game, and so the overstaffing and overpaying seems to be a problem that Mattrick understands and is dealing with.
Moving forward, we like these moves, but is this the time to buy ZNGA. It was a good quarter, but we still do worry about two main problems - declining users and high competition. The mobile space is crowded with games, apps, etc. Time can only be used for so much, and so we do worry that ZNGA may be hurt by a very tough market that will likely require consolidation and more bumps in the road. With that said, the stock trades at less than 2x book value and just over 3x cash, so its not expensive. For us, we want to see DAU increase before we will take a stab, but ZNGA is definitely on our watch. They are doing some solid things there.
Tomorrow's Outlook
Moving into Tuesday, the obvious question is do we move down further or are we ready to bottom. The bottoming process will take some time, but today, it did seem to be a bit of a capitulation day with the consistent move down on what was not the worst report from ISM that was mostly skewed by weather. Tomorrow, we get more data and earnings that should help decide where we move next. One thing is for sure, volatility is here to stay. As for data, we are watching Factory Orders at home, but the key report is IBD Economic Optimism number for February. That report is a great gauge of small business and economic outlook. Further, we get earnings tomorrow AM from BP (NYSE:BP), Clorox (NYSE:CLX), Emerson (NYSE:EMR), Gannett (NYSE:GCI), Michael Kors (NYSE:KORS), and Sirius (NASDAQ:SIRI). It should be a busy day with earnings. 80% of companies have reported an EPS beat, but guidance and revenue have not excited the market. A nice set of reports here would go a long way to getting the market back on track. Overall, we do not foresee another move of Monday's caliber given the lighter economic schedule. Yet, company specific and industry specific moves will be important to watch.
Disclosure: I have no positions in any stocks mentioned, and no plans to initiate any positions within the next 72 hours.
Business relationship disclosure: I have no business relationship with any company whose stock is mentioned in this article. The Oxen Group is a team of analysts. This article was written by David Ristau, one of our writers. We did not receive compensation for this article (other than from Seeking Alpha), and we have no business relationship with any company whose stock is mentioned in this article.