On Monday, telecom giant AT&T (NYSE:T) announced major price cuts to monthly data rates on family plans. Smartphone data plans will now cost just $15 per month, a significant reduction from the previous level of $40. AT&T's move is simply an escalation of a price war that was started last year when T Mobile (NASDAQ:TMUS) eliminated contract based pricing opting instead for an "uncarrier" approach. Sprint (NYSE:S), which is currently in the process of trying to acquire T Mobile, also announced its own price reductions in late 2013. AT&T's initial response included an offer of $450 to customers who switched to AT&T from T Mobile. However, AT&T has now ended this offer in favor of a broader price reduction. While it is too early to say just how deep this price war will go, itseems likely that Verizon (NYSE:VZ) will also reduce rates in the near future. Simply put, it appears we are in the early stages of a massive price war between the largest U.S. telecom providers. Great news for customers but not for shareholders. I firmly believe this price war will result in reduced profit margins for all industry players. As shown by the chart below, AT&T, Verizon, and Sprint have all come under heavy selling pressure in recent week as market participants have become more worried about the outlook for the industry. While I have already outlined AT&T as my least favorite stock in the Dow for 2014, I will explain why I believe S is a better short than AT&T or Verizon.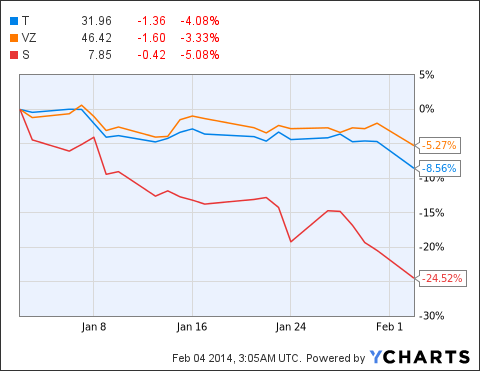 Sprint Has Outperformed
Over the past year, as shown by the chart below, Sprint shares are up more than 41% while AT&T and Verizon are lower. Certainly, Sprint has benefited from its merger deal with Japan's SoftBank as well as proposed deal to buy T Mobile USA. While these developments have been positive for Sprint shares, it also must be noted that the chances of another major catalyst that could send Sprint shares sharply higher from here are quite limited. Furthermore, it now appears that the T Mobile USA deal is unlikely to get regulatory approval. If the T Mobile USA deal is eventually approved, I think it is fair to say that Sprint will have overpaid given the rapidly changing industry outlook. On the flip side, if the deal does not go through, it will be extremely difficult for Sprint to compete in a price war with the giants, AT&T and Verizon. Wall Streets recent optimism regarding Sprint could quickly fade sending shares sharply lower.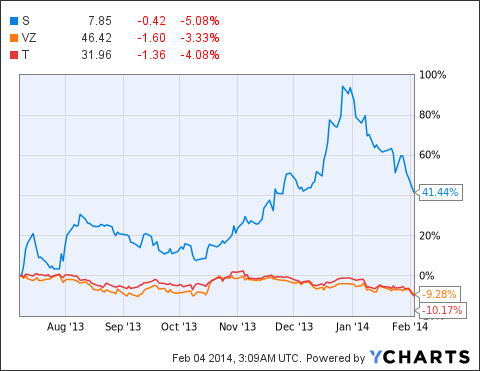 Profitability
As shown by the chart below, Verizon and AT&T are very profitable while Sprint has not been profitable. Due to this, I believe AT&T and Verizon are more well positioned than Sprint to ride out a price war.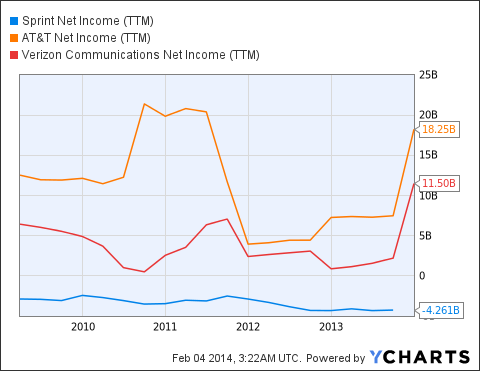 S Net Income (TTM) data by YCharts
Leverage
As shown by the chart below, Sprint is significantly more leveraged than either Verizon or AT&T. A price war could lead to an extended period of weak results which could put Sprint under financial pressure due to its high debt levels.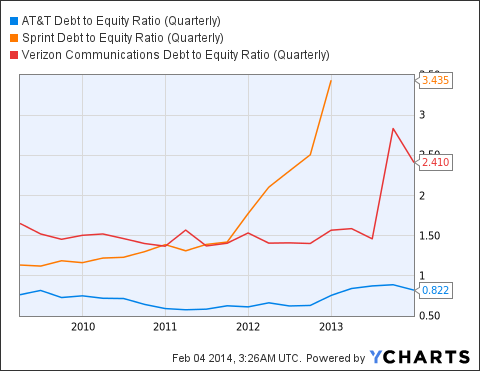 T Debt to Equity Ratio (Quarterly) data by YCharts
Dividend
One of the reasons why I believe that AT&T and Verizon are difficult stocks to short has to do with the high dividend rates. Because short sellers are forced to "pay" the dividend, high dividend stocks can be expensive to short. Contrastingly, Sprint does not pay a dividend and thus does not require short sellers to "pay" the dividend. Furthermore, I believe AT&T and Verizon's high dividend rates will entice investors to stay long despite short-term headwinds.
Conclusion
I am bearish on AT&T, Verizon, and Sprint. However, of these three, the only stock that I believe is a solid short candidate, for aggressive traders, is Sprint. Without question Sprint is the weakest of the three companies and most likely to suffer if a major price war breaks out. The next thing that I believe is likely to happen is a major price cut by Verizon in response to AT&T's decision to cut prices. I expect Verizon to cut prices not merely to the same levels as AT&T but to a lower level to send a message.
Disclosure: I have no positions in any stocks mentioned, and no plans to initiate any positions within the next 72 hours. I wrote this article myself, and it expresses my own opinions. I am not receiving compensation for it (other than from Seeking Alpha). I have no business relationship with any company whose stock is mentioned in this article.