Some small cap pulp and paper names are ripe for a pop.
It's no secret that global paper pulp supply was squeezed earlier this year by the Chilean earthquake and the Finnish port workers strike.
Now the Finnish strike is over and Chilean pulp producers, such as Arauco, are slowly bringing their mills back on line.
So pulp inventories should build, and prices should drop. But it isn't happening in a big way. And even with stable prices, my three stock selections are severely undervalued.
Economic recovery means that people want paper for all sorts of important uses. Asian demand is strong, but so is demand everywhere where economic numbers are turning from red to black.
US total printing/writing paper shipments in March at 1.565 million tons were 11.7% higher than February, and 12.9% above earlier levels, according to the American Forest and Paper Association.
This demand will push common pulp grades such as NBSK (Northern Bleached Softwood Kraft) to over $1,000/mt, a height not seen since 1995.
Sodra, the big Scandinavian producer, will implement another US NBSK pulp price hike to $960/mt as of May 1st.
Fibria (NYSE:FBR), in Brazil, raised the price of Eucalyptus bleached hardwood today.
Paper producers are also raising prices to cover the higher costs of pulp and energy, but the integrated producers can just pass the price on and make more money.
South African producer, Sappi (SPPJF.PK), raised their price for several paper grades last week, and Norske Skog (NKSJF.PK), of Norway, raised magazine grade papers by 35 euros a tonne last month.
These stocks have already bottomed sometime in 2009. Big Canadian names, such as Domtar (NYSE:UFS), have already moved several fold in price.
But some Canadian small-cap paper stocks have yet to rise. As usual, the second tier comes later in a bull market.
But I also feel they have been ignored due to the US enjoying black liquor green credits, while the Canadians competed on an uneven playing field.
Another problem was that many Canadian sawmills shut down due to poor lumber pricing and the mountain pine beetle destruction, which created a shortfall in the supply of the wood chips necessary for economic pulp production.
Since that time, lumber has come back in price and the wood fibre supply is improving.
The Canadian federal government came out with a Green Transformation Program (aka black liquor grant) system, which is paying mills to create bioelectricity with their spent wastewater.
The first one I like is Catalyst Paper (CTLUF.PK).
Catalyst has five mills on the B.C. Coast and one in the US.
Catalyst generated revenues of $1.2 billion Canadian last year down from $1.85 billion in 2008, on sharply curtailed production. With normalized production, revenues could easily reach $2 billion. Assuming a 10% EBITDA margin and a 10 times multiple, with some debt paydown, I believe the stock (381 million outstanding) could reach $3 in the next twelve months.
Catalyst produces specialty printing paper (for ad flyers etc), newsprint, market pulp at Crofton, B.C.), and also recycles paper at their Snowflake operation in Arizona.
Catalyst raised their uncoated paper price today for US customers ($55/mt), and recently announced that their Crofton pulp line 2 is going back on stream, and there might be a possible restart for their mothballed Elk Falls plant. Catalyst recently reorganized their debt and will report Q1 earnings on April 29th.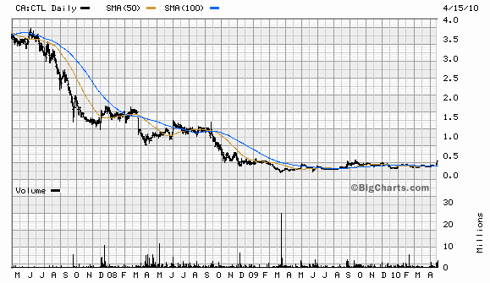 (Click to enlarge)
Tembec Inc. (TMBCF.PK) is a diversified lumber, engineered wood, pulp and chemicals producer operating in Eastern Canada and France. The stock closed at $2.82 Canadian.
Tembec generated revenues of $1.8 billion in the year ended September 30, 2009, down from $2.4 billion for the predecessor company. More than half its revenues are from paper pulp.
The lumber and engineered wood (I joists, etc.) is doing much better as the Random Length composite index is up over 75% YOY and also Canadian housing statshave been robust.
Tembec went into receivership a couple of years ago and was reorganized with most of the equity held by the debtholders and work-out funds.
Today, French mill unions gave the go ahead to to allow the sale of two of Tembec's French pulp mills to APP, an Indonesian paper conglomerate. The price is approximately 100 million euros or $137 million Cdn.
Tembec had $490 million in debt and $200 million in underfunded pension liability, as of December 31st. The funds from the French mills will be used to reduce debt and fund capital expenditures.
With 100 million shares outstanding and based on a $1 billion enterprise value based on 10 times $100 million EBITDA, the company's equity would be worth $640 million, or $6.40 per share after debt reduction. Tembec reports Q2 earnings on April 29th.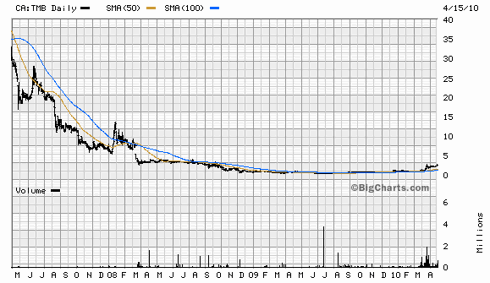 (Click to enlarge)
Finally, we like SFK Pulp Fund (SFKUF.PK).
SFK owns an NBSK pulp mill in Northern Quebec, and two RBK (Recycled Bleached Kraft) pulp mills in the US, in Michigan and West Virginia. The units closed at $1.54 Canadian.
SFK generated $389 million in 2009 revenues on curtailed production, versus $532 million in 2008.
This company was an income trust organized in 2002 for the tax-free income flow through. Unfortunately, they picked a very cyclical business to package, as a stable income entity, and predictably, cash flows were hammered and the distributions disappeared.
However, after several equity raises in the past at higher prices, the company restructured its debt covenants and has survived, and is now converting to a corporation.
The company is running at capacity in Quebec, and is enjoying the best product and input pricing it has had in its history. The company received $20.9 million under the aforementioned Green Transformation Program to build a third co-generator and sell electricity into the grid.
The recycling mills in the US had a tough time last year as producers reverted to virgin pulp to gain the aforementioned black liquor government subsidies. Wastepaper costs have been volatile. These negatives are probably disappearing and these plants usually have positive operating margins.
In 2008, SFK earned $47 million in EBITDA, and that was a year that slumped in the last quarter. At 10 times $50 million EBITDA, the stock would be worth over $3.30, without assuming any repayment of their $200 million in debt. Debt reduction would add to equity value as the mills require only moderate amounts of maintenance capital expenditures.
The company reports its Q1 earnings on May 4th.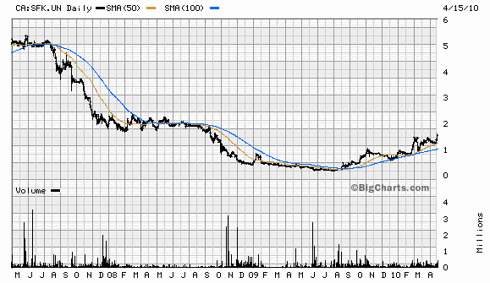 (Click to enlarge)
It's been a wave of senior pulp and paper stocks going up since the middle of 2009, yet the public and media are fixated on avoiding forest product stocks due to the foreclosure press.
These three small cap names have only now begun to react positively to the ongoing boom in pulp and paper pricing. Clearly the exchange rate is a negative if the Canadian dollar continues to rise above parity with the USD. I have chosen companies that have at least some US operations or debt funded in USD.
One clear positive is that the Brazilean real and Chilean peso have appreciated just as fast as the Canadian dollar, and this has negated the traditional advantage of the big Latin American pulp producers. Also, high oil and freight prices as we have now, make selling local more advantageous and import competition more difficult. My companies sell primarily into the US in their geographic areas.
It is likely more pulp and paper supply will come back on line if demand continues to build and prices continue to rise. However, I expect the industry will show some production discipline as the weaker names were rooted out during the 2008/2009 downturn.
Disclosure: Author long SFKUF.PK, TMBCF.PK, and CTLUF.PK