With an earnings report, an investment in another company, and large swings in the price of its stock, January was a lively month for TAL Education Group (XRS), a K-12 private education provider in China.
XRS posted strong gains for the month despite experiencing a fair share of volatility. In total, XRS increased by approximately 13% for the month of January. At its peak closing price for the month on January 22nd, XRS was up by 20%, but then, amidst the waves of volatility occurring in the broader world markets, the stock dropped by 17% over the course of the following three trading days. The very next day, it jumped back up by 15%. Other companies in the private education industry in China fared similarly during this four-day period.
Below is a chart from Yahoo! Finance showing the month of January within the context of the past three months. Included are XRS and three other companies in the education industry in China: New Oriental Education & Technology Group (NYSE:EDU), China Distance Education Holdings (NYSE:DL), and Xueda Education Group (NYSE:XUE).

Below, looking at the past three months and using a candlestick chart, we can see that on the 27th, XRS hit an intraday low close to a level of support at approximately $20 per share.

There were two company-specific events that occurred around the same time as the four days of volatility, but it is important to note that they appear to have not been responsible for the direction of the price movements, since the peer companies mentioned earlier experienced similar ups and downs.
Just before the period of volatility began for XRS, the company announced its quarterly earnings, which came in better than what I had estimated in a previous article. On the day of the earnings release, January 22nd, XRS reported its earnings before the market opened and then enjoyed a gain of almost 3% on the day.
On XRS's income statement, it was reported that net revenues increased by 50.4% over the same quarter a year ago, while net income attributable to XRS increased by 123.4%. The net profit margin for the quarter was approximately 17% compared to slightly more than 11% in the same quarter a year ago. The report was for the company's fiscal third quarter, and when the first three quarters of this fiscal year are compared to the first three quarters of the last fiscal year, net revenues increased by 36.5%, net income increased by 65.1%, and the net profit margin went from about 16% to roughly 19%.
On the company's balance sheet, the current ratio decreased from 1.79 at the end of the fiscal second quarter to 1.72 at the end of the fiscal third quarter, while the cash ratio went from 1.53 to 1.46.
As of the close of trading on February 3rd, 2014, and according to Yahoo! Finance, XRS had a P/E ratio of 37.83. Below is a chart showing how this compares to the earlier mentioned companies that operate in the private education industry in China.
| | | |
| --- | --- | --- |
| Ticker | P/E | Market Capitalization |
| XRS | 37.8 | $1.84 billion |
| EDU | 23.6 | $4.83 billion |
| XUE | 157.0 | $0.415 billion |
| DL | 48.7 | $0.669 billion |
Looking forward to the company's fourth quarter, the earnings report predicted that results will be particularly high on a year-on-year basis, partially due to the timing of this year's Chinese New Year Holiday, which will allow for one extra week of class.
Shortly after the earnings report, XRS announced that it was making an investment. Occurring on the same day as the stock's precipitous decline on January 27th but not necessarily a contributing factor was the announcement that the company had made a minority $23.5 million investment in a Chinese company, Babytree, Inc. According to the press release,
Founded in 2007, Babytree operates Babytree.com, a digital resource and community platform for pregnancy and parenting that caters to Chinese new and prospective parents both in Greater China and overseas. The Babytree website and its mobile applications offer expert advice and support on care-taking, development and health for prospective and new parents. Babytree addresses five stages of early parenting: preparation for pregnancy, pregnancy, infants (0-1 years), toddlers (1-3 years) and young children (3-6 years). Babytree has also pioneered a fast-growing online-to-offline business with its "Mika (Growing World)" branded subscription service, whereby parents receive a box monthly with books, multi-media games and toys to support their child's development at every stage.
The $23.5 million investment is equivalent to about 7.7% of the cash and cash equivalents reported on the balance sheet as of November 30th, 2013.
If the website has and maintains a consistent following and a good reputation, and if XRS can work with Babytree to promote its after school tutoring services to the families with children about to enter Kindergarten that use babytree.com, at least in theory, the relationship has the potential to prove fruitful. In this sort of positively envisioned scenario, XRS would have access to a large pool of potential students and their parents. However, one could also imagine a negative scenario in which the investment does not work out, for instance if the website gains a bad reputation, loses popularity, and then is of little use to XRS as either a marketing platform or as a profitable company that pays out to its investors.
Looking at technical indicators, XRS exhibited a potentially positive sign and a potentially negative sign in January. On the positive side, in the past six months, when XRS broke beneath its 20 day exponential moving average line, the stock rallied after breaking back above the line. On January 27th, XRS closed below its 20 day exponential moving average and then broke back above it on January 28th.

However, investors should use caution when viewing this as a positive sign because when looking at the period further back than the latest six months, there have been numerous examples of when this signal did not predict a rally. In other words, it has not been a reliable indicator.
On the negative side, the volume that XRS experienced when it dropped approximately 10% on January 27th was greater than the volume on the 28th when the stock went up by about 15%. Over the next three days, which were also the last three days of the month, there were two up days and one down day, and both down days had higher volume than the up day.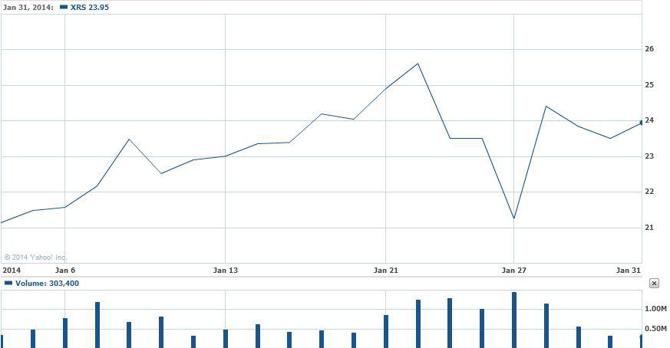 When choosing which signal to weigh more heavily, the task is made more difficult because when XRS went below its 20 day exponential moving average in December, it also broke back above it on volume lower than during the initial drop beneath it. Thus, volume's reliability as an indicator for this stock can be brought into question as well.
However, overall the cautious volume signal may carry more weight than the optimistic exponential moving average pattern in this case, and this is largely due to the broader market environment. Taken into consideration that the recent spat of volatility in world markets may not yet have fully subsided, and factoring in how sensitive XRS was to market volatility in the latter part of January, it could prove wise to err on the side of caution.
Disclosure: I have no positions in any stocks mentioned, and no plans to initiate any positions within the next 72 hours. I wrote this article myself, and it expresses my own opinions. I am not receiving compensation for it (other than from Seeking Alpha). I have no business relationship with any company whose stock is mentioned in this article.