I first wrote about Procter & Gamble (NYSE:PG) back in October. I called the article "The Bubble in Blue Chips," which was a shameless attempt to try and attract eyeballs.
The real point of the article was that blue chip, historically-defensive stocks like Procter & Gamble weren't going to behave the way that a lot of investors thought they would during the next correction. The reason was because they had become too expense -- not just in an absolute sense, but relative to their own individual histories.
It's still early, of course, but here's how those stocks have fared since last October.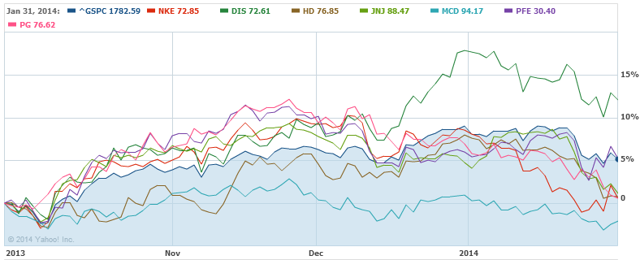 Disney (NYSE:DIS) stands out as an obvious outlier. And Pfizer (NYSE:PFE) has more or less paced the market over that period.
But every single other one of these stocks has underperformed the market since then: Nike (NYSE:NKE), Home Depot (NYSE:HD), McDonald's (NYSE:MCD), Johnson & Johnson (NYSE:JNJ); all big time laggards.
I realize how heretical it sounded to say a few months ago that maybe we ought to reassess the stocks psychology as a defensive safe haven. In fact, I got plenty of pushback on the thesis. But it turns out, there's more to a stock acting as a defensive safe haven than its brand and historical narrative.
Turns out, fundamentals and valuation matter.
In fact, if I were a more unscrupulous analyst trying to sell you some story about me being some sort of guru (I'm anything but), I'd pick and choose late November as my arbitrary start point and show you this chart: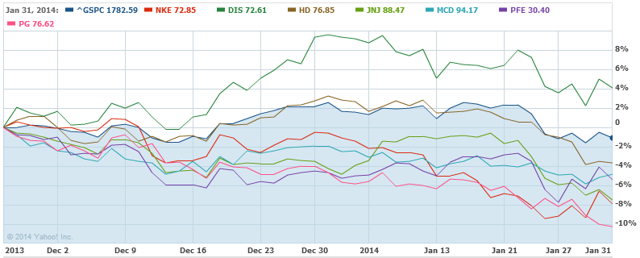 The difference since then has been nothing short of dramatic. Weren't these supposed to be blue chips? The kinds of stocks that hang in there when the market goes down?
Really, though, this is a story of me simply getting lucky with my timing. I had no idea we'd see a market shakeup in January. To the contrary, I actually thought the month would be good! Januaries usually are.
And for what it's worth, I do love these blue chip stocks as very long-term, core holdings. These companies are systemically important and major pillars of the U.S. market and economy. I just prefer to acquire them when they're cheaper than the market. I also don't have a problem parting ways with them when they're at a premium.
In any case, the point about valuation and fundamentals mattering still holds. I'm not sure I could have asked for a better real world example of this.
So today we're going to turn our attention to Procter & Gamble as a real world example and ask a few quick questions:
Are these things still fundamentally expensive?
How is the technical case?
What's a good strategy for acquiring them?
The Fundamental Case
Procter & Gamble is a fundamental juggernaut. This is a company that did $84 billion in revenue last year, which is a big number, but even more impressive because it's almost 60% higher than it was a decade ago. Not bad for paper towels and tooth paste.
But here's the thing: top line growth has averaged 0.2% since 2009. The top line is looking at GDP growth for the next fiscal year and provided they don't make any major acquisitions, that's as sensible a revenue target as any for a company like this. In a lot of ways, a bet on P&G is a bet on the long-term U.S. economy.
The catch is that the company is currently selling for 20x trailing earnings and the forward multiple is around 16x. The company has traded at an average trailing PE of around 16x over the last 10 years. So even after this little correction, this is still an expensive stock. Not just in the context of today, but in the context of P&G's history. The fact that these guys are a "blue chip" name may justify a premium valuation, but 20x is a good 25% higher than they've historically traded. Other fundamental metrics such as P/FCF and EV/EBITDA show similar levels of overvaluation relative to the historical norms.
These days everything is kind of expensive, though, so relative valuation involves more than just one dimension of analysis.
For sake of argument, a normal historical trailing valuation for P&G would put the stock around $60 ($3.72 ttm EPS x 16). I'm not sure I'd go so far as say that's my official price target for the stock, but as we'll see in just a minute, that could become a very interesting level. The stock would be certainly be a fair value there.
Another reason why that $60 could be somewhat "magical" is because at that price, their dividend yield would be 4.01%. Does owning P&G with a 4% yield sound good to you? I'll bet it does. My guess is that it'd sound pretty good to the market as well which makes me hesitate to think it'll actually get there. You could make a case that $60 is fair value, but I'd submit that would be a really stable fundamental floor for a stock like this. That's almost exactly 20% below here.
One thing to consider as more investors wake up and realize that these blue chips have struggled more than the market lately is that we shouldn't necessarily expect that to always be the case going forward. At some point, the defensive nature of a business like P&G will kick in. I could see the market drawing down 30% if things got really ugly. But could you see P&G dropping that much?
The point -- and this is somewhat nuanced -- is that PG becomes progressively more attractive to value investors the closer it gets to $60 in a way that the rest of the market does not.
I hope that makes sense. Some stocks become more attractive to value investors as they go lower. Others continue to get ignored. P&G is absolutely belongs in the camp of former.
The Technical Case
While the fundamentals of today and tomorrow are pretty solid (if boring) for P&G, the technicals are not so good.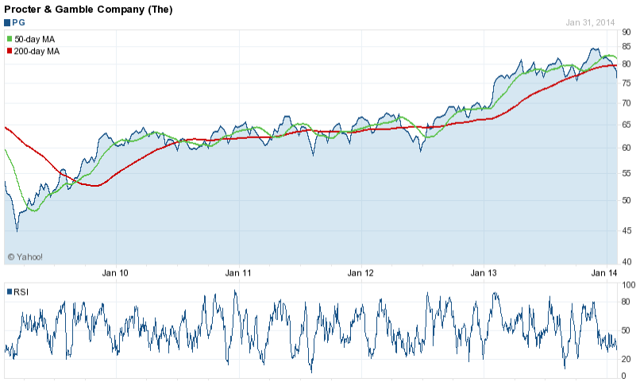 This is a fairly bearish setup.
The stock is now decisively under its 200--day moving average, so the longer term trend is now bearish. The 50day has officially crossed under the 100-day, and it's getting close to crossing under the 200day, one of the most bearish technical signs of all Run! It's the "death cross"!
The good news is that there's huge support at $75.10. The stock has bounced off this twice before in the last year. The bad news is that triple bottoms tend to get broken. The third time here could be the charm, especially if the rest of the market has more weakness ahead of it.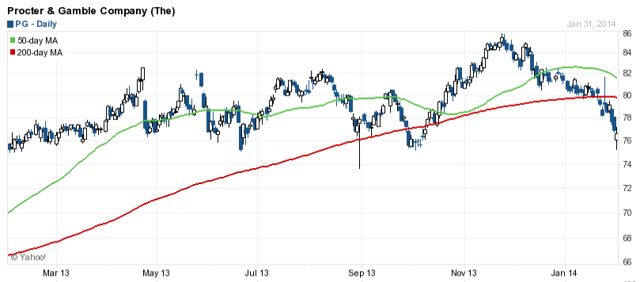 Procter & Gamble has corrected around 12% from its November highs. As we discussed above, I don't think that's because of any flaw in their business or depressing forward outlook, it's simply a reversal of the stock growing more expensive than it should have been. Sometimes that happens and investors shouldn't conflate that with what's actually happening at the company.
The technicals of that drop matter, though, and there's a lot of negative momentum behind it right now. The really interesting $60 level we discussed above is also interesting on a technical level.
Check out the support this stock has at $60: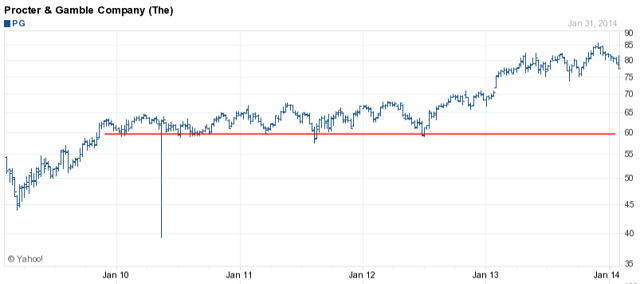 Wow. Crazy, right?
I haven't a clue if PG will trade down there, but if it does, you can better believe I'd take a shot on the long side. Especially after how important that level is on the fundamental side as well. That seems like a no-brainer thing to say today, but keep in mind that should the stock continue to trend lower, the psychology will worsen and others may think you're crazy to buy a stock that hasn't gone anywhere in 5 years.
The technicals suggest that if the stock breaks $75, it's probably going a considerable ways lower. $70 would be the first obvious target, as that level represented key resistance on the way up.
Now that we understand some of the basic fundamentals and technicals, let's put together an actionable strategy for the stock.
The Options
Fortunately, PG has some pretty nice options. The Feb 75 puts are only 18 days away and they've got a little bit of juice in them. Around 1.5% worth.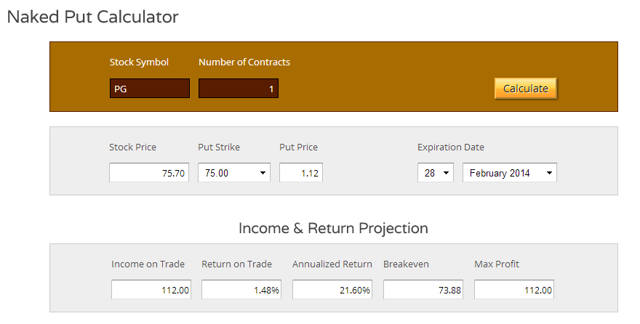 So rather than buying the stock, you could write some $75 puts on that and give yourself a little bit of a cushion if the stock is indeed headed lower. If it rallies from here, be happy with the 21.6% annualized return you collected on the trade!
But as we learned from the technicals, $70 is a reasonable bet if $75 fails. So in the likely scenario where you do get put the stock, you'd want to cover it up immediately, especially given the resistance that the $75 level will turn into once (IF) it's violated.
The good news is that the weekly calls are also very compelling. You can collect 80-150bps per week on the at-the-money calls right now!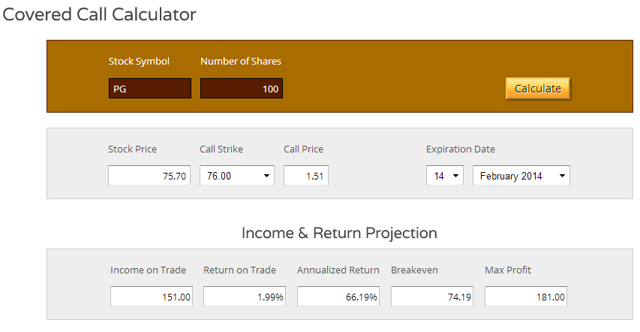 Between what you collected on the naked puts and what you'll immediately get from the calls if you cover the stock up after getting put, you're giving yourself a solid 3% of cushion below $75.
That's $72.75.
If you write another week or two worth of weekly calls, you've now offset all your losses down to $70, which is where the next strong level of support lies.
I don't want to say this is a risk free trade, folks, but if you're smart about how you work the options here, you can mitigate a lot of your risk on the downside.
Conclusion & Strategy
Sixty dollars is obviously an enormously important price for P&G. You would have guessed that immediately from the long-term technicals, but it's important for the fundamentals as well. At that level, the dividend yield is 4.01% and the stock would trade at around 13x forward earnings, a below-market multiple for a company that has historically traded at a premium to the market.
If you own PG under $60, crack open an adult beverage of your choice and feel good about your position. For the long run, I mean. Sit back, collect your dividend, and enjoy life.
If you don't own PG, think about "acquiring" it via an option strategy like we outlined above. We don't own PG right now in any of our portfolios, but we write about things like this every week. We're options junkies and we love using them as a tool to get more yield out of the stocks you own or to use them to "lower your effective price" for your stock.
It would take some time, maybe a year or two, but eventually, after writing enough weekly covered calls on a stock like PG, you would have reduced your effective purchase price to around $60/share -- regardless of what happens to stock. A year or two sounds like a long time to work a strategy like this, but scroll back up and look at that 5 year chart.
The stock may not make it down to $60, but it'll probably take a catastrophe or systemic crisis to drag it down further than that.
Wouldn't you love for that to be the effective cost basis on your position?
Disclosure: I have no positions in any stocks mentioned, and no plans to initiate any positions within the next 72 hours. I wrote this article myself, and it expresses my own opinions. I am not receiving compensation for it (other than from Seeking Alpha). I have no business relationship with any company whose stock is mentioned in this article. See the following for additional disclosure:cornicecapital.com/AlpineAdvisor/legal-notice/