(Editors' Note: This article covers a stock trading at less than $1 per share and/or with less than a $100 million market cap. Please be aware of the risks associated with these stocks.)
Israeli Cyber-Security provider CYREN (CTCH) has successfully accomplished strong revenue growth and commercially released a new cloud-security product this year. This is a small company that has big plans on the horizon, and I believe there's a good chance it will be successful.
Israeli cyber-security has gotten a lot of attention from foreign investors and the media. Many investors aren't aware of this sector and its bullish trend. I believe CYREN to be a good, pure-play choice in this sector that has recently released new mobile cloud security products.
Recent Israeli Cyber-Security News Reports
The financial media has recently been putting a lot of attention on Israeli cyber-security. Some of the biggest technology companies in the world are putting their capital investment in this direction.
Bloomberg reported Jan. 29 that Israeli's cyber-security prowess is attracting foreign firms.
On Monday of last week, Israel's first international cybersecurity conference opened in Tel-Aviv.
The conference is a culmination for Prime Minister Binyamin Netanyahu, who for months has been pushing the concept of Israel becoming a "Cyber Nation." A state that could lead the world in cybersecurity technology.
Netanyu is aggressively promoting cyber-security products. He said:
Israel will relax constraints on exports of cyber-security products, taking some risk for a "much bigger gain," Prime Minister Benjamin Netanyahu said.
This could open up new avenues of revenue for companies like CYREN to sell products to big countries like the United States.
Aerospace and defense behemoth Lockheed-Martin (NYSE:LMT) is investing specifically in Israeli cyber-security innovations. As President Obama said in the State Of The Union speech:
Here at home, we'll keep strengthening our defenses and combat new threats like cyber-attacks.
Lockheed Martin's investments in cyber-security innovation from the world's top cyber-security talent is backing up Obama's claim.
One of the reasons Israel focuses so much on cyber-security is because it has faced many cyber attacks. Just last week, the Israeli defense computer got hacked into.
Aviv Raff, chief technology officer at Seculert, said the hackers earlier this month temporarily took over 15 computers, one of them belonging to Israel's Civil Administration that monitors Palestinians in Israeli-occupied territory.
Two Israli cyber-security startups raised $25 million.
Sources estimated that the investment valued Adallom at as much as $100 million.
CYREN's New Cloud Security Product
The way companies consume IT services is changing. Now employees roam a lot more. They have more mobile devices and access more information on the cloud. This is a rapidly growing trend. With this trend, there are new mobile threats, viruses, and vulnerabilities cropping up all the time. CYREN is focusing on combating these mobile threats. It's important for company employees to be able to browse the web, check email, and download with mobile devices safely without the risk of catching a virus or a hack.
Said Shlomi Yanai, CYREN's President in its Noble Financial presentation:
I don't know if you know the statistics: there are currently 200,000 threats for Android devices. IOS has a lot as well.
Mr. Yanai mentioned in the presentation an example of CYREN being able to identify an email threat. A hacker created a new virus and then waited for an event to happen to send it. Then when the Boston bombing happened, he sent an email across the internet saying "check out this video of the Boston bombing." When people clicked on the link, their device got infected with the virus. CYREN was the only company that was able to identify it being a virus. CYREN then followed its procedure of blocking and then analyzing the virus. It became an official new virus after that.
According to Gartner analytics, the cloud based security market is growing at a 20% compounded annual growth rate (OTCPK:CAGR) through 2017.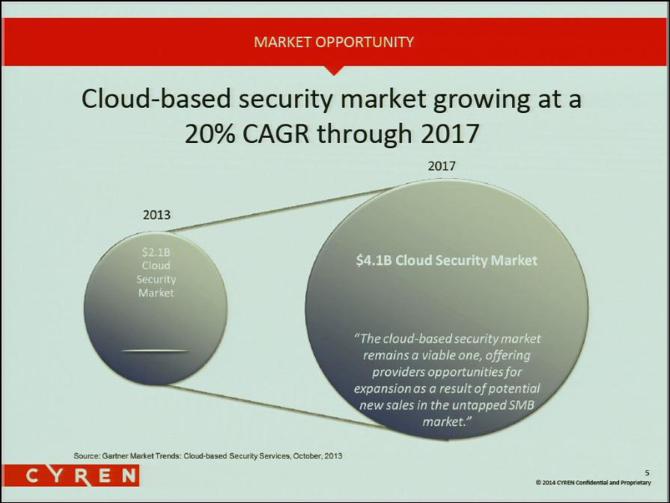 CYREN's goal is to penetrate this market as much as it can; Mr. Yanai says the total spending will be about $5 billion by 2017.
CYREN's main product, CYREN Web, is an in-the-cloud global web security service that was released in January to the market after months of successful beta-testing in 2013.
Like most cloud service providers, CYREN charges on a subscription service, so it gets revenues every month from the same customers. CYREN has add-on products and upsells that it plans to sell to customers following their subscription to CYREN Web. The following shows CYREN's business model and strong revenue growth.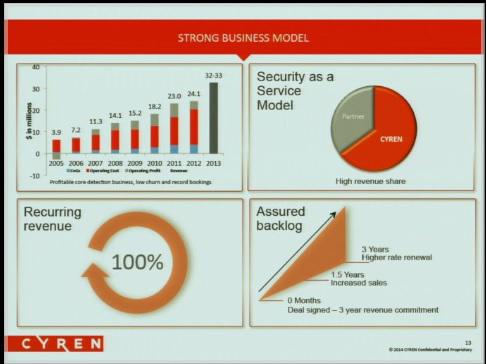 CYREN's Valuation Leaves Room For Upside
As shown in the above picture, CYREN had revenues of $32-$33 million for 2013, for about 50% growth over 2012. At a market cap of only about $100M, the stock is only trading at about 3x sales. That is pretty small for a growing cloud services company. Compare that to best-in-class cloud service providers like Workday (NYSE:WDAY), Servicenow (NYSE:NOW) and Splunk (NASDAQ:SPLK) who all have a P/S of over 20.
Of course, CYREN can't be considered "best in class" yet, but with strong revenue growth its P/S ratio has room to grow. That would have a two-fold effect on stock appreciation. On an optimistic scenario, if CYREN's revenues grow to $60 million in 2014, then with a modest P/S of 10, that would put CYREN's per share value by the end of 2014 at about $22 per share. Even with a P/S of 5, its share value would be $10.98. Modestly, I believe that's where its share value will end up by the end of 2014.
If CYREN's sales grow 50%-100% in 2014, with a rapidly growing cloud security market, and now with the added attention of Israeli cyber-security, CYREN has the wind at its back.
Could CYREN Get Taken Out?
As CYREN continues to rapidly grow its revenues and grow its stake in the cyber-security market, it makes itself an appealing takeover target. One company that could be a buyer is Check Point (NASDAQ:CHKP). Check Point is also an Israeli IT Security company but with a market cap of over $12 billion. Check Point has $1.26 billion in cash and zero debt. It could easily acquire CYREN for $200-$400 million. That way it wouldn't have to compete against CYREN. Instead, it could use its Web security product and bundle it in with its own products.
Potential Risks
Since CYREN is a small cap, it's worthwhile to examine the risks in the investment. CYREN hasn't reported the results for Q42013 and for the whole year 2013 yet, but there isn't much risk leading up to that. CYREN has already mentioned that its revenues were $32-$33M for the year, which is a 50% gain from 2012. That is good news to investors.
However, the risk might be that Q114 or 2014 as a whole will yield slower revenue growth than expected by the Street. Maybe growth will only be about 5% like it was between 2011 to 2012? That would make the stock go down.
Another risk is it's possible that its new product, CYREN Web, is inferior to IT security companies like Checkpoint's similar product, ThreatCloud Emulation, that also detects threats in emails. Possibly CYREN could be outpriced or outclassed by competitors. Although I don't see this as a big risk because the cyber-security market is big enough for many players, and CYREN has already proved it has quality products and execution. CYREN also stated that it will be coming out with additional products in the coming months and years, so there will be continued buzz for the company through 2014 and more upsells available for its sales team.
Disclosure: I am long CTCH. I wrote this article myself, and it expresses my own opinions. I am not receiving compensation for it (other than from Seeking Alpha). I have no business relationship with any company whose stock is mentioned in this article.