By Bryan McCormick
Today will see the last two economic reports before the deluge of earnings news in the next few weeks. Both releases are important, but consumer sentiment will be the one to watch most.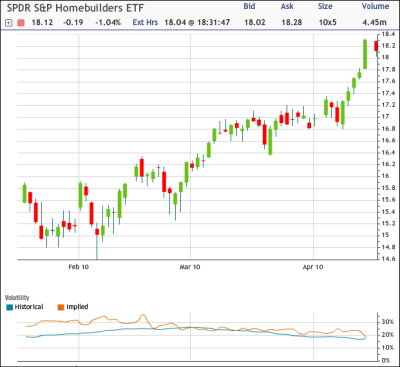 Housing Starts will be released at 8:30 a.m. ET. The forecast calls for a rise to 0.61 million units, up from the previous 0.57 million. A number substantially higher than 0.61 million would be bullish, while a reading at or below the previous report's level would be bearish.
The SPDR S&P Homebuilders (NYSEARCA:XHB) exchange-traded fund and its underlying assets may be active before and after this report, as well as banks with large mortgage exposure such as Bank of America (NYSE:BAC), Citigroup (NYSE:C), JP Morgan (NYSE:JPM), and Wells Fargo (NYSE:WFC).
The Reuters/University of Michigan Consumer Sentiment Index will be released at 9:55 a.m. ET, the preliminary report for April. The headline number is expected to rise to 75 from the previous month's 73.6. Current conditions are expected to rise to 84. The future expectations number, which many traders watch as a leading indicator of potential consumer spending, is expected to rise to 68.7.
Higher numbers than consensus forecasts, especially in the future expectations component, would be bullish. Lower numbers, especially if they vary from forecast by 5 percent or more, would be bearish. The market impact of the report is directly related to the degree of surprises, if there are any.

Disclosure: No positions