With US markets now approaching the 10% pullback area which can sometimes signal the end to a correction within a bull market, it is our opinion that long-term investors should be taking advantage of the opportunity that the market is providing them with. In our personal portfolios we have been increasing our activity with some trades for the short-term as well as some longer-term bets. We will cover some of those names we have been active in today, such as Kansas City Southern (NYSE:KSU) and Boeing (NYSE:BA), as well as names like Philip Morris International (NYSE:PM), Johnson & Johnson (NYSE:JNJ) and Whirlpool (NYSE:WHR) which are approaching levels which we find enticing.
Chart of the Day:
Investors saw the Nasdaq Composite breach the 4,100 level to the downside yesterday, and as we predicted the next support was 4,000. We figured there was a pretty good chance we'd see this on a move downward, however to see it take place during the same day was certainly surprising. The Nasdaq is barely hanging onto the 4,000 level, and moving lower could be quite bearish, even for the momentum tech names.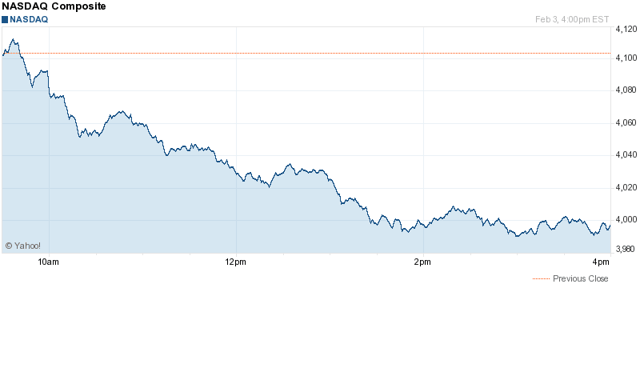 Source: Yahoo Finance
We have economic news today and it is as follows:
Factory Orders (10:00 a.m. EST): Est: -1.7%
Asian markets finished lower today:
All Ordinaries -- down 1.75%
Shanghai Composite -- CLOSED
Nikkei 225 -- down 4.18%
NZSE 50 -- down 0.97%
Seoul Composite -- down 1.72%
In Europe, markets are trading lower this morning:
CAC 40 -- down 0.17%
DAX -- down 1.04%
FTSE 100 -- down 0.41%
OSE -- down 0.49%
Personal Buys
Over the past few weeks we have been snapping up names which we believe have been unfairly punished during a certain period, be it a session or a week, and have momentarily bottomed. This led us into Kansas City Southern last week for a short-term trade which we actually entered the day of the massive sell-off, which was sparked by an earnings miss. After booking a very nice short-term profit last week we have continued to watch the name and did see it show strength through the end of last week. Yesterday's session saw further weakness which brings the name back to the $100/share level.
We read through the entire conference call transcripts and liked what we saw as it related to the long-term. If one can stomach the volatility in the near-term caused by the earnings miss and the company's exposure to emerging markets via Mexico then this name seems like a no-brainer. The dividend does leave something to be desired, however Kansas City Southern did announce a large increase to the payout which was another positive we took away from their announcements last week.
Kansas City Southern is once again at that $100/share support area and so long as it holds it offers investors a nice entry point. Long-term we think that the potential downside is vastly outweighed by the potential upside which is why we are not too worried about the near-term issues when looking at this name.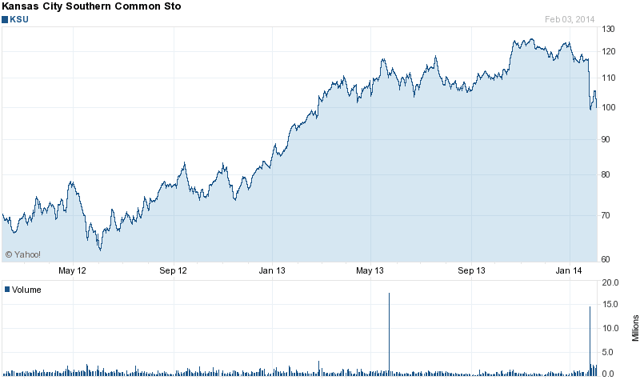 Source: Yahoo Finance
Our other purchase from last week has been less successful, as Boeing only briefly found support and spent very little time trading above the level where we bought it. Luckily we bought half of our desired position at those previous levels, so we are still looking to average down on this further weakness because once again we thought that management was being conservative with their guidance and that the company will beat guidance in the quarters ahead.
We would point out that Jim Cramer did a segment on Boeing last night on his show, and although we did not see it, our take away from the emails and text messages received would indicate that the data he was using indicated that the stock was probably headed lower before it found support after recent weakness. One further positive for investors is that the stock now yields 2.30% after the recent pullback, which puts it in the upper tier of the industrial names we are bullish on.
Where We Have Interest
The first name we want to highlight in this section is a name which we think could ultimately benefit from investors' flight to safety. With strong demand once again for the safety of US Treasuries, we have seen rates on the US 10-year fall to three month lows. This will undoubtedly help attract a few more US homeowners to refinance their mortgages with the dip in rates while also encouraging those looking for new housing to finally pull the trigger and either buy their first home or upgrade to a larger one. A great name to play this trend in the past has been Whirlpool , and with the stock price having fallen back to levels where we exited our previous trade our interest is piqued. Even with the latest disappointment, Whirlpool is on much more sound footing than when we sold and has proven its ability to leverage its results to the housing market. The dividend yield still leaves a lot to be desired at these levels, but we view Whirlpool as more of a capital gains via stock appreciation than a dividend story. For long-term investors we would note that we think the company will continue to raise its dividend moving forward.
With the $130/share level broken yesterday, investors might find the next level of support around the $120/share area. For those trying to time the market, it might be best to target the shares once the yield has risen above 2%.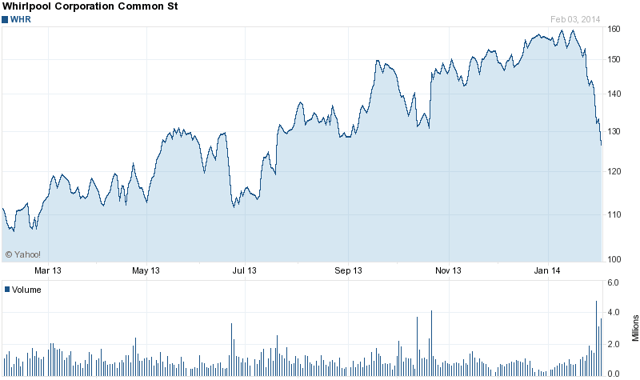 Source: Yahoo Finance
With emerging markets under pressure, coupled with fears about certain key smoking markets possibly tightening regulations, it has been a rough month for Philip Morris International. So bad in fact that shares have fallen from levels very close to 52-week highs to fresh new 52-week lows. It has been a very dramatic reversal, but with that reversal we have seen many of the metrics turn bullish, especially for those who would be long-term investors.
Philip Morris International now yields just under 5% and still packs a healthy dose of growth, more so than its peers who focus on developed markets. With the shares trading at fresh lows and tainted with emerging market fears, we are inclined to take a look at the name for retirement account purposes because it is cheap from an earnings valuation standpoint as well as when looking at its current yield and potential organic growth. The only thing we can complain about that the company has done recently is their decision to build two plants in Italy. We would have chosen another geographic location.
For investors wanting a bit more exposure to the United States with solid organic growth, strong dividend and a history of raising that dividend yearly we would direct attention towards Johnson & Johnson. This has been one of the stronger performers in a couple of indexes over the years and a favorite of smart money investors. With the dividend yield having risen above 3% as the stock fell in sympathy with general markets we do see opportunity here as well. This is one of the stocks we constantly look at wishing we had pulled the trigger years ago when we first investigated. Johnson & Johnson is one of those names which has premier brands and a strong R&D pipeline, two factors which make it an ideal candidate to be an anchor to almost any portfolio.
JNJ obviously ran into resistance at the $95/share level, but the chart also shows support at the $85/share level and the stock is very close to that level now.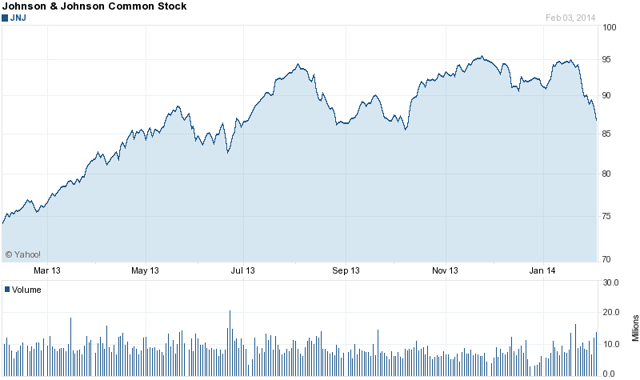 Source: Yahoo Finance
It appears that Johnson & Johnson may be very near a support level where investors could safely buy, as the above chart displays. The support provides some extra cover, above and beyond what the dividend yield tells us (although the yield has played a part in the chart's support in the past) and with the company set to sharpen its focus after divestitures this recent pullback might be an opportune time to either open a position or add to a current position.
Disclosure: I am long BA. I wrote this article myself, and it expresses my own opinions. I am not receiving compensation for it (other than from Seeking Alpha). I have no business relationship with any company whose stock is mentioned in this article. I may also go long any of the names mentioned in the next 72 hours and these names have previously been recommended.