I invested recently in Vale (NYSE:VALE) at close to $13. My investment in Vale was my introduction to the mining & metals industry, and I'm interested in exploring it more. I know there are good reasons for concern like seemingly unsustainable Chinese iron demand and in turn iron prices, but in general the pessimism surrounding the industry seems to be intense and overdone, and that's often where I find opportunities.
So now I am looking at a company that the market seems to be especially pessimistic on, Cliffs Natural Resources (NYSE:CLF). This Cleveland-based mining & metals company's stock is almost 50% off its 52 week high of $37.62 and has a short float of 34%.
Company Overview
Cliffs mines iron ore in the US, Eastern Canada, and Western Australia, as well as coal in the US. It is the largest iron ore producer in the US. Iron by far dominates the company's mix. Also notable is the company's heavy exposure to the US.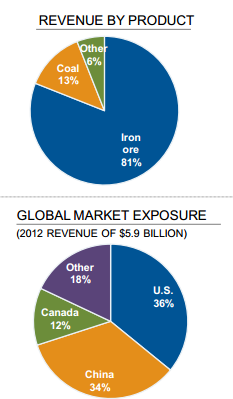 Source: January 2014 Investor Presentation
Most companies are much more dependent on Chinese demand. 40% of worldwide crude steel production, the main use for iron ore, came from Asia in 2012 and though demand growth is expected to slow in China, Vale predicts Asian crude steel production growth will outpace the rest of the world and reach 2/3 share in 2020: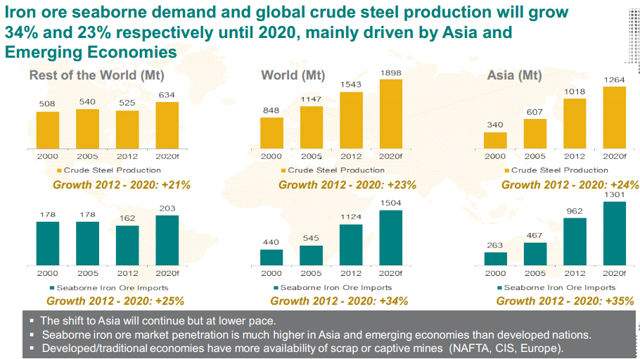 Source: Vale Day New York Presentation
Other forecasts like that of Goldman Sachs (NYSE:GS), are much more skeptical. Personally, I am happy to see an even split in exposure between China and the US for Cliffs as I see the US demand as more sustainable.
Health of the Business
The company has a reputation for being inefficient and is not a cost-advantaged miner. Jim Cramer recently described the company as 'second class' and I think that is an accurate description.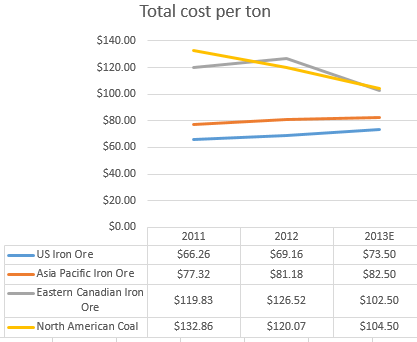 This data does not look good. The US and Asia Pacific operations are clearly much more efficient than the Eastern Canadian, but there is a steady uptrend in costs in both. In Eastern Canada, the company has significantly cut costs in 2013, but they are still ridiculously high. To give you some perspective, Vale, one of most efficient IO miners, produces at something like $42-45 per ton. Coal production is much less significant to the company's results, but their costs there are through the roof as well.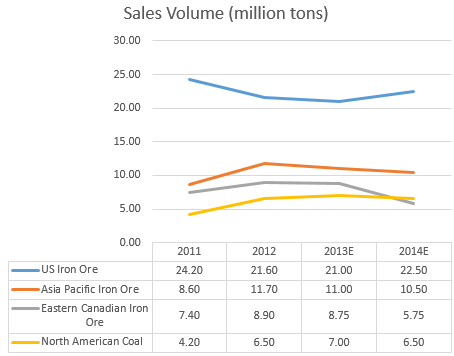 Sales volumes don't look so bad, besides Asia Pacific. Sales in the US, the company's bread and butter, are expected to pick up in 2014 after the company negotiated some new contracts. In Asia Pacific, a drop off is expected, but this is largely due to unsustainable Chinese demand, not something the company has control over. Some think that the company is being too optimistic in its forecast of Asian sales. It's hard to say, but seeing at least some downtrend in the forecast lends them some credibility. The drop off in Eastern Canadian sales in 2014 is misleading. Depending on whether the company's Wabush operations can achieve $100 cash costs, they may be sold or shut down in 2014. The estimate of 5.5-6mt in sales from Canada for 2014 only includes the somewhat healthier Bloom Lake operations.
The consensus was that the Q3 results were very good, and to some extent I agree, especially if you look at cash cost per ton for the quarter alone, but the long-term picture still does not look good. I would have been much more encouraged by better full year guidance. For example, in Q3 in USIO the company reported cash cost per ton down $3 to 64.81, but for the full year their guidance is cash cost per ton of $65-70, substantially worse than the $64.50 they did in 2012 and $62.70 in 2011, and even higher than the $64.91 they're at through the first 9 months of 2013. This indicates to me that the company is expecting to have a bad fourth quarter.
I'm not trying to be overly negative, I just think the company is unproven. It's still not clear whether Q3 was the beginning of long-term improvements or an outlier. The guidance indicates the latter. We really need to see the fourth quarter numbers to get a better idea. On top of that, they've got a new CEO in place in Gary Halverson. Halverson seems very qualified; he has 30 years experience in the industry and ran Barrick's North American unit which is 'comparable to Cliffs in terms of size and complexity.' New management is usually a good sign in a situation like this, but the change introduces more uncertainty. To add even more complexity, the company is the subject of an activist push by Casablanca Capital. Casablanca is pushing the company to split its US and international operations into two stand-alones and make the US ops an MLP. Having an activist around is generally a good thing, but I see a few problems with the situation. For one, Moody's came out and said that the US ops as a standalone probably wouldn't be investment grade and that the company should just settle down and focus on cutting costs. Second, Cliffs has a good thing going for it in having split exposure between the US and Asian iron markets. I appreciate this as an investor and the company does too. The image below comes from the first slide of the aforementioned January investor presentation:

The company is listening to Casablanca, but the push seems to go against their corporate identity.
Valuation
The company has generated $924mm from operations in the last 12 months. Assuming higher IO prices continue to have an impact, let's say they generate $1B from operations in 2014. The guidance for full year 2013 CapEx is $950mm but only about $500mm is sustaining capex. They tout Halverson as a capital allocation expert, so say they trim $50mm in 2014. That leaves $550mm in true free cash flow for the year. Right now Cliffs has an enterprise value of $7.873B, most of which is composed of debt, long-term obligations, and preferred stock. That leaves an EV/FCF multiple of 14. The company's cash generation is highly cyclic, but iron ore prices are pretty average right now and the company has averaged just over $1B in cash from operations in the past 5 years, so I don't see any need for adjustment.
Conclusion
Cliffs Natural Resources is a company with a history of inefficiency that reported very good results in the third quarter, leaving investors to decide whether the company is in the early stages of a turnaround and shedding its 'second-rate' status, or whether Q3 was an outlier. There is a ton of uncertainty about the story beyond that, and yet the stock is priced at an EV/FCF multiple of 14 and change. For a company like Cliffs, I would demand a price of 6-8x FCF, and so the price is way out of my range, but if the company does indeed report further improvements and IO prices remain stable, the stock could go moderately higher. I can see why this is a battleground stock but I think the shorts are right.
Disclosure: I am long VALE. I wrote this article myself, and it expresses my own opinions. I am not receiving compensation for it (other than from Seeking Alpha). I have no business relationship with any company whose stock is mentioned in this article.