Summary
This article sheds light on how the huge leveraged bet which Clean Energy Fuels (NASDAQ:CLNE) placed into constructing 90 liquefied natural gas or "LNG" truck refueling stations - of which some 70 are mothballed - may have passed the point of no return in significantly wiping out common shareholder value.
Well-established petroleum retailers are rapidly building out competing compressed natural gas or "CNG" refueling stations: winning over CLNE's customers who overwhelmingly desire CNG, not LNG for their trucks. Retrofitting the company's LNG stations to also dispense CNG will burn another $150 million or more of its remaining approximate $350 million leveraged cash position. Even then, the resulting LNG-to-CNG fuel will be prohibitively expensive.
LNG Trucks: Small Niche-Within-A-Niche Market
If you are seeking to profit from natural gas vehicle deployment in North America, be aware that the overall market is likely not the stellar hyper-growth opportunity CLNE and others had hoped it would become. A recent Navigant Research report forecasts North American sales of natural gas trucks and buses to grow from 10,444 units in 2014 to 36,669 units in 2022. Navigant places natural gas Class 8 day cabs at 17 percent of the market by 2022 - the remaining 80% or so will, alas, remain the domain of diesel.
I have been establishing short positions in Clean Energy Fuels common shares in my personal portfolio since June 25, 2013. On that date representatives from Cummins Westport, Paccar (Kenworth & Peterbilt), Navistar, Volvo, and Freightliner joined in a panel discussion in front of some 100 conference session attendees at the ACT Expo alternative fuels conference in Washington, DC. Among other things, these truck manufacturers concurred that 80% to 90% of their pending production of the game-changing 12 liter 400 horsepower Cummins Westport ISX 12-G natural gas engine sales were coming in with CNG specified as the fuel storage.
Since then this engine has gone into full production, and the ratio of five-to-one (or higher) demand for CNG equipped Class 8 trucks over LNG has become a foregone conclusion. Anyone who has attended the following public conferences can attest to hearing this metric firsthand from Cummins Westport, Freightliner, Mack, Kenworth, Peterbilt, Chart Industries and others who are actually in the supply chain:
* North American Natural Gas Vehicle Conference (November 2013 Atlanta, GA)
* NGV Technology Forum (January 2014 Brookhaven, NY)
* World LNG Fuels Conference (January 2014 Houston, TX)
The reasons for CNG dominance has been well debated; suffice it to say LNG is inherently more expensive than CNG due to the costs associated with super-chilling natural gas to its cryogenic liquid state of −260 °F and then trucking it to the station. Retail pricing for LNG today at Clean Energy stations is priced almost $1 per gallon more than CNG at competitor's high-flow stations. Further, LNG boils off if not used within the "hold time" of storage tanks, it requires donning protective gear when fueling, and is, overall, an unstable fuel to deal with. I won't elaborate further on the flawed assumptions CLNE embraced in pursuing its headstrong plunge into LNG refueling infrastructure, as Seeking Alpha contributor NGV Investor has done a fine job in addressing these fundamental issues already.
Why This Matters
Clean Energy Fuels ballooned its long-term debt from $42 million in 2010 to over $300 million by Dec 2012 and now to an eye-popping $594 million as of Sept 2013. Much of the proceeds have gone, and continue to go, toward an LNG truck refueling infrastructure serving a small niche-within-a-niche market segment the company calls its "America's Natural Gas Highway" (the ANGH). While a handful of stations have been commissioned with much fanfare, unfortunately for shareholders there remain today some 70 or more LNG-only stations sitting idle inside barricades or chain link fencing at Pilot Flying J truck stops around the country.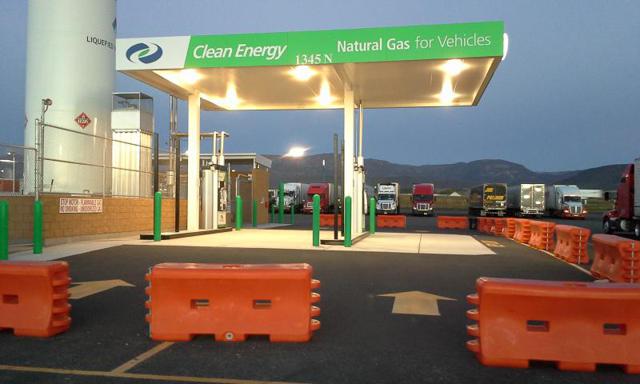 The company can't simply load up fuel into these facilities and hope the occasional truck stops by. LNG doesn't work this way. Before long, fuel in station storage will have boiled off, venting powerful greenhouse gas methane into the atmosphere and literally vaporizing shareholder value.
Raymond James analyst Pavel Molchanov recently put CLNE's high-stakes gamble into perspective. He points out that while EBITDA is expected to turn positive in 2014, at just $12 million it would cover less than a third of the $38 million total interest expense the firm expects, and that balance sheet leverage is getting close to the "danger zone." It took the company 17 years to grow into the position of operating some 350 refueling stations serving 30,000 vehicles. Yet this can't begin to service debt overhang. So what we have here is a situation where the company has bet the common shareholder's farm on the ANGH becoming profitable by 2016 when convertible debt tranches begin to come due.
Shifting Gears to CNG Easier Said Than Done
OK, but CLNE also stands to benefit from CNG adoption with trucking fleets, right? Didn't the company stress in its Q3 2013 call that "we design our stations on America's Natural Gas Highway to have the capacity to provide both fuels"? Well, sort of. What the company doesn't tell you is that from a financial and competitive standpoint Clean Energy Fuels is at a severe disadvantage if it decides now to shift gears and get serious about providing CNG to trucking operators along the ANGH.
Clean Energy will need to invest additional capital of $1 million or more per station to add LNG-to-CNG vaporizers, cryogenic pumps, high pressure storage, sequencers, fuel lanes and dispensers to "have the capacity to provide both fuels." The company estimates retrofitting the completed first phase of the ANGH to dispense CNG would cost $100 million, or approximately one third of the remaining leveraged cash on hand. When the 60 additional stations being built this year are taken into account, it is easy to envision half of the company's leveraged cash will be spent trying to correct its untenable market situation. Even then, LNG is an expensive feedstock from which to boil off CNG. So the resulting CNG price will be significantly higher vs. a competitor at the next off-ramp who is simply compressing gas from the ubiquitous high-pressure, high-capacity pipelines commonly located along interstate transportation corridors.
Of course, the company could put the brakes on its ruinous LNG build out and begin installing compression equipment along the ANGH instead of LNG-to-CNG retrofits. But this also presents a challenge. Compression equipment is exclusively sourced from CLNE-owned IMW, who suffers from vastly inferior manufacturing economies of scale relative to Ariel and GE Oil & Gas, who supply equipment to a raft of well funded regional competitors now emerging. These packages have essentially commoditized CNG refueling equipment, providing a simple way for retail gas and diesel stations and even high-use CNG fleets themselves to compete for Clean Energy's customers.
Sharks are Circling
It won't be long before high-capacity, low cost CNG will be ubiquitous along the highways… with or without Clean Energy's leveraged experiment with LNG.
Currently a flurry of public-access CNG refueling lanes are under construction to fill the void. Love's Travel Stops is on a roll with CNG. With over 300 truck stops in 39 states, this nationwide operator introduced CNG at 11 locations in Oklahoma and Texas last year, and has found that high-capacity CNG is feasible at all but a few sites in its network. Love's has won over CLNE's marquee LNG "success story" Dillon Transport to switch over to CNG in Texas and Ohio and won $2.7 million in grants from the state of Pennsylvania to expand CNG infrastructure there. New trucks being delivered to Dillon and many other trucking fleets are equipped to provide 500 miles of range with Love's providing fill rates greater than 10 gallons per minute in all lanes to these large capacity CNG vehicles.
Meanwhile, Kwik-Trip has opened CNG truck lanes at 15 of its locations in Wisconsin, Minnesota and Iowa (one location also has LNG); Trillium CNG, a subsidiary of the Integrys Energy Group (IEG), is well on its way with joint venture partners to building out 101 CNG stations in 29 states to service the Class 8 trucking sector; Questar Fueling is serving up ten gallons a minute in four refueling lanes for 200 CNG trucks in Houston for Swift and Central Freight with another Texas-sized station announced this week for San Antonio; and recently CountryMark announced plans to include CNG at its filling stations in the Midwestern region.
Many of these CLNE competitors benefit from existing multi-year diesel fueling contracts and enjoy close customer relationships from which to springboard incremental CNG business. They are also able to leverage their own trucking fleet's off-take of CNG in anchoring new station demand. The irony here is that trucks hauling LNG for Clean Energy are running on diesel while trucks hauling diesel for Love's and Kwik-Trip are running on CNG.
If all of this newfound CNG competition wasn't enough, the small niche-within-a-niche LNG refueling business which CLNE continues to defend as "the clear winner" is now facing competition not only from the TA Travel Center / Shell alliance but also from China's well funded ENN Group via its BLU LNG subsidiary. BLU confirmed this week that due to lackluster demand it is cutting back on its ambitious plans for LNG truck refueling, while indications are that if the demand eventually does materialize it may have upwards of $1 billion to invest in up to 500 stations. And, it's probably a safe bet that ENN's cost of capital is but a fraction of the egregious terms of 7.5% APR with conversion rights which CLNE has given away to its note holders at the expense of common shareholders.
Cutting Through CLNE's Obfuscation
Here are a few key excerpts from the company's Q3 2013 investor call, followed by harsh realities of the situation:
"We design our stations on America's Natural Gas Highway to have the capacity to provide both fuels."
Retrofitting its LNG stations to also dispense CNG is going to wipe out much of remaining shareholder value, as described above.
"Reports suggesting that Clean Energy is relying on one fuel is [sic] just wrong."
The LNG infrastructure already in the ground must become profitable soon, otherwise the company is done for. Its legacy CNG business can't even service debt interest on the idled infrastructure. Going out again for additional capital will most certainly demolish common shareholder value.
"The launch of Cummins Westport 12-liter 400 horsepower engine in August… will probably be better suited using LNG fueling for their applications… And so it's kind of what many of us suspected is you'll see breakdown somewhere around 50/50, 60/40 in that range..."
Clean Energy has known since at least Q2 of last year that fewer than 20% of natural gas trucks being built with the new 400 horsepower engine are configured for LNG. Company representatives attend the same conferences many of us do, yet CLNE continues to plow more LNG stations into the ground while spinning higher adoption rates on investor calls.
"Westport management reiterated our view on the market breakdown. In response to a question, they stated that they see the dividing line between CNG and LNG at distances of about 200 miles a day and that CNG above that point really starts to have some challenges, and they expect a great majority of fleets that have higher mileage than that will go to LNG. That is a very strong validation from the company who produces the engine technology and has a neutral view on how this market will develop."
This is complete nonsense, of course. CNG truck configurations for distances over 500 miles per day are becoming commonplace. And, Westport is anything but neutral on this issue: as a supplier of LNG fuel tanks and LNG-powered truck engines it has a significant vested interest.
"We have just entered a multiyear LNG fuel supply agreement to provide a minimum of 5 million gallons per year to support UPS LNG trucks."
Supply of 5 million gallons per year is but a drop in the bucket for this megacarrier, who is sourcing LNG from a number of suppliers, and building its own LNG refueling network with assistance from an engineering firm. Worse, I suspect the "5 million" spin is actually tied to liquid LNG gallons, so the real number here is but 3 million diesel gallon equivalents, or about one-eighth of the overall LNG consumption forecasted for UPS. To put this into perspective, the average convenience store dispenses about 1.5 million gallons of motor fuel per year.
"Volumes rose to 56.4 million gallons during the quarter, 50.9 million gallons a year ago."
This is the equivalent throughput of 150 convenience stores dispensing gasoline and diesel. It's hard to fathom how this level of activity should command a $1 billion market cap as compared to, for example The Pantry (NASDAQ:PTRY) with 1,548 convenience stores and but a $300 million market cap.
"We recently entered into a strategic alliance with GE Capital to help potential customers to offset the upfront cost of transition into natural gas… The customer will commit to buy a significant volume of fuel from us…"
We all know that anyone who can fog a mirror can finance equipment with GE Capital, including CLNE's competitors who are dropping in GE's own competing CNG station packages at a diesel refueling island near you. It's hard to see how this alliance can compete with natural gas truck leasing options from Penske and Ryder who don't tie the trucking operator to a sole-source fuel provider. These two companies will soon have over 500 natural gas trucks out on lease - of which, not surprisingly, only 36 in the combined total will be equipped with LNG fuel systems.
Conclusion
Shorting CLNE down to its current $6 book value is not an unreasonable strategy. In fact, Piper Jaffray is likely spot-on with its $4.50 book value target price, as little demand would surface for the idle LNG station equipment in a liquidation proceeding.
But here is the real rub: when all is said and done, even if Clean Energy Fuels miraculously pulls a rabbit out of its ANGH hat and is wildly successful, common shareholders will suffer dilution of 35 million new shares (37%) due to note conversions of $545 million between $15.00 and $15.60 per share. On the other hand if the company meets the demise many now envision, common shareholders will queue up at the back of the line while Boone Pickens and other well-heeled convertible note holders salvage whatever value might be left. Either way, we lowly common folk have little to gain in holding these securities.
Disclosure: I am short CLNE. I wrote this article myself, and it expresses my own opinions. I am not receiving compensation for it (other than from Seeking Alpha). I have no business relationship with any company whose stock is mentioned in this article.