Editors' Note: Originally published on Jan. 27, 2014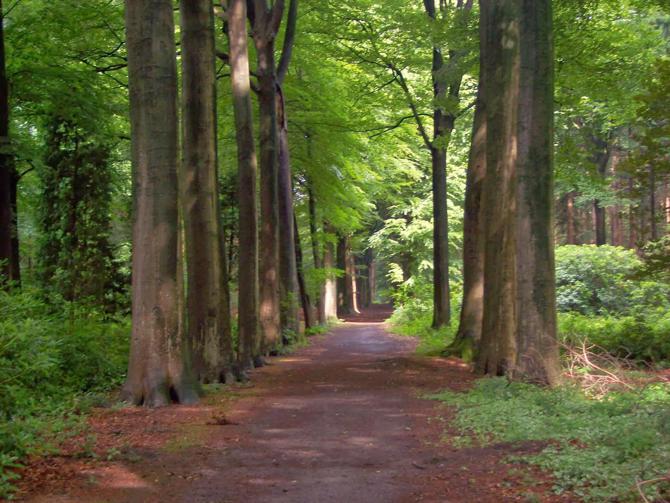 Every now and then I analyze a company that sends so many mixed messages and has so many distracting signals, I don't know how to feel about it. General Electric (NYSE:GE) is the first company of this sort I've had in several years. I have held my General Electric shares for years and they pay me about $500 per year, but it's time I take another stab at this beast ... and see if I will buy, sell, or hold.
General Electric is the quintessential conglomerate. Headquartered in Connecticut, this multinational behemoth owns/runs businesses the world over. Most people know GE best as the maker of small appliances for their home or engines on the planes. GE however produces so much more. Its health care division builds and markets MRI and CaT Scan machines. Its generators and turbines produce power. It's oil and gas division sells equipment to aid in the drilling and pumping of hydrocarbons. GE even has a financial division that provides loans and short term commercial paper. It was the financial division (GE Capital) that caused the parent company so much heartache during the financial crisis.
So let's dive into the numbers and take a look at GE today. I always like to take a look at the Return on Equity numbers for any company I'm analyzing. In this case they are: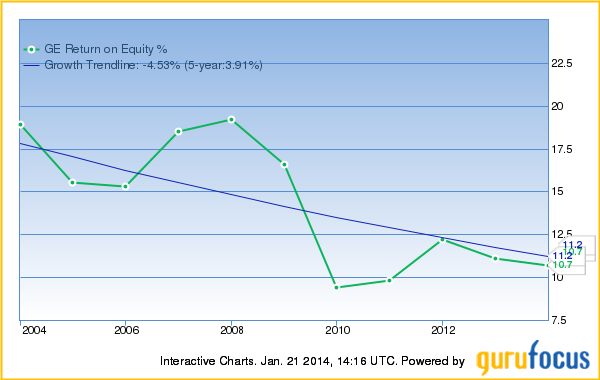 For a look at the revenue per share, see the chart below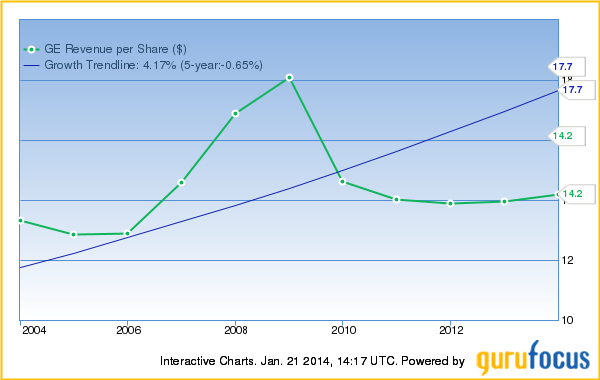 Those revenue per share figures and ROE figures look pretty rocky. Let's dig a little deeper. The price to earnings ratio is over 18, which is pretty expensive for a company of this size. GE pays a divided of about 3.5%, but the payout has is still below where it was 10 years ago. On the plus side, GE has been raising its dividend lately and the future ability to grow that dividend appears to be somewhat likely with a dividend payout ratio of 57% this year. The free cash flow (FCF) and earnings per share (EPS) have been erratic since at least 2008. It's safe to say that GE went into the financial crisis with a large and unwieldy business model. They are realigning their businesses, but it's tough to predict future growth for GE. The past 10 years financial numbers are shown below, but it's difficult to say how helpful they will be in predicting future growth. Please note that this data is for the 2003 to 2012 time period.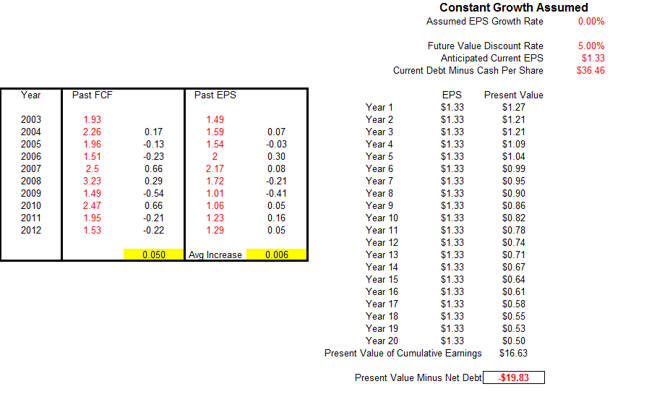 The FCF and EPS figures above are a mess. GE has FCF and EPS BELOW where they were 10 years ago. It has however made significant strides in the past 4 years. In the table above you can see that I am assuming no earnings growth my growth projections, which may be overly conservative. I like to discount my future earnings at 5%, which is historically the interest rate of "safer" investments. 5% has also generally exceeded the rate of inflation, which is why I'm comfortable with it. Using the valuation model in the table, GE appears to be a mess ... and a difficult company to justify investing in. In fact, it's stock price is currently trading around $25. I like to invest in companies at a significant discount to what I feel the companies are worth. After this valuation exercise, I have no idea what GE is worth, nor do I know what their future business will look like. They have been making huge investments in their oil and gas business recently, but given the expansion of oil and gas production it seems reasonable that profit margins in the oil/gas space will fall in the future. To be fair, GE's debt figures are massively skewed by GE Capital. The parent company is slowly selling off and downsizing its GE Capital division, after learning their lesson in the financial crisis. Still, I feel there are better places to invest my money!
I must point out that Jeffrey Immelt (CEO) and James Rohr (Director) have purchased over $1.2 Million dollars worth of the stock in the past week. CEO Immelt's purchase was a little over $1,000,000 by itself and executed today. I'm sure they know many things I don't, but ...
What are your current thoughts about GE? Is it a premiere industrial growth machine, poised for for rampant global growth ... or just an indebted behemoth poised to get crushed by the next recession?
Disclosure: I currently own GE shares that I bought during the financial crisis, but am not considering further investments at this time.. This valuation is for informational purposes only and does not constitute a recommendation to buy, sell, or hold any securities. I am not a financial professional. Data used in this article was gathered from Yahoo Finance and GuruFocus.com