In 2012 we constructed an econometric model to forecast the price-earnings ratio for S&P 500 index. The Market Multiple On The S&P 500 Can Be Explained: P/E Ratios Are Inversely Related To Future Federal Spending. After considerable experimentation we settled on two macroeconomic variables. Our selection criteria were relevance, intuitive plausibility, and data availability. The first variable was a forward looking moving average of the ratio of federal government outlays to GDP, and the second was the yield on the benchmark treasury ten year note.
The historical fit of this model is shown on the chart below. It measures the period from the early 1960s when data on the S&P index first began to be calculated to the present. The model and the chart show a large deviation in the 1998-2001 period but otherwise it tracks history quite closely. The large deviation occurred during the dot.com bubble period when the multiple exploded - an explosion which was outside the realm of rational analysis. Even with this deviation, though, the model explained about 50% of the historical variation in the market multiple.
Market Multiple on S&P 500 1960-2013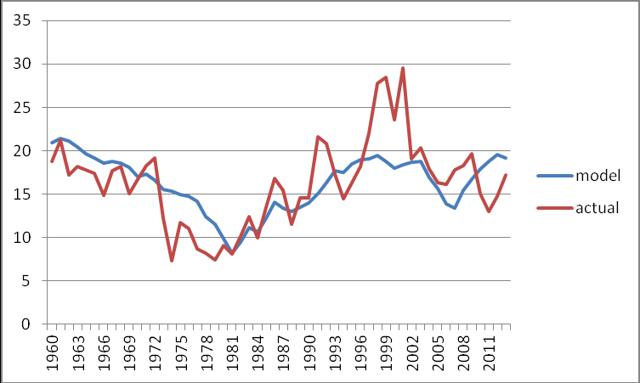 As a refresher the government ratio which we utilize is inversely related to the multiple, meaning that as government's role in the economy shrinks, the multiple rises. Similarly, the relation between the multiple and the interest rate is inverse in that as interest rates fall, the multiple tends to rise.
As noted above, our estimation period has been lengthened to the present because we feel there is currently more certainty regarding government's role in the economy. Until this past year projections of spending were dubious because the Congressional Budget Office estimates were always constrained by having to assume "current law". Until this past year current law assumptions included, among other items, sharp reductions in Medicare payments to providers, the elimination of all Bush ear tax changes, the AMT fix, etc. There is now more certainty in government spending as these issues were resolved early in 2013, and more recently with the negotiated two year budget agreement that passed in December 2013. These did not change the historical fit of the model which is encouraging.
The price-earnings ratio for the S&P 500 was 14.7 in 2012 and it climbed to 17.5 in 2013. When we first used our model for forecasting purposes it generated a value for the multiple of 18 in 2013. (Upon re estimating the model with more data it forecasts a 19.5 multiple for 2013). At the time this estimate was viewed with skepticism because it represented such a large increase in just one year. Indeed, we were somewhat skeptical of the result as well because at the time no one believed a very low interest rate environment could be sustained and thus incorporated into the earnings multiple. But it was.
Of course interest rates rose in 2013 from 1.8% on the ten year note to 2.35% on average, ending the year right around 3%. Our forward looking government ratio fell from 20.8% in 2012 to 20.7% in 2013. Based on the year end value of 1850 for the S&P 500 and approximately $108 in earnings as calculated by S&P (data is still incomplete) the actual multiple is derived as 17.5. So the model not only accurately foresaw the direction of the multiple but it did a fairly good job of gauging the magnitude of the rise as well.
What lies ahead for 2014-2015? The following are some general thoughts as background. First, the Budget Control Act of 2011 was very effective in holding down government spending via restraints on non-defense discretionary spending and via sequestration. This has allowed for a continuous decline in the government/GDP ratio. The two year budget agreement reached last December eased some of the sequester effect but it still allows for a stabilization of the government ratio over the 2014-2015 period.
For interest rates some general observations can be made as well. In a non-emergency economic environment such as now seems to exist unlike 2009-2012, it is reasonable that the ten year treasury yield approximate the growth of nominal GDP. In 2013 nominal GDP rose by 3.2% and the ten year ended the year around 3%. But while emergency economic conditions around the world may be over, the global environment is still precarious. Thus, central banks have made it clear that short term interest rates are to be anchored at zero over the coming two years, and there are limits to how steep the differential between long and short term interest rates can be.
These are good reasons for believing ten year treasury yields may remain lower than suggested by nominal GDP growth. The Federal Reserve and the Congressional Budget Office are projecting nominal GDP growth of about 5% in 2014-2015. This estimate is being used by the consensus of strategists to generate profit expectations of approximately 7% per year in each of the next two years which is not unreasonable. Hardly anyone is expecting the treasury ten year to rise to 5% over the next two years, but a 4% treasury yield is not being viewed as implausible.
With this frame of reference we ran some alternative scenarios through our model in order to estimate likely ranges for the market multiple, earnings, and thus the S&P 500 index. Our base case is at the top of the accompanying table. It assumes a 3.7% ten year for this year and a 4.2% yield in 2015. The government spending ratio goes from 20.8 in 2013 to 20.9 this year and to 20.7 in 2015. With these as inputs the model projects an earnings multiple of 18.5 this year, up from the actual 2013 level of 17.5 but down from the model estimate of 19.5 for 2013. The multiple drops further in 2015 to 18. If earnings rise to $116 this year and then to $124 in 2015 the S&P 500 would end this year at 2146 and rise further to 2232 in 2015.
Our first alternative - labeled as Alternative A in the table - keeps the government ratio at the same level as in our base case, but it assumes a lower interest rate. In this case the treasury ten year yield is 3% this year and 3.3% next year such that the multiple is forecast to be 19.1 this year and 18.7 in 2015. Because the lower interest rate setting would be consistent with a more sluggish nominal GDP environment we assume earnings rise to only $112 this year and to $116 in 2015. Thus, the calculation is that the Index would be 2139 this year and 2169 next year.
Finally there is a second alternative which is shown at the bottom of the accompanying table. This might be most akin to the current consensus and to the Federal Reserve's official forecast.
This alternative allows for higher interest rates than in our base case and also higher earnings while it is assumed that the government ratio holds as forecast in our other scenarios. With nominal GDP growth at about 5% - split at 3% real growth and 2% inflation - the treasury ten year yield is assumed to be 4.2% in 2014 and 4.6% in 2015. Earnings would be projected to rise to $120 this year and then to $128 in 2015. As shown on the table the estimated multiple would go to18.1 this year and to 17.6 in 2015 but with earnings on a higher trajectory the S&P index climbs to 2172 this year and 2253 in 2015.
Of the three alternatives that are presented we would regard the least optimistic scenario as the most plausible. In our view deflationary pressures are fairly intense globally, and this should hold down pricing power and nominal GDP growth. A continuing deflationary threat would cause Central Banks to remain very accommodative, holding down long term interest rates. If this is accurate the result is that equity markets would continue performing well but with the market's performance being driven more by multiple expansion than by earnings growth.
Base Case

2008

2009

2010

2011

2012

2013

2014

2015

Federal Spending to GDP ratio

22.5

22.1

21.3

20.8

20.8

20.7

20.8

20.8

10-year Treasury interest rate

3.66

3.26

3.22

3.78

1.8

2.35

3.7

4.2

S&P 500 earnings

49.5

56.9

83.8

96.4

96.8

107.5

116

124

S&P 500 Market p/e Multiple

18.2

19.6

15

13

14.7

17.2

18.5

18

S&P 500 Index

903

1115

1258

1258

1426

1848

2146

2232

Alternative A Lower Interest Case

Federal Spending to GDP ratio

22.5

22.1

21.3

20.8

20.8

20.7

20.8

20.8

10-year Treasury interest rate

3.66

3.26

3.22

3.78

1.8

2.35

3

3.3

S&P 500 earnings

49.5

56.9

83.8

96.4

96.8

107.5

112

116

S&P 500 Market p/e Multiple

18.2

19.6

15

13

14.7

17.2

19.1

18.7

S&P 500 Index

903

1115

1258

1258

1426

1848

2139

2169

Alternative B

Federal Spending to GDP ratio

22.5

22.1

21.3

20.8

20.8

20.7

20.8

20.8

10-year Treasury interest rate

3.66

3.26

3.22

3.78

1.8

2.35

4.2

4.6

S&P 500 earnings

49.5

56.9

83.8

96.4

96.8

107.5

120

128

S&P 500 Market p/e Multiple

18.2

19.6

15

13

14.7

17.2

18.1

17.6

S&P 500 Index

903

1115

1258

1258

1426

1848

2172

2253
Disclosure: I have no positions in any stocks mentioned, and no plans to initiate any positions within the next 72 hours. I wrote this article myself, and it expresses my own opinions. I am not receiving compensation for it (other than from Seeking Alpha). I have no business relationship with any company whose stock is mentioned in this article.
Additional disclosure: Please note that this article was written by Dr. Vincent J. Malanga and Dr. Lance Brofman with sponsorship by BEACH INVESTMENT COUNSEL, INC. and is used with the permission of both.