UniQure BV (NASDAQ:QURE), a leading gene therapy biopharmaceutical firm, with principal offices in Amsterdam, plans to raise $64 million in its upcoming IPO.
The firm will offer 4.6 million shares at an expected price range of $13-$15 per share. If the IPO can reach the midpoint of that range at $14 per share, QURE will command a market value of $235 million.
QURE filed on January 2, 2014.
Lead Underwriters: Jefferies LLC, Leerink Partners LLC
Underwriters: Piper Jaffray & Co.
Summary
QURE is a gene therapy biopharm firm and the developer of the first and only gene therapy product approved in the E.U., Glybera. Glybera is used to treat a subset of patients with lipoprotein lipase deficiency (LPLD), a dangerous metabolic disease. The firm plans a commercial launch for Glybera in the EU in the first half of 2014, in collaboration with Chiesi Farmaceutici S.p.A., and retains full commercial rights in the US. QURE plans to file an Investigational New Drug application for Glybera in the same time frame. The firm is developing a pipeline of gene therapy products, initially focused on orphan diseases.
Valuation
QURE offers the following figures in its F-1 balance sheet for the nine months ended September 30, 2013:
Revenue: $2,772,000.00
Net Loss: ($27,605,000.00)
Total Assets: $59,015,000.00
Total Liabilities: $43,716,000.00
Stockholders' Equity: $15,299,000.00
QURE's losses are unsurprising, given that it has made significant expenditures towards the development of Glybera and the manufacturing framework necessary for its commercialization. The firm should see improved figures with the commercial release of Glybera and any future product candidates.
Competitors
QURE must compete with several other firms focused on developing gene therapies in various indications, including Applied Genetic Technologies Corp (NASDAQ:AGTC), Asklepios, Audentes Therapeutics, BioMarin (NASDAQ:BMRN), bluebird bio (NASDAQ:BLUE), Dimension/Regen X, Oxford BioSciences, Sangamo BioScience (NASDAQ:SGMO), and Spark Therapeutics. The firm will also face competition from companies developing protein pharmaceuticals for the same diseases that QURE is seeking to treat with its gene therapies, including Pfizer (NYSE:PFE), Baxter (NYSE:BAX), Bayer, Novo Nordisk (NYSE:NVO), Genzyme, Shire (NASDAQ:SHPG), BioMarin and Biogen Idec (NASDAQ:BIIB).
Management
CEO Jörn Aldag joined QURE in October 2009, when the firm was known as AMT. He has led QURE's corporate development, including the expansion of its gene therapy pipeline, the marketing authorization process with the EMA for Glybera, and the recapitalization of AMT to form uniQure. He previously served as CFO, CEO, and President of Evotec AG and in various financial management positions at MAN AG. Mr. Aldag is Chairman of Molecular Partners AG, Zurich, Switzerland, and holds business degrees from the Harvard Business School (Advanced Management Program) and the European Business School.
Conclusion
We rate this IPO a neutral to buy for aggressive investors in the $12 to $14 range. We are concerned by the number of biotech firms issuing IPOs and the current market downturn.
QURE is a genuine leader in its field, named in September as one of FierceBiotech's 2013 Fierce 15. We believe that its experience in commercializing Glybera will allow it to successfully develop other gene therapy treatments. The current pipeline is diverse, with four additional drugs approaching Phase II clinical trials (see chart below).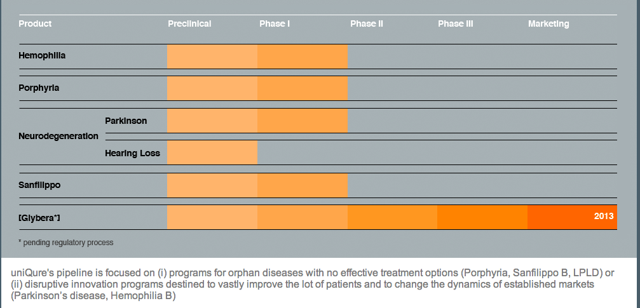 (Source)
The firm's management team has extensive experience in corporate development, and the firm already has a manufacturing facility, which will simplify the commercialization of future treatments. While there's no guarantee that Glybera will catch on commercially, QURE appears to have long-term potential for success in the gene therapy field.
Disclosure: I have no positions in any stocks mentioned, but may initiate a long position in QURE over the next 72 hours. I wrote this article myself, and it expresses my own opinions. I am not receiving compensation for it (other than from Seeking Alpha). I have no business relationship with any company whose stock is mentioned in this article.