The market in early trading Tuesday is bouncing a bit after yesterday's rout. Equities are off to their worst start for a February since 1933. I have used the recent dip in the market to put some 'dry powder' to work. One area I have added to is energy as I still believe the country is in the early stages of a long term energy production boom and there are myriad attractive values in the sector.
Included in this increased allocation to the sector were new purchases in Devon Energy (NYSE:DVN), a cheap energy concern that is transforming itself into a more focused and undervalued oil production play primarily growing in the Eagle Ford & Permian shale formations.
Analysts are starting to notice the company's progress. Credit Suisse just upgraded the shares to "Outperform" from "Neutral". It also took its price target from $73 a share to $76 on DVN. This is 25% above Devon's current stock price. Argus also upgraded the shares to a "Buy" from "Hold" in December.
Devon Energy is a mid-cap (~$25B market capitalization) oil & gas play I continue to believe is significantly undervalued. It is also starting to take more shareholder friendly actions before being pushed by activists. In October the company announced it will combine the majority of its midstream assets with Crosstex Energy (XTXI) and Crosstex Energy LP (XTEX) to form a publicly traded MLP (Master Limited Partnership).
Devon has also stated it will put most of its Canadian natural gas properties up for sale in December. These assets could fetch $3B - hopefully sale will be helped by the recent spike in natural gas prices. The company is becoming more focused on growing its U.S. based oil & liquids production.
In November the company said its plans to acquire GeoSouthern Energy's world-class light oil assets in the Eagle Ford. This will add a new high-margin, high-growth core asset to its portfolio. The acquired assets include current production of 53,000 barrels of oil equivalent (BOE) per day and 82,000 net acres with at least 1,200 undrilled locations. The risked recoverable resource is estimated at 400 million barrels of oil equivalent, the majority of which is proved reserves. Devon got an attractive price for GeoSouthern's assets, valuing the properties at just 2.5 times estimated 2015 earnings before interest, taxes, depreciation, and amortization ((EBITDA)).
Thanks the company's recent acquisition and divesture, revenue growth is projected by analysts to accelerate in 2014. After posting better than 10% gains in 2013, revenue is expected to grow almost 20% in the New Year. The stock sells for a minuscule five year projected PEG of under 1 (.57). In its last reported quarter, the company saw its U.S. based oil production grow just under 40% year over year.
Earnings are also expected to show impressive growth (See Below). Given these growth prospects for revenues & earnings, increasingly shareholder friendly actions; the shares are significantly undervalued. Devon has a forward PE of under 10, a 35% discount to the overall market multiple. It also pays a 1.5% dividend yield. STRONG BUY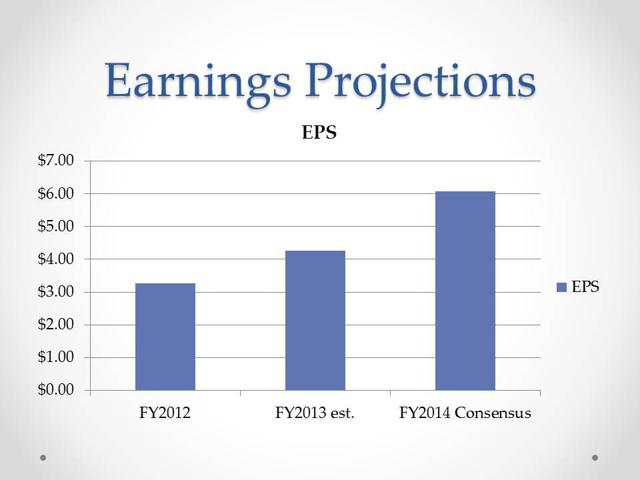 Disclosure: I am long DVN. I wrote this article myself, and it expresses my own opinions. I am not receiving compensation for it (other than from Seeking Alpha). I have no business relationship with any company whose stock is mentioned in this article.