Introduction
In this article I'll revisit CME Group (NASDAQ:CME) which is currently trading at $70/share pre-market, which is approximately 12% lower than the share price when I wrote my previous Seeking Alpha article titled "waiting for a pullback". I will now determine if this is a good price to get in as we have now access to updated financials.
I will start with my views on the financial results and balance sheet, where after I will try to look forward to this year's operational results. This will result in my investment thesis at the end of this article.
My view on the financial results
In Q4 2013, CME Group missed analyst expectations by 4 cents as it reported a net profit of "just" $0.64/share. The average daily volume for the fourth quarter was 11.3 million contracts, which is a huge jump compared to the same period in the previous year. This is also clearly seen in the revenue which jumped almost 4% to $687M. Unfortunately, CME's expenses also increased by a hefty 27.5% which caused a 14% drop in the operating income to $323.2M. This was mainly caused by a $41M jump in "other" expenses, which might be related to the costs to make sure the CME Group is compliant with the new Dodd-Frank clearing mandate.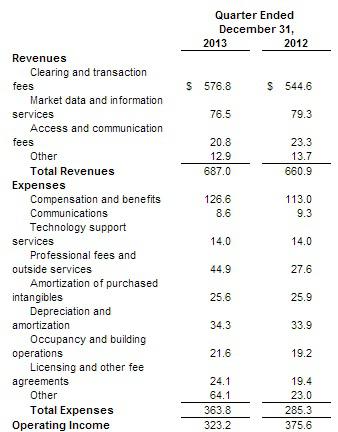 As CME Group's average tax rate was 37%, the company reported a net income of $193.1M, or $0.58/share (which includes items in the reconciliation).
Let's now see how the performances of the different divisions were. It's obvious the main driver in volume growth were the interest rate contracts as a volume increase of 30% is almost solely responsible for the overall growth in contract volumes.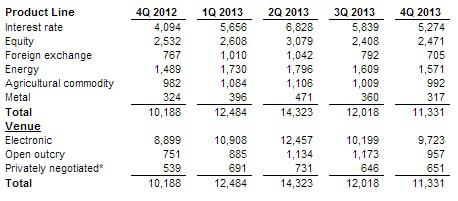 My view on the balance sheet
Let's move over to the balance sheet now. At the end of December 2013, CME Group had a working capital position of $1.1B, which is $700M lower than just three months earlier even though the cash position increased to almost $2.5B. The current ratio of CME is now 1.047, which is relatively low [keep in mind a ratio higher than one means the company has sufficient current assets to cover its current liabilities. However, with a ratio of less than 1.05, CME Group is (theoretically) running a tight ship, but as its business generates a lot of cash flow, I'm not worried about this at all].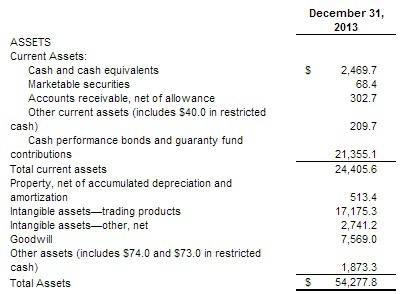 The book value was approximately $63.40/share, which means that CME Group is trading at a premium of just 10%. However, keep in mind the majority of CME's assets are intangibles and goodwill, and it's extremely difficult to put a fair value on those assets.
Outlook for 2014
CME Group hasn't given an official outlook for 2014, but I'm mainly hoping to see some cost control exercises in order to restore profitability. As the tapering seems to be continuing, I'm expecting a continuous high volume in the interest rate contracts, which should be a boost for CME's revenue and profitability. It's extremely difficult to make assumptions here, but I'm quite comfortable stating CME's 2014 EPS will be in excess of $3/share.
Investment Thesis
Even though CME Group missed the analyst estimates in Q4, I think $70 is a very fair price at this point. Even though the company's expenses were quite high in the fourth quarter of 2013, I think the majority of those will be non-recurring and that we'll see an increase in net profit in 2014. On top of that, the current dividend yield (based on a quarterly dividend of $0.45) is almost 2.6%, which might attract dividend investors.
In my first article on the CME Group I recommended to write P60s January 2014 which have now expired worthless (for a 100% gain). In the second article I thought it was a good idea to write P60s and 65s expiring in June 2014, and I'd stick with that plan for the time being.
Disclosure: I have no positions in any stocks mentioned, and no plans to initiate any positions within the next 72 hours. I wrote this article myself, and it expresses my own opinions. I am not receiving compensation for it (other than from Seeking Alpha). I have no business relationship with any company whose stock is mentioned in this article. I wrote put options on CME Group.