In this article, I will lay out my investment thesis for Nvidia (NASDAQ:NVDA), focusing on marketing strategy and competitive positioning. In a nutshell, in my opinion Nvidia is well positioned to: 1) Defend its leading market share in its GPU business from AMD (NASDAQ:AMD) and 2) Take market share from Qualcomm (NASDAQ:QCOM) in the growing SoCs market.
In my analysis, I will make use of the following framework to illustrate Nvidia's positioning:
Microprocessor market segments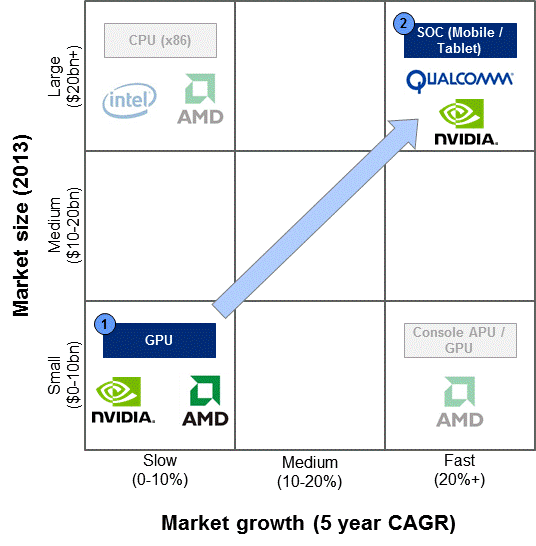 (Source: Author's primary research, incl. IDC announcements and company websites)
1) The GPU Segment: Defending Nvidia's "Cash Cow" from AMD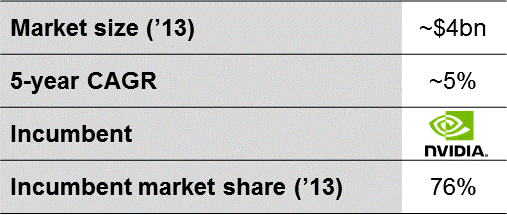 (Source: Author's primary research, incl. IDC announcements and company websites)
Graphics Processing Units (GPUs) are integrated circuits specialized to perform calculations with visual applications. They mainly serve three main end-user segments: a) PC gaming, b) professional graphics applications (e.g. architecture, media) and c) supercomputing (i.e. scientific research). At EBITDA margins of ~30%, GPUs are a very attractive, cash generative business. However, since this is a maturing technology, market growth is low and slowing, and the competitive focus lies in gaining/maintaining market share. As the de-facto inventor of the GPU, Nvidia holds a market share of ~76% (~3.3bn in revenues), which it needs to defend from challenger AMD (~24% market share). In the sections below, I will assess the vulnerability of Nvidia's "cash cow" business in each user segment.
a) PC gaming: Nvidia's advantage in stand-alone GPU and OEM sales
In PC gaming, which is the largest user segment, GPUs are sold either as stand-alone components or as part of a new PC (OEM sales).
Stand-alone GPUs: Broadly speaking, competition in stand-alone GPUs is based mainly on performance (i.e. who has the fastest chips at a given price level). Here, Nvidia and AMD are roughly at competitive parity. AMD's offering is strong at the low-end of the market, while Nvidia has an edge in the high-end of the performance spectrum, which makes its offering to enthusiasts more appealing. This distinction is important because acquirers of stand-alone GPUs are likely to be more experienced and focused on higher-end GPUs. This is backed up by a spot-check on Amazon.com, where of the 20 "most popular" GPUs, 15 were by high-end products by Nvidia. Therefore, Nvidia seems to have the performance advantage and reputation it needs to defend its market share in stand-alone GPUs. While AMD is active in developing new technologies to challenge this leadership (e.g. Mantle) it is highly speculative as to whether these will make a significant dent in Nvidia's market share. This is especially true considering AMD's difficult financial position and ongoing restructuring program.
OEM sales: In addition to performance, OEM sales are influenced by existing commercial partnerships between GPU manufacturers and PC makers. In this scenario, customers buying a new PC are forced to choose from a set "menu" of PC configurations. Hence, more than GPU performance data, the purchasing considerations will be influenced by the overall hardware choices and bundle price offered. If we look at the desktop and laptop configurations with discrete graphics offered by the top PC manufacturers we get the following picture:
Graphics-accelerated configurations of major OEMs
(Total # of configurations: 101)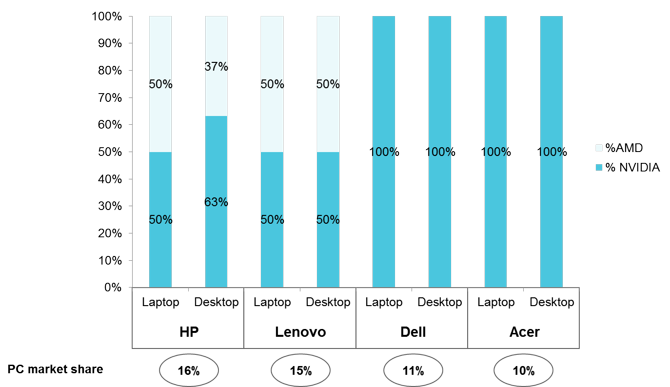 (Source: Author's primary research on PC manufacturer websites, OEM market shares from Wikipedia)
All four top global PC manufacturers, which together account for over 50% of the total market, offer products with Nvidia graphics acceleration on their website, while Dell and Acer do not offer any configurations for AMD GPU products. A potential customer with no strong preference for PC or GPU brand will therefore be more likely to purchase an Nvidia GPU as part of their new PC.
Therefore, since Nvidia has a more established footprint with PC manufacturers, it seems unlikely that AMD will be able to gain significant market share in OEM sales. Of course AMD could score additional OEM deals in the future, but these would have to be substantial to change the picture significantly.
b) Professional graphics applications: A duopoly with few expected changes
In addition to the gaming segment, GPUs are heavily used by professionals in industries with visual applications such as architecture, film and animation, engineering and manufacturing. Both AMD and Nvidia have strong working relationships with application developers (such as Autodesk) active in these sectors to ensure hardware compatibility and optimization. Software houses are keen to offer clients the option to choose between different GPU vendors, and are therefore likely to continue supporting both Nvidia and AMD solutions in the future. Given the effective duopoly in "professional" GPUs and limited number of software vendors, there is limited potential for significant shifts in market share in this segment.
c) Supercomputing: A small market, dominated by Nvidia
Supercomputers are mainly used in scientific research, in computation-intensive fields such as weather forecasts, physics and biology simulation or data encryption. While supercomputers are mostly powered by CPUs (typically by Intel and AMD), some installations have recognized the benefits of complementing this set-up with GPUs. Today, two supercomputers in the world's top 10 list are making use of Nvidia GPUs: Titan (#2) and Stampede (#7). AMD GPUs are not represented. Given Nvidia's reputation for high-end GPUs and experience in supercomputing applications, this is a difficult market for AMD to enter. Furthermore, the supercomputing GPU segment is relatively small, and therefore less material for market share considerations.
2) The SoC Segment: Challenging Qualcomm's dominance

(Source: Author's primary research, incl. IDC announcements and company websites)
Systems-on-a-chip in this context are integrated circuits able to perform all data processing tasks required by mobile devices (e.g. graphics, sound, connectivity). This segment is highly attractive because it represents a very large, growing market.
The SoC segment is dominated by Qualcomm, which holds ~60% of the total market for 4G smartphones, and a significant share of the SoC market in tablets. Excluding the Apple universe (Apple manufactures its own SoCs), Qualcomm's family of Snapdragon processors enjoy a virtual monopoly.
Nvidia has been attempting to enter this space since 2008 with its line of Tegra SoCs. The first few generations of Tegra products have received mixed reception, and have generally been considered inferior to Qualcomm products. Therefore, Nvidia's design wins have been few and far between, which caused its mobile division to post losses ever since 2008.
There are three main reasons why I am excited about Nvidia's endeavors in the mobile space in 2014:
a) Nvidia has closed the SoC performance gap to Qualcomm
With its recent announcement of the Tegra K1 (aka Tegra 5, aka "Codename Logan"), it appears that Nvidia's learning curve in mobile SoCs is over, and that it has achieved at least performance parity, if not superiority, with respect to Qualcomm's "Snapdragon" chips. While there are no conclusive tests available yet, the following datapoints make me very optimistic:
The Tegra K1 is the first chip, which makes use of Nvidia's current-generation desktop GPU architecture (Kepler) and brings that firepower to bear on mobile.
Early benchmarks indicate significant performance improvements over existing SoCs by both Qualcomm and Apple. While these need to be taken with a grain of salt (tests run on different devices, questions around power consumption etc.), the sheer margin of the K1's outperformance is reason for excitement.
Even if the K1 did not live up to the hype, rumors indicate that Nvidia may be on track to launch its successor, the Tegra 6 (aka "Codename Parker") already in 2014. This is a chip based on its next-gen GPU architecture ("Denver"), and promises another leap in performance.
Therefore, while there are still questions open on 1) actual performance, 2) power consumption and 3) responses by competitors, the Tegra K1 is clearly causing quite a splash in the technology world. News of its announcement at CES were reported both on specialist websites and the mainstream media worldwide. I for one am expecting that both the Tegra K1 and Tegra 6 are very competitive products, which will allow Nvidia to make inroads into mobile SoCs in 2014.
b) Market share in SoCs can be gained quickly
In contrast to the GPU segment, SOCs cannot be bought stand-alone, which leaves OEM sales as the only sales channel. In this context, SoC manufacturers compete for OEM "design wins," i.e. the contract to power a given device with one's chip. Once an SoC manufacturer has scored a design win, a given device (say, a Samsung Galaxy 4) will exclusively be powered by the winning SoC (there are a few minor exceptions in which devices are offered with different chips, but overall this is negligible).
In terms of market share, this means that Nvidia won't have to fight for every individual sale of an SoC chip, but rather for a limited number of OEM design wins. If Nvidia's chips are indeed competitive, which I am counting on, odds are good that it will succeed in securing some wins, which would immediately lead to significant shipment numbers. I think of SoC design wins in the following way:
End users are increasingly interested in playing games on their mobile devices (80-90% of app store revenues come from games) and need high-performance devices to do that.
Nvidia's Tegra K1 chips come from a legacy of PC gaming GPUs and are therefore optimized to power games.
There are a large number of design wins available every year: assuming that the ~10 major smartphone OEMs launch 2 new products per year (1 high-end and 1 low-end) and ~10 major tablet OEMs launch 1 new product, that already gives 30 major design slots Nvidia can compete for. In reality, there are far more OEMs and product launches, so the actual number of slots will be much higher.
Despite Nvidia's mixed track record in securing design wins in the past, there are some notable wins including phones by HTC, LG and Motorola, as well as tablets by Asus, HP, Microsoft, Sony and Toshiba, among others. Given the improvements in chip performance, I am confident that Nvidia will be able to expand on these successes. A rough calculation puts the value of 1% of the SoC market at about $200m:
Approach 1: Value of 1% of market share = # Non-Apple handheld shipments per year (units) * SoC unit selling price ($) * 1% =750m units * $25 * 1% = ~$190m
Approach 2: Value of 1% of market share = Total Value of SoC market * (1- Apple market share) * 1% = $35bn *(1-40%) * 1% = ~210m
(Click links for sources of SoC unit price, smartphone and tablet shipments.)
In the current financial year Nvidia booked Tegra revenues of ~$400m, which would put its current (non-Apple) market share at about 2%. With a competitive product, it is not unreasonable to expect this market share to grow significantly. While I won't venture into specific predictions, if we hypothesize a market share of 5-10%, this would translate into incremental revenues of $0.7-1.6bn. Given Nvidia's current total revenues of ~$4bn, this is a prospect to be legitimately excited about.
c) Nvidia is a leader in automotive systems
As recently reported in the WSJ, Nvidia has partnered with Volkswagen, BMW, Audi and Tesla to create smart driver assistance systems based on Tegra products. To date, there are 4.5 million cars on the road with Nvidia systems on board. While these systems will likely be rolled out mostly on higher-end vehicles, if we consider that total output for these OEMs was ~11 billion vehicles in 2012, it is safe to assume that there is plenty of room for growth in this market, even before tapping other car manufacturers. The automotive market is not included in my $35bn SoC market size estimate, and therefore presents significant additional upside.
Conclusion
Nvidia has the technological, commercial and financial resources it needs to defend its market share of 76% in GPUs from challenger AMD, because:
Stand-alone GPUs are mainly bought by enthusiasts who prefer high-end products, a segment in which Nvidia has a performance edge.
GPU-accelerated OEM bundles most often contain Nvidia hardware, making it more likely for casual users to purchase GeForce products over AMD's.
Nvidia has a sound financial position and is able to invest in technology and marketing, while AMD is a) barely breaking even, b) undergoing a restructuring and c) the underdog in both CPU and GPU markets.
Furthermore, with the Tegra K1, Nvidia has successfully transposed its GPU technology to the mobile SoC space, which is a large, growing market. Nvidia is likely to gain market share in SoCs because:
Gaming, Nvidia's strong suit, is increasingly shifting to mobile, requiring high-performance visual computing on phones and tablets.
Early Tegra K1 benchmarks and test results are very promising.
The SoC market for non-Apple devices is dominated by a single company (Qualcomm).
A large number of design wins are up for grabs in any given year.
A 1% gain in market share in SoCs is worth ~$200m. Given Nvidia's total revenues of ~$4bn, even a small gain in market share would mean significant growth.
Lastly, Nvidia's automotive segment, which boasts partnerships with Volkswagen, BMW, Audi and Tesla, presents significant additional potential for growth.
In sum, Nvidia has a protected core market and very promising avenues to future growth. At a forward P/E valuation of 14x (net of cash on balance sheet) and a TEV/EBITDA multiple of ~8x it represents a very attractive opportunity to buy into the growth potential of its SoC business while enjoying the downside protection of the GPU segment.
Disclosure: I am long NVDA. I wrote this article myself, and it expresses my own opinions. I am not receiving compensation for it (other than from Seeking Alpha). I have no business relationship with any company whose stock is mentioned in this article.