In the first article of this series, we took our shopping cart down the Consumer Discretionary aisle, where we found attractive deals on several dividend growth stocks. Next, we will turn the corner and proceed down aisle two, the Consumer Staples section.
Sector #2 - Consumer Staples
Investopedia defines Consumer Staples as:
Essential products such as food, beverages, tobacco and household items. Consumer staples are goods that people are unable or unwilling to cut out of their budgets regardless of their financial situation. Consumer staples stocks are considered non-cyclical, meaning that they are always in demand, no matter how well the economy is performing. Also, people tend to demand consumer staples at a relatively constant level, regardless of their price.
As you can see in the definition, Consumer Staple companies are generally more consistent in their earnings and growth. These companies typically provide stable, long term earnings growth and have lower betas compared with the consumer discretionary stocks.
A side effect of this trend is that it can be harder to find good entry points with which to buy the stocks at bargain prices. During normal market conditions the stocks trade at a premium due to their stable, steady growth. Often times it takes a crisis like the 2008-2009 recession for these types of companies to go on sale.
Considering the market is currently near all-time highs, it was fairly difficult to find many companies that are below historical fair values. Nonetheless, I was able to find a few companies that fit the bill.
The stocks that were selected can be found on David Fish's CCC Spreadsheet, which covers the 476 companies that have annually increased their dividends for a minimum of the last 5 years and can be found at The DRiP Investing Resource Center.
This spreadsheet also lists the "Fallen Angels", which are companies that had their streaks of consecutive increases stopped with a frozen dividend, of which one of the members below was found.
Here are the specials I was able to find in the current market with some of the pertinent numbers for each of the companies. The price and earnings information shown was collected from Yahoo Finance, with the 5 year average dividend growth from FAST Graphs.
| | | | | | | | |
| --- | --- | --- | --- | --- | --- | --- | --- |
| Company | Symbol | Price | Earnings | P/E | Dividend | Yield | 5YR DGR |
| Ingredion Inc. | (NYSE:INGR) | $61.98 | $5.12 | 12.11 | 1.68 | 2.71% | 19.6% |
| The Coca-Cola Co. | (NYSE:KO) | $38.17 | $1.93 | 19.78 | 1.12 | 2.93% | 8.6% |
| The Kroger Co. | (NYSE:KR) | $36.42 | $2.98 | 12.22 | 0.66 | 1.81% | 11.8% |
| Philip Morris International, Inc. | (NYSE:PM) | $79.09 | $5.27 | 15.01 | 3.76 | 4.75% | 14.2% |
| Wal-Mart Stores, Inc. | (NYSE:WMT) | $74.75 | $5.20 | 14.38 | 1.88 | 2.52% | 12.8% |
Ingredion Inc. is a starch and sweetener manufacturer located in Westchester, Illinois. The company was formerly known as Corn Products International, Inc. before changing its name in 2012. Its products are derived primarily from processing corn and other starch based materials, such as tapioca, potato, and rice.
Ingredion is a member of the Fallen Angels on the CCC list as the result of a dividend freeze in 2010. The company has raised its dividend in 9 of the last 10 years and provides a decent yield of 2.7%. As seen below, the company has increased dividends at an average rate of 22.8% annually over the last decade.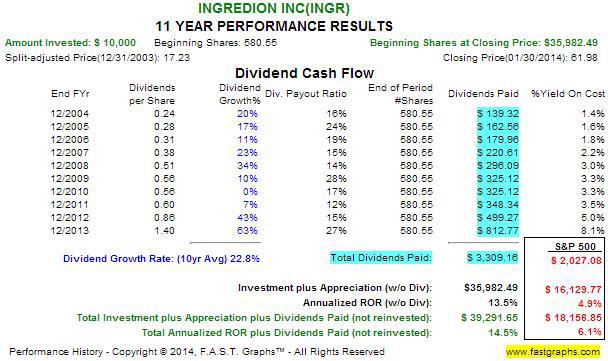 The company trades at an attractive P/E of just 11.7, which is well below its historical norm of 14.7, especially when considering its long term historical earnings growth of a 17.1%.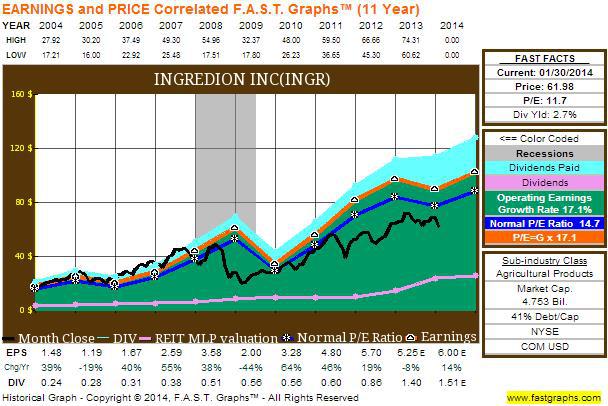 The company's earnings were hit hard by the recession of 2008/2009, with the annual EPS bottoming out at $2.00 in 2010 before rising to $5.12 over the last twelve months. The stock has been trading lower recently as earnings are expected to be down slightly year over year on foreign exchange headwinds and higher energy and sugar input costs in South America.
However, in 2014 the company is expecting improving margins on lower corn prices in the United States, improving conditions in Argentina, and expanding volumes as the economy improves. The company reports fourth quarter earnings on February 6th.
The Coca-Cola Company is a beverage company that engages in the manufacture, marketing, and sale of non-alcoholic beverages worldwide. The company sells its products primarily under the Coca-Cola, Sprite, Fanta, Minute Maid, Powerade, Dasani and Vitaminwater brand names. The company was founded in 1886 and is headquartered in Atlanta, Georgia.
Coca-Cola is a member of the Dividend Champions list and has raised its dividend for the last 51 consecutive years. The company has raised its dividend at a 10 year average annual increase of 10.0%.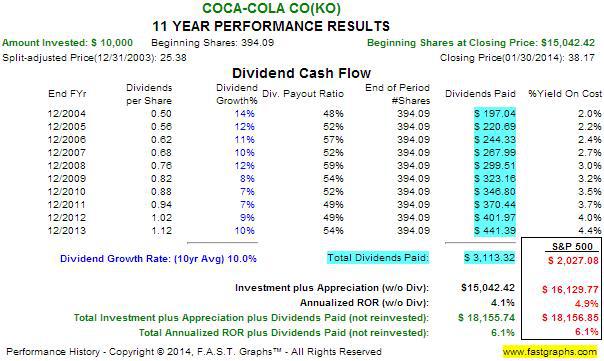 Notice above that the stock has a produced a market matching rate of return of just 6.1% since 2004. This may not seem very impressive until you look at the price history below. According to FAST Graphs, Coca-Cola made $0.95 per share in earnings in 2003, which means if you bought at the end of 2003 price of $25.38 you were paying for the stock at a P/E ratio of 26.7, which is well above the normal historical range.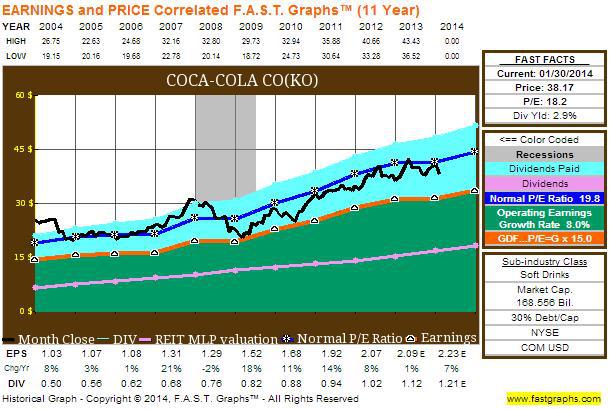 However, with the company growing earnings at a reliable 8.0% per year and steadily increasing the dividend payout as well, even if an investor overpaid for the stock they were still able to match the market's returns over the period.
With earnings projected to grow at a 6.5% rate going forward and the stock trading near fair value, the company should be able to provide annual total returns of 8-10%+ going forward.
The Kroger Company is a retailer and manufacturer of goods in the United States. The company manufactures and processes food for sale in its supermarkets and operates retail food and drug stores, multi-department stores, jewelry stores, and convenience stores. The company was founded in 1883 and is based in Cincinnati, Ohio.
Kroger is a member of the dividend challengers list and has raised its dividend for 8 consecutive years with the last 5 years of dividend growth at an 11.8% average.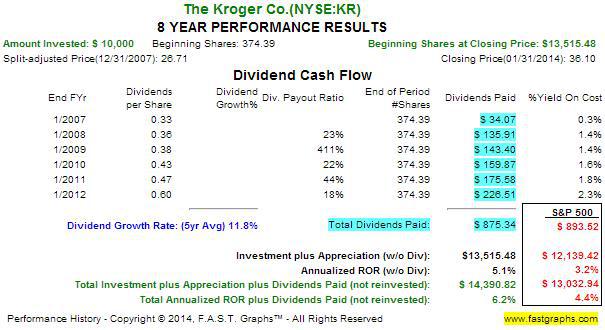 Over the last 8 years the company has grown earnings at an 8.6% rate and analysts project earnings growth of 9.3% over the next 5 years.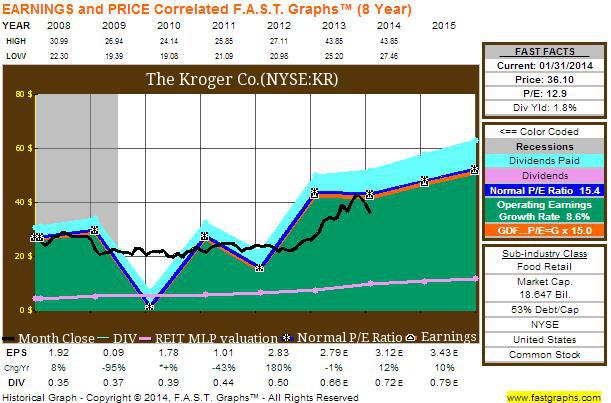 On January 29 Kroger completed the merger with Harris Teeter, which allows Kroger to expand into the southeastern and mid-Atlantic markets with a base of 227 stores. Kroger expects net accretion to earnings of $0.06-$0.09 in the first full year after the merger.
Phillip Morris International, Inc., through its subsidiaries, manufactures and sells tobacco products internationally. Some of the brands the company's portfolio holds are Marlboro, Parliament, Virginia Slims, Chesterfield, Sampoerna, Fortune and Belmont. The company sells its products in about 180 countries. The company was incorporated in 1987 and is based in New York.
Phillip Morris is a member of the Dividend Challengers list, having raised its dividend for the last 6 consecutive years and has a 5 year average dividend growth rate of 14.2%. The company has an attractive payout that is currently yielding 4.8%.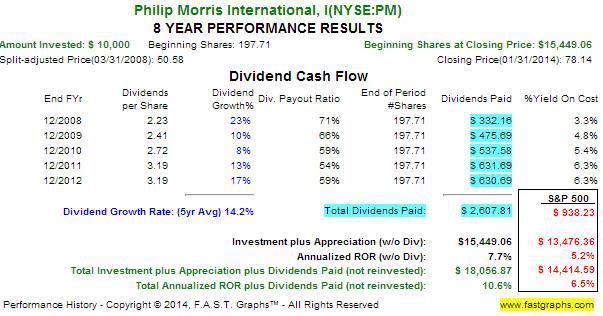 The company has grown earnings at a 9.1% rate over the last 8 years but has struggled recently as currency exchange rates have changed. While the company is based in New York City, it earns all of its income outside of the United States. As a result, earnings have had to fight headwinds as the dollar been on an uptrend since bottoming in the second half of 2011.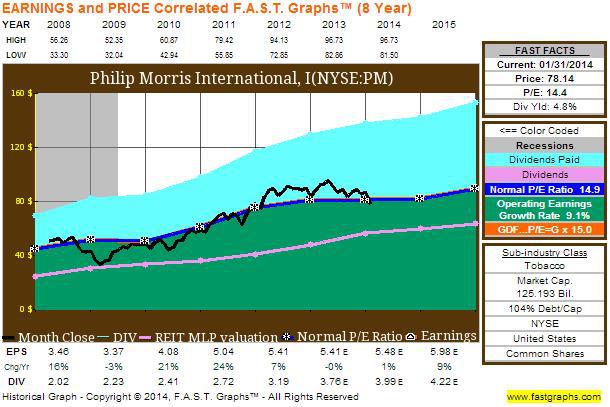 In the meantime, the company has been aggressive as it continues to grow by acquiring a 49% interest in Arab Investors-TA for $625 million in September of 2013 and a 20% interest in Russian Megapolis Distribution for $750 million in December.
The company also runs a successful buyback program through which it has lowered the number of diluted shares outstanding from 2.078 billion at the end of 2008 to 1.640 billion at present.
With earnings expected to grow at a 6% rate over the next 5 years, a strong dividend that yields 4.8% and the continuation of a successful buyback program, investors should be able to expect a conservative 10%+ annual total return in the years ahead.
Wal-Mart Stores, Inc. operates retail stores worldwide in three formats: Walmart U.S., Walmart International, and Sam's Club. It operates brick and mortar retail stores, restaurants, supermarkets, warehouse clubs and also has on-line retail at walmart.com and samsclub.com. The company operates approximately 11,000 stores in 27 countries and e-commerce websites in 10 countries. Wal-Mart Stores, Inc. was founded in 1945 and is based in Bentonville, Arkansas.
Wal-Mart is a member of the Dividend Champions lists and has raised its dividend for the last 39 consecutive years. The company has a 10 year average dividend growth of 18.6% and a 5 year dividend growth of 12.8%.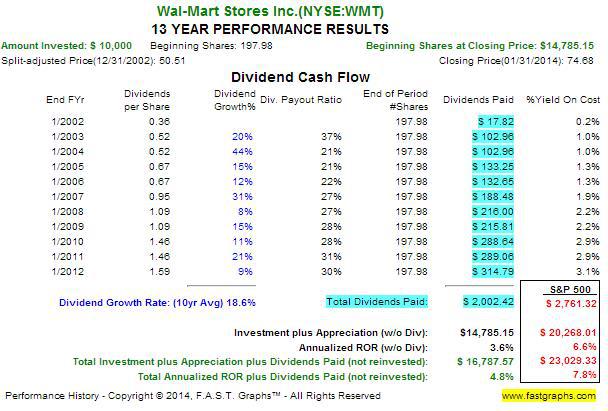 In looking at the total returns compared to the S&P, we see a similar situation to Coca-Cola above as Wal-Mart has lagged the annualized returns by 3.0%. This again is the result of overpaying for the stock at the beginning of the period.
Wal-Mart had earnings of $1.81 in 2002, meaning if purchased at the $50.51 price from the end of 2002, an investor would have paid 27.9 times earnings, which is a 70% premium over the normal P/E ratio of 16.4. This is another great example of the importance of buying stocks at attractive valuations.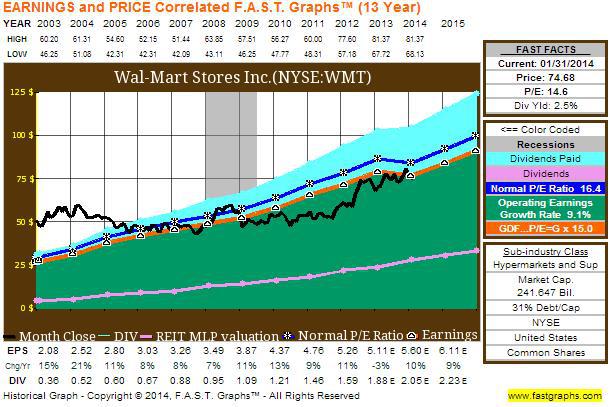 Looking ahead, Wal-Mart is expected to grow earnings at a 9% clip over the next 5 years. By buying the stock at a P/E of just 14.6 and getting a 2.5% yield to start, an investor should be able to expect 10%+ annual returns going forward.
Summary
Much like scanning the supermarket circular when putting together a grocery list for my weekly shopping, I think its important to also search for deals when adding to positions in my portfolio. The analogy seems especially apt when discussing the Consumer Staples sector as it contains many of the items we buy on a frequent basis.
While none of the stocks mentioned above are likely to double in the next year, the steady and predictable growth in earnings, coupled with reliable dividend payouts can provide a nice anchor to an investor's portfolio.
Our next trip through the market will be through the Energy Sector aisle. With the sector currently a bit out of favor with Mr. Market, there should be plenty of options to choose from!
Consumer Discretionary
Consumer Staples
Energy
Financials
Health Care
Industrials
Information Technology
Materials
Telecom
Utilities
Disclosure: I am long PM, WMT. I wrote this article myself, and it expresses my own opinions. I am not receiving compensation for it (other than from Seeking Alpha). I have no business relationship with any company whose stock is mentioned in this article.
Disclaimer: I am a Civil Engineer by trade and am not a professional investment adviser or financial analyst. This article is not an endorsement for the stocks mentioned. Please perform your own due diligence before you decide to trade any securities or other products.