The world we live in is highly energy dependent and because of this dependency the demand for energy doesn't necessarily depend on its price, but rather on its market supply. However, this does not hold true for energy sources like coal, which is being replaced by natural gas (a clean and abundant resource) due to the fact that many countries were not overly concerned about the environment until a decade ago.
Even though the price of natural gas is increasing, so is its demand. Qatar has been playing an increasingly important role in the export of LNG to many countries in Asia and Europe, thereby influencing its price. It is expected that demand will increase in the future as countries like China, India, Turkey and the U.S. continue to switch from coal to natural gas. This has made natural gas a rapidly growing industry that is capturing the market of coal and other energy resources due to its cost efficiency.
Introduction
Halliburton Company (NYSE:HAL), a U.S. energy services giant, is operational in three divisions - Drilling & Exploration, Completion & Production, and Support. The company is conducting its business in 80 countries worldwide, encompassing the four primary regions of North America, Latin America, Europe/Africa/CIS, and Middle East/Asia. In 2011, the company acquired Multi-Chem Group LLC and in 2012 its Landmark Software and Services acquired Petris Technology Inc. Halliburton was able to land in the Dow Jones Sustainability Indices in 2013 for the 4th consecutive year and also received 14 awards on 7 different platforms during the year.
Fundamentals
Halliburton has been showing impressive performance and promising results in the past. The company earned a net income of $1.8 billion, $2.8 billion and $2.6 billion respectively in the last three years and closed the third quarter of 2013 with $706 million in net income. This solid financial performance is one of the reasons why Halliburton's shares are in demand and have been experiencing a persistent increase in valuations. The company's share price has increased by 42% (YTD), indicating that it has outperformed the market as the industry average growth was around only 22%.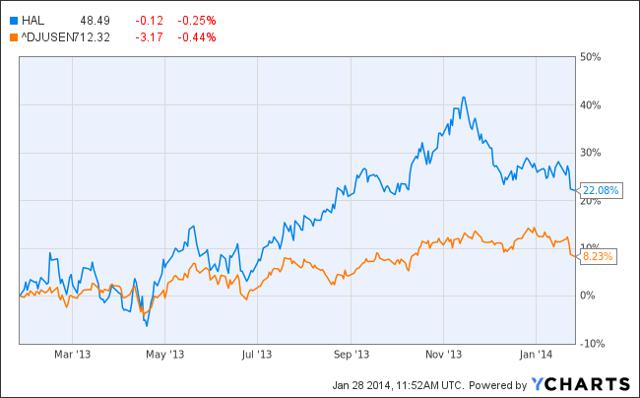 HAL data by YCharts
Halliburton has a diversified presence in both natural gas and oil. This gives it the strength to recover losses in either segment due to the high demand in both markets. Our main focus will be on natural gas due to its increasing demand and stable price.
| | | | |
| --- | --- | --- | --- |
| | Company | Industry | Sector |
| Dividend Yield | 1.18 | 2.29 | 4.02 |
| Quick Ratio (MRQ) | 1.99 | 0.97 | 1.58 |
| Current Ratio (MRQ) | 2.71 | 1.59 | 1.82 |
Halliburton has been performing exceptionally and paid out dividends with an increment of 39% in the first quarter of 2013. Its yield is lower than the industry average, but it has announced a 20% increase in quarterly dividends, which increased the total payout to $0.15/share for the fourth quarter of 2013. The aim behind this increment is to give back 35% of its operating cash flow to the shareholders. Dave Lesar, Chairman, President and Chief Executive Officer of Halliburton said:
"Going forward, we expect our dividend payout to be at least 15-20% of net income. Additionally, we anticipate doing more systematic buybacks, and expect announcements like this one today to occur more frequently."
The company's quick and current ratios are higher than the industry average, showing that it has outperformed the market and has stayed on green pastures in terms of its liquidity. Though the cash changes during the year (for nine months ending 30 September 2013) were 26.6% less than that of 2012, this was due to repurchase of stocks worth $4.4 billion.
CYPHER(SM) Seismic-to-Simulation Service
The company announced its CYPHER(SM) Seismic-to-Simulation service back in September 2013, which is aimed at increasing the production efficiency of wells through a combination of geoscience and reservoir understanding. The high costs associated with drilling can damage the financials of a company if the well is not situated on a location that gives the desired production. CYPHER(SM) allows drillers to gain a better understanding of the basin and reservoir and delivers all the insights required for optimum well paths and effective drilling. This increases the value of the reservoir and keeps the drilling costs to a minimum. CYPHER(SM) can also be utilized during any stage of a field's lifecycle, making it attractive to both new and existing drilling projects.This is a breakthrough technology that will allow operators to better identify and develop unconventional reserves, specially shale and other tight reservoirs. The demarcation of the right drilling spot and the avoidance of expensive wells can greatly reduce costs and increase production efficiencies. This will impact the company's financial statements through increased operating margins and revenues generated from the sale of this service to other drilling companies, which will in turn affect the dividends and cause an increase in the share price.
CYPHER(SM) is another addition to the Halliburton's differentiated technology and it continues to provide technological services to other oil producers as well. James Painter, Cobalt's Executive Vice President, Execution and Appraisal, stated:
"Utilizing technology that provides representative and meaningful information in the pre-salt environment enables Cobalt to assess risk, mitigate hazards and make safe and timely decisions."
This statement was made regarding the services provided by Halliburton to Cobalt International Energy for two deepwater pre-salt exploration wells in West Africa.
Other Developments
Arab-U.S. ties have deteriorated somewhat over the last few months. It all started with President Obama's slow reaction over the Syrian chemical weapons crisis, prompting some Arab states to start reviewing their relations with the U.S. The U.S., in the past, has been greatly dependent on the Arab states for its energy requirements and with the economy slowly recovering it cannot afford any energy crisis. However, the recent discovery of vast amounts of natural gas in the United States has slightly changed the American attitude towards Middle Eastern politics. The U.S. has estimated potential reserves of 2,170 trillion cubic feet of natural gas which is sufficient to meet the annual demand of 24 trillion cubic feet for 95 years. Such vast reserves ease U.S. energy's dependency on the Arab world.
At present the main focus of big oil and gas producers is on the Golden Triangle - Brazil, West Africa and Gulf of Mexico. Halliburton's market share in off-shore drilling is around 50% which means that deep water drilling will continue to play an important role in the company's future growth, as it has been doing in the past years. The company's revenue growth from deep water drilling was 31% last year, whereas the industry had only a 13% growth. Furthermore, Halliburton expects its revenues to grow by 25% in the next three years and the estimated industry growth is 11%. This shows that the company is outperforming the industry and has better future prospects.
Due to a growth in production, the U.S. has started entering international markets as well. The demand for natural gas is increasing in Mexico and the country does not have enough resources to satisfy it. This gap will be filled by U.S. gas export which is expected to double by 2016. The high demand will not only create market for U.S. firms, it will also increase the price of natural gas, leading to higher revenues and providing an opportunity for Halliburton to flex its muscles on yet another platform.
Valuation
| | |
| --- | --- |
| | Amounts in ($ Billions) |
| Market Capital | 41 |
| Long term Debt | 7.8 |
| Cash and Cash equivalents | (1.5) |
| Enterprise Value | 47.3 |
The company's Enterprise Value is $47.3 billion and it has outstanding shares totaling around 848 million. From these valuations an EV per share of $55.78 can be calculated. At present Halliburton's shares are priced at around $48/share indicating a huge gap between the estimated and current share price. This shows that there is potential for growth in the share as it is currently undervalued.
Conclusion
Even though there has been a sudden decrease in the oil and gas index at the start of 2014 (expected to have been caused by large trading of put options for 2015 and 2016 at $85 which has affected the U.S. market), the increasing demand of natural gas and the continuing demand for oil points to a very promising future for the oil and gas industry. Many companies are choosing to go green by switching to natural gas and other clean energy sources due to the backing out of the U.S. government on coal powered projects. This has created a sliding effect from coal towards gas and eroded the revenues of coal miners. Our estimates also agree with the growth expected for the players in the industry, especially Halliburton which has been outperforming the industry in growth and liquidity and proving that it is one of the best buys that can give the investors great returns.
Disclosure: I have no positions in any stocks mentioned, and no plans to initiate any positions within the next 72 hours. I wrote this article myself, and it expresses my own opinions. I am not receiving compensation for it (other than from Seeking Alpha). I have no business relationship with any company whose stock is mentioned in this article.
Additional disclosure: Equity Flux is a team of analysts. This article was written by our Basic Material analyst. We did not receive compensation for this article (other than from Seeking Alpha), and we have no business relationship with any company whose stock is mentioned in this article.