Since my previous mention of Baidu Inc (NASDAQ:BIDU) in a piece entitled "3 Reasons Baidu Is A Buy", published April 22, 2013, shares are up more than 88%.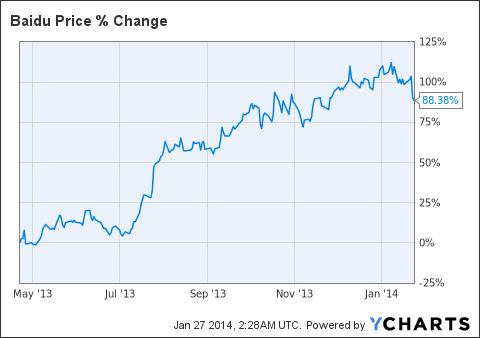 Valuation
In my previous piece, one of the primary reasons why I was bullish on BIDU was valuation. At the time, BIDU was trading at just under 16 times forward earnings. Currently, BIDU trades at 32 times forward earnings. Due to this, based on BIDU's historical valuation range, BIDU is no longer cheap. However, this does not mean that BIDU is terribly expensive either. Rather, I think it is fair to say that BIDU is currently being valued somewhere towards the middle of its historical valuation range. In addition to no longer being cheap based on historical valuations, BIDU is no longer cheap relative to its peers, Google (NASDAQ:GOOG) and Yandex (NASDAQ:YNDX). For these reasons, valuation is no longer a reason to be bullish on BIDU.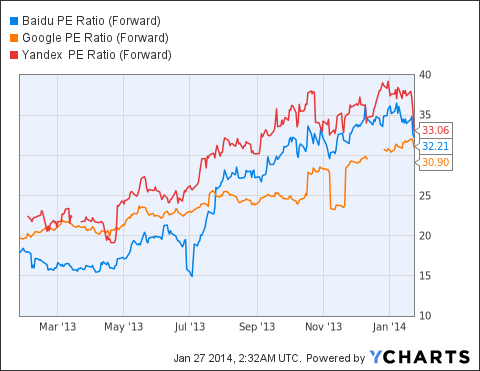 BIDU PE Ratio (Forward) data by YCharts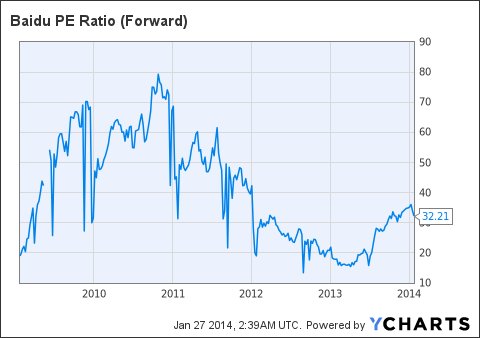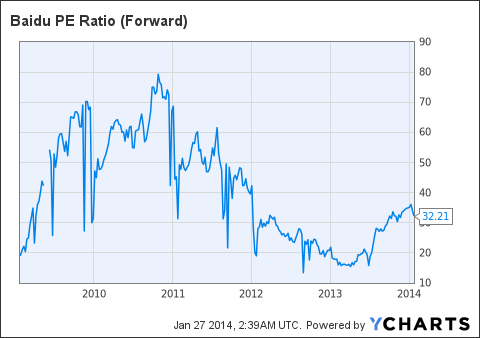 BIDU PE Ratio (Forward) data by YCharts
Google To Enter China?
At Davos, Google Chairman Eric Schmidt talked about how Google might enter China whether the Chinese government wants Google there or not. The idea is that Google could use encryption technology to penetrate countries with strict censorship rules such as China and North Korea. I do not know enough about technology to say how likely this is to actually happen. However, the fact that Schmidt has discussed the ideas means there is some chance of Google entering China due to encryption technology.
Fortunately for Google, the company may actually be able to enter China under more normal circumstances in coming years. As part of its Shanghai Free Trade Zone, Chinese authorities have said that the plan is for the zone to eventually have completely open internet service, which would imply that Google would be accessible. However, progress towards this goal appears to be moving quite slowly and open internet access may be years away.
While the idea of Google entering China today might be far fetched. I think the chances are high that Google will ultimately be unblocked in China at some point in the next 5-10 years.
Implications For Baidu
BIDU currently dominates the Chinese search market with more than 63% of the market. However, if Google were to enter China I believe BIDU would lose a significant proportion of its market share. Simply put, if Google is able to enter China, BIDU will likely get hurt. Moreover, the market will likely begin to discount the impact of such a possibility well before it actually happens.
Conclusion
After a tremendous rally, I believe it may be time to take some profits on BIDU. Simply put, the risk/reward is not as favorable as it was when BIDU was trading at half the forward PE ratio that it currently trades at. BIDU is no longer cheap relative to its own historic norms and no longer cheap relative to its peers. In addition to no longer being attractive based on valuation, I believe the possibility that Google could enter China may soon become a headwind for BIDU shares.
Disclosure: I have no positions in any stocks mentioned, and no plans to initiate any positions within the next 72 hours. I wrote this article myself, and it expresses my own opinions. I am not receiving compensation for it (other than from Seeking Alpha). I have no business relationship with any company whose stock is mentioned in this article.