A majority of companies in the oil, drilling and exploration business don't manufacture their own equipment. This fact is even true of "big oil," leaders in the industry like Chevron (NYSE:CVX) and Exxon Mobil (NYSE:XOM). The truth is that these leaders depend upon engineering and industrial partners to manufacture and operate the hardware needed to cultivate their core products, so their oil rigs and pipelines are created and serviced by others. Organizations that provide the equipment and infrastructure needed to keep the oil industry functional, as well as the know-how and personnel experienced enough to manage such undertakings, are essential to the big oil companies as they continue to explore, collect and move oil and natural gas to those places that depend on their supplies.
The overall worldwide economic outlook in the industry remains largely the same, with fundamentals continuing to strengthen in the U.S. and Asia, and Africa seemingly set for stronger growth, while Europe is making milder strides. These positive effects should prevail over lower growth in some developing economies and aid a continuing rebound throughout the entire world economy. Consequently, predictions for oil demand in 2014 have been improved and reflect the highest demand and growth seen in a number of years.
Most companies in the energy sector are looking to increase investments and enhance future growth opportunities within the next two years. There is also an increasing demand that is enhancing revenue of oilfield services companies. Consequently, these companies have generated solid growth in revenue and earnings over the past two or three quarters. In this article, I look at National Oilwell Varco (NYSE:NOV), one of the best companies operating in the oil field services industry. This company has generated record growth in fiscal year 2013 with solid performance. As a result, its stock has reached 52-week highs during the year. This article explains whether National Oilwell Varco is a good stock to buy in the oil field services industry.
Business Model
National Oilwell Varco is a global leader in the manufacture and sale of equipment used in oil and gas drilling and production, and supply chain integration services to the upstream oil and gas industry. It also provides oilfield services. The company operates in three business segments: Rig Technology, Petroleum Services & Supplies and Distribution and Transmission. Its rig technology division designs, manufactures and sells full-scale systems for the drilling and servicing of oil and gas wells. The company has made investments and strategic acquisitions during the last few years in order to expand its product offering. Petroleum Services and Supplies is the second major business division of the company. This division offers a variety of hard goods and services used to drill, complete, remediate and maintain oil and gas wells and to service drill pipe, tubing, casings, flow lines and other oilfield tubular goods. The petroleum Services and Supplies segment has benefited from numerous strategic acquisitions and investments over the last few years, including additional operations opened in the Canada, United States, the United Kingdom, China and Brazil, among others. Finally, the company is looking to spin off its Distribution and Transmission business divisions into separate companies in order to enhance operational flexibility and to focus better on specific products and services.
Is National Oilwell Varco a Good Stock A Buy?
With the improvement in drilling activities and aggressive investments from oil and gas companies all over the globe, the company has been achieving solid gains in revenues and earnings over the past three quarters. All three of the company's divisions are generating massive growth both in top and bottom line. At the end of thr recent quarter, National Oilwell Varco has achieved a massive revenue growth of 16% to $3.31 billion. The company's revenue coming from a backlog of demand in the drilling segment enlarged 20% sequentially and improved 14% year-over-year, to $2.52 billion at the end of the recent quarter. The Petroleum Services & Supplies division also gained momentum over the past two quarters. At the end of Q4, the company was able to achieve 6% growth in its top line, putting it at $1.93 billion over Q3. With cost management measures, the segment's operating profit grew 13% over the third quarter. However, the Distribution and Transmission segment growth was not as solid as the others as a result of low gas prices and slow activity from the gas companies, but on the whole, the company has had a solid year with strong financial performance and remains in a good position with a solid pipeline for future business.
Solid growth in both the top and bottom lines enhance its potential to generate massive cash flows. In the trailing twelve months, operating cash flows reached record levels of $2.6 billion and free cash flows are now at $1.9 billion. The company's free cash flows are providing full coverage to its dividend obligations, and the company has increased its dividends by 100% to $0.26/share. The company is only paying $334 million in dividend payments which also enhances its potential to invest in growth opportunities. With a massive amount of cash, the company is not dependent on external sources to make investments. Therefore, its debt-to-equity ratio is low at only 0.2 while the industry average is at 0.4. Further, its payout ratio is still very low at only 14%, offering a lot of room for future increases.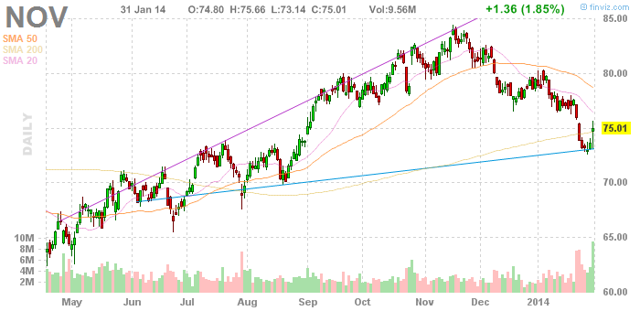 With all the positive results, the stock gained momentum over the year and reached a 52-week high in the process. At the moment, the company's stock is trading at $75/share which is well below its 52-week high of around $85/share. National Oilwell Varco looks undervalued to me, trading at only 13.8 times-to-earnings and only 1.5 time-to-book value. With a record drilling back log of $16.24 billion and $3.61 billion of new orders from oilfield companies, the company is set to generate big profits in 2014. Also, the company is going to spin off its distribution business in the second quarter of 2014. This spin off will reduce excessive burdens from the company and allow it to focus on its core business which will definitely enhance its profits in 2014.
Where Other Players Stand?
National Oilwell Varco's main industry peers are Halliburton Company (NYSE:HAL) and Schlumberger (NYSE:SLB).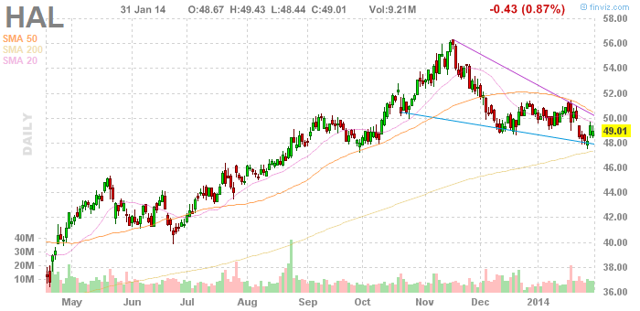 The improvement in drilling activities all over the world is enhancing growth for these oilfield services companies and Halliburton is no exception as it is one of the major players operating in this industry. The company offers services and products for the exploration and production of natural gas and oil. It has generated record revenue in each international region at the end of fiscal 2013. Also, it reached a record operating income in Middle East/Asian countries for six of its 13 product lines. This strong performance has allowed it to increase dividends to 0.15/share. In addition, due to its massive amount of cash flows, Halliburton is aggressively working on a buyback program which I believe will impact both its dividends and EPS, along with the share price. After having a strong ride, its stock is going back to a normal level which is an opportunity for investors to initiate a position. The company has strong potential to again keep its upward momentum as the company is looking to generate double-digit growth in 2014.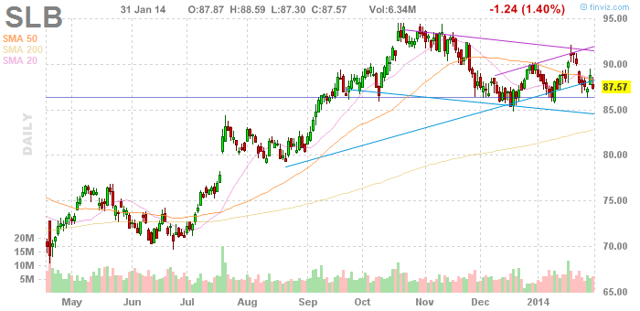 Schlumberger is a supplier of technology, information solutions and integrated project management to the oil and gas industry globally. Schlumberger also has had a great 2013 with record earnings. Consequently, the company has increased its dividends by 28% to $0.40/share. At the moment, Schlumberger is trading at attractive multiples. Its stock is trading at 17 times-to-earnings when the industry average is at 21 times-to-earnings. In addition, the analysts cite a mean target price of $104/share for the company's stock. Further, with an extensive geographical footprint, a well-balanced business portfolio and solid operational structure, Schlumberger is looks like a solid pick for 2014.
In Conclusion
The oil field services industry is at the top as energy companies continue to massively invest in growth opportunities. National Oilwell Varco is well set to generate big profits as its rig technology and petroleum businesses have a record back log. The company also is spinning off its lower profit division which will enhance its earnings in 2014 by allowing it to focus on its core business and products. Finally, National Oilwell Varco is trading at a discount compared with its peer group and looks like a good buy.
Disclosure: I have no positions in any stocks mentioned, and no plans to initiate any positions within the next 72 hours. I wrote this article myself, and it expresses my own opinions. I am not receiving compensation for it (other than from Seeking Alpha). I have no business relationship with any company whose stock is mentioned in this article.