Once a company becomes large enough, very few can understand all of the mechanisms, which make the business tick. The theory is that each entity, or segment, which comprises the business acts in a selfless way, which adds to the value for the shareholders of that company. Therefore, with a company like IBM, I am not going to pretend to understand the business segments in-depth. However, the aggregate output of such a large and stable company speaks volumes as to what the company is worth. In my opinion, International Business Machines (NYSE:IBM) is worth between $278 and $292 per share under the assumption that it has the capacity to pace growth with inflation.
Most articles will wait until the end to unveil the curtain on the value of the stock, but I chose to tell you now for two reasons. The first being that I want you to see where we are going before we get there and the second, to let you know that there indeed is a finite value as opposed to taking a "long" position with no end price in sight.
As a value investor, I follow Warren Buffett and he himself is an advocate of IBM despite his career track-record of avoiding technology stocks. I am choosing to use him to vouch for the qualitative "goodness" of IBM, including their business direction and leadership. Therefore, it is my goal to provide a quantitative/analytical reason to invest in IBM.
The chart below shows IBM's P/E Ratio as a percentage of the S&P 500 P/E Ratio from 2004 to the current trailing twelve months. It is obvious from this graph that IBM has fallen out of favor with investors. However, with a current P/E Ratio to S&P P/E Ratio of 66%, it is well below historic lows and should represent an excellent entry point.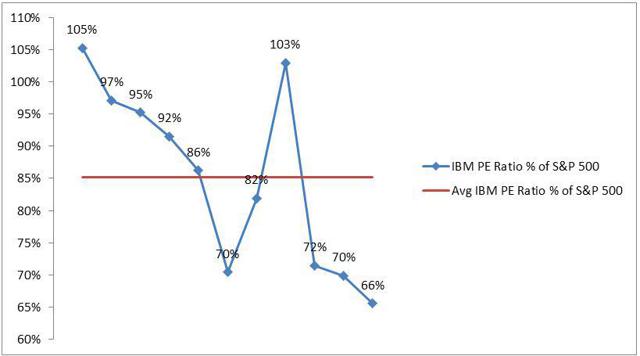 All potential value stocks display similar characteristics, low valuation ratios, a reasonably high percentage off of 52-week highs, and very close to, if not at 52-week lows. The diligent investor will identify stocks with these characteristics and apply logic to understand if the valuations are justified. Most of the time "comparable" ratios of similar companies are applied, essentially saying that the company of interest is similar enough to another company, which has a higher ratio so the market should value the company of interest at a higher market cap. I find several flaws in this methodology. What if the comparable company is currently mispriced? To answer that question you would need to research and value the comparable company to justify it being a comp. But why should you value two companies? My methodology is simple and absolute, nothing relative about it. I look at a business and ask myself a simple question: "If the business maintained a growth of inflation, what would it be worth today?"
In order to answer this question I deploy two quantitative methods, the first being the Discounted Free Cash Flow Model, and the second being the Residual Income Model. This allows for multiple vantage points, the Income Statement and the Cash Flow Statement. It is a good sign when both of these methods show some convergence on a price.
The Residual Income Model relies upon the ability of a company to generate abnormal earnings. Abnormal earnings are defined as income above the required income to satisfy the equity investors in the company. Below is a summary of the numbers used to establish a stock value of $292 using the Residual Income Model, which at the time of writing this article represents approximately a 69% upside.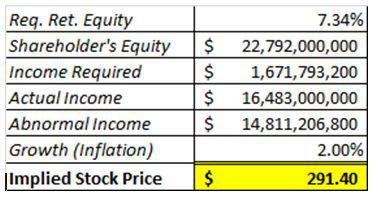 The Discounted Free Cash Flow Model is the other common tool used to acquire an absolute value of a stock as opposed to a relative valuation. The theory states that a company's market cap is equal to the present value of the Future Free Cash Flows + Cash and Short-Term Investments - Long-Term Debt. Below is a summary of the numbers used to establish a stock value of $278 using the Discounted Free Cash Flow model, which at the time of writing this article represents approximately a 61% upside.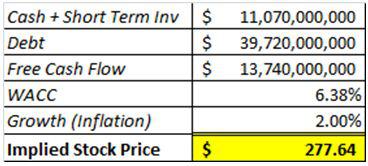 The next check I do is to understand what growth rate would be needed to support the current market price. After doing the math, it suggests IBM would need to drop in earnings by 1.82% every year to justify the current stock price. Using the Discounted Free Cash Flow Model, Free Cash Flow would have to decrease by 0.15% every year to justify the current stock price. These are offensive when compared to the history of IBM. Additionally, analysts who cover this stock estimate that yearly earnings growth will be as shown in the table below:

These estimates are well above the implied rate of growth (or decay) required to justify the current stock price.
The analysis that I provided suggests that there is very minimal downside to IBM when you compare the implied growth (or decay) rate required to maintain the current stock price to analyst estimates. The market is overly pessimistic about IBM's situation and is stating that IBM is going to decrease earnings every year on average of 1.82%, while analysts who follow the stock are stating quite the opposite. This tells me that the drop in stock price is purely emotional and is an excellent entry point for investors looking for steady long-term gains from a company with the approval of Warren Buffett.
Disclosure: I have no positions in any stocks mentioned, but may initiate a long position in IBM over the next 72 hours. I wrote this article myself, and it expresses my own opinions. I am not receiving compensation for it (other than from Seeking Alpha). I have no business relationship with any company whose stock is mentioned in this article.