As signs of major rotation of capital moves from risk-on trades to risk-off trades escalate, US Treasuries and precious metals stocks have moved higher from the close of 2013 trading. Substantially leading the pack is none other than the most hated, battered and ridiculed sector of the past two years-junior mining companies.
And among the cream of that crop of investor attention and price performance so far this year are three stocks: Golden Star Resources (NYSEMKT:GSS), Alexco Resources (NYSEMKT:AXU) and McEwen Mining (NYSE:MUX).
Each one of these stocks has not only clobbered the S&P500, each has seriously outperformed the HUI and beat the GDXJ by at least a nearly two-to-one percentage return since the close of 2013.
Below, are the results of the biggest movers in the GDXJ at the close of the first month of trading in 2014.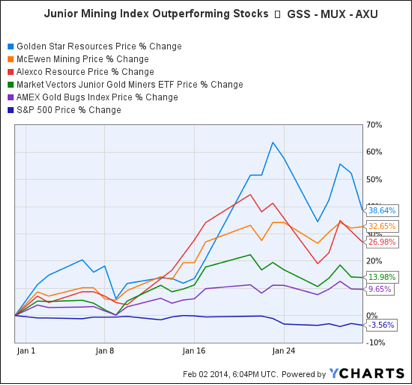 Golden Star Resources - $0.61
Market Cap: $158.05 million
Forward P/E: N/A
Price-to-Book: 0.79
Revenue: $521.47 million
Cash: $66.64 million
Current Ratio: 1.12
Operating Cash flow: $76.74 million
% Held by Insiders: 0.55%
% Held by Institutions: 0.30%
Source: Yahoo Finance
Golden Star operates two mines in Ghana, the Bogoso and Wassa, where the company holds a 90% of each mine. The company also holds a 90% interest in Prestea underground mine in Ghana. The other 10% stake in the two operating mines and Prestea development project is held by the Ghana government.
Operationally, the company has responded to lower per-ounce gold sales with cost savings at its Wassa and Bogoso projects, with cash costs reaching a low of $900 - $950 per ounce and $1,000 to $1,050 per ounce, respectively. These per-ounce costs are approximately 25% lower against the industry average of $1,250 to $1,350, according to a Citigroup research report about the industry released late last year.
The company reported 330,806 gold ounces sold during fiscal 2013, down slightly from 331,378 ounces sold during fiscal 2012.
In the third quarter of fiscal 2013, the average ounce sold yielded $1,329. The company reported a penny per share profit for the quarter.
Assuming a gold market rally in 2014, the company is poised to increase gross margin and net income substantially from an expected approximately 4.7% increased in ore production from both the Wassa and Bogoso projects, as well as maintain lower operating costs at both facilities.
At an average gold sales price per ounce of $1,350 (a 6.3% increase from today's $1,270 per ounce price), Golden Star could generate approximately another $20.9 million of net income in fiscal 2014, or 7.7 cents per share, achieving profitability following three straight years of net losses.
Alexco Resources - $1.60
Market Cap: $100.12 million
Forward P/E: N/A
Price-to-Book: 0.99
Revenue: $76.01 million
Cash: $8.07 million
Current Ratio: 2.38
Operating Cash flow: -$2.87 million
% Held by Insiders: 12.34%
% Held by Institutions: 28.40%
Source: Yahoo Finance
Alexco Resource Corp. operates the Bellekeno silver mine in the Keno Hill Silver District of Canada's Yukon Territory. The company also provides mine-related environmental services, remediation technologies and reclamation services to public and private clients through its wholly-owned Alexco Environmental Group.
At approximately 25.1 ounces of silver per ton mined, the company's Bellekno mine offers rich deposits and potential for expanded operations As of the close of the third quarter of fiscal 2013, the company reported a 13% increase in throughput despite a interim and relatively brief shutdown. Of the 90 days in the quarter, 64 days of mining were achieved, suggesting a rate of increase of 18.3% in additional processed material attainable in future quarters.
Using Alexco's third-quarter results, an average silver price sold of $25 in fiscal 2014 would yield revenue of approximately $90.93 million, plus an estimated $8.0 in revenue from the company's Alexco Environmental Group. Under that scenario, fiscal 2014 net income is estimated to reach $9.3 million, or 14.9 cents per share.
It should be noted, that insiders and institutions, collectively own 40.74% of Alexco's total outstanding shares.
McEwen Mining - $2.60
Market Cap: $772.61 million
Forward P/E: 65.75
Price-to-Book: 1.02
Revenue: $41.24 million
Cash: $31.06 million
Current Ratio: 4.47
Operating Cash flow: -$68.66 million
% Held by Insiders: 12.52%
% Held by Institutions: 39.70%
Source: Yahoo Finance
McEwen Mining operates four mines: a 49% interest in the San Jose mine in Argentina, the El Gallo facility in Mexico, the Gold Bar Project in Nevada. and the Los Azules Project in Argentina. In addition, the company holds exploration properties in Argentina, Nevada and Mexico. The company's principal owner, Chairman, and CEO is Robert McEwen, a well-known, respected and experienced operator within the mining space.
McKewen reported revenue of $11.7 million and a $3.26 million net income for the third quarter, or a penny per share.
The company expects a similar net income in 2014. However, 2015 should produce meaningful financial results, with expectations of a 29% increase in gold-equivalent ounces sold from production at its 100% wholly-owned El Gallo I mine, calculating to an additional full-year profit of approximately 11.3 cents per share.
Below, the company indicates rapid production increases. However, McKewen's guidance for 2014 forecasts only a slightly higher production rate of mined gold and silver of 2.3% and 2.9%, respectively. The company anticipates all-in production costs to remain between $1,100 and $1,200 per ounce of gold sold.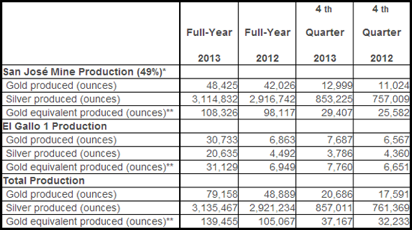 McKewen reports an aggregate 52.0% of shares outstanding held by insiders and institutions. Robert McKewen receives no salary from the company.
Disclosure: I have no positions in any stocks mentioned, but may initiate a long position in AXU, GSS, MUX over the next 72 hours. I wrote this article myself, and it expresses my own opinions. I am not receiving compensation for it (other than from Seeking Alpha). I have no business relationship with any company whose stock is mentioned in this article.