The January, 2014 edition of AAII Journal, published by the American Association of Individual Investors, contains their annual review of the 65 stock screens on AAII.com. As the Editor's Note says, the screens are based on the methodologies of many famous investors.
As a dividend growth investor, I bring a bias to articles like this. I want to know how they can help me in my quest to build an optimized income stream for retirement. By "optimized," I mean that it is large enough (for me), grows faster than inflation, and is reliable.
Although the organization offers a dividend investing newsletter, I think it is fair to say that AAII is a total-return "shop." That perspective is reflected in their stock screens and their annual review. The screens are divided into eight categories, but none is devoted to dividends or dividend growth. The categories have names like Value, Growth, and Growth & Value, with each of those three paired with a cousin that adds Price Momentum to the screen.
In the Journal article, AAII provides performance tables for the screens, but the tables reflect only price performance. The article is clear about this: "[T]hese performance numbers do not include dividend payments or dividend reinvestment." Within each category, the screens are sorted according to their percentage price gain in 2013 (returns for 2012 and 2011 are also shown). The best-performing screen in 2013, according to price performance in 2013, was a screen called Piotroski: High F-Score. It had a price gain of over 140% through November 30, 2013. (It also lost 36% in 2011.)
In reviewing the screens by their names alone, it was easy to find 4 screens that mention "dividend" in their titles. Here are those, with a brief description of each provided online.
Dividend (High Relative Yield): Using the dividend-yield approach to invest during volatile markets.
Weiss Blue-Chip Div Yield: A conservative, blue-chip investment style with Value approach with an emphasis on selecting stocks with favorable dividend yields.
Dividend Screen: DRPs: A screen for stocks with DRPs (dividend reinvestment plans).
Dividend Screen: Non-DRPs: A screen for stocks with DRPs (dividend reinvestment plans). (I think they meant to say without dividend reinvestment plans.)
The AAII stock screen website provides a one-page article about each of these screens beyond the brief descriptions shown above. For example, the Weiss screen is based on the writings of Geraldine Weiss (who wrote Dividends Don't Lie, which is out of print, but which is sometimes cited as an influential book by some commenters here). The following disclaimer is typical:
The Weiss Blue Chip Div Yield Screen represents AAII's interpretation of the investment approach and is not determined by the original strategist. The list of passing companies represents a hypothetical portfolio, which is used to track the screen's performance on a chart.
The website also provides details about the factors that each screen uses.
Apparently because of its non-dividend-centric viewpoint, AAII provides little information about dividend performance for portfolios constructed from these screens. Its charts are all seemingly price-only charts, the same as in the Journal article. Here, for example, is the chart for the Weiss screen.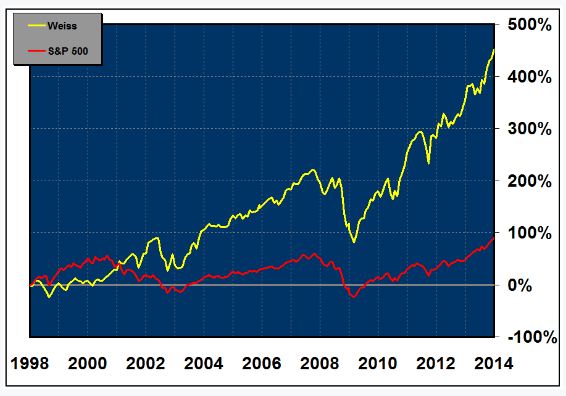 I was unable to locate information about the yield of the screen, although the yield for each stock is listed. Interestingly, at the moment, only 6 companies are in the Weiss portfolio. The yield on these ranges from 1.3% to 3%, according to the website. Obviously, the yield for the whole portfolio this month is under 3%.
As a dividend growth investor, I think it is a shame not to display more dividend information. In addition to detailed dividend information, I would like to see total return charts that include dividends and dividend reinvestment. The lack of the latter is particularly ironic for the DRP portfolio, given that it holds only stocks that offer dividend reinvestment plans. Here is the chart that includes both the DRP and Non-DRP screens.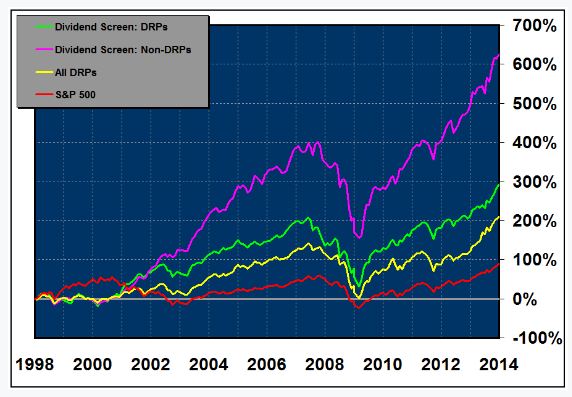 As dividend growth investors know, dividend reinvestment provides quite a boost to returns, and most dividend growth investors who are not living off their dividends do reinvest them, either automatically through dividend reinvestment plans or selectively by accumulating the dividends to a trigger amount such as $1000.
To illustrate the impact of dividend reinvestment, here is the chart from ETF replay for SPY, an ETF that tracks the S&P 500. The data in this chart starts in 2002.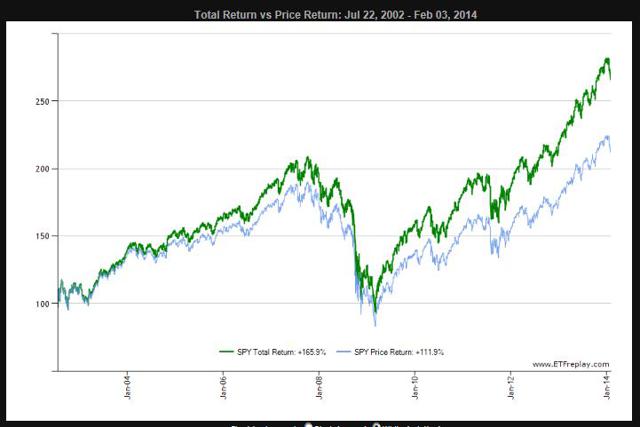 As you can see, reinvesting dividends increased the return of SPY by nearly 50% for the timeframe shown. Showing a "dividend" portfolio's performance based on price only tells just a part of the story.
In the Journal article, each portfolio's turnover is shown. Apparently the portfolios are reconstituted each month, because (from the text) it is apparent that the turnover displayed is per month. The four portfolios listed above have monthly turnovers of 20%, 25%, 26%, and 28%, respectively.
I think it is fair to say that few individual investors would actually reconstitute their portfolios that much. Transaction costs would be killers. In a 30-stock portfolio, for example, a turnover rate of 20% per month would mean the replacement of about 72 stocks per year. At $8 per trade, that would be an expense of $1152 per year, not to mention the constant activity that is usually opposite of how dividend investors want to manage their portfolios.
In the end, I concluded that the AAII screens are of little use to dividend growth investors other than to see the specific screening criteria and what stocks are in the portfolios - in other words, they can be used as idea generators.
Only one stock was mentioned as passing three screens at the present time: Helmerich & Payne (NYSE:HP). Eight stocks passed two screens:
Many common stocks held by long-term dividend growth investors were not on any of the four screens - such as Coca-Cola (NYSE:KO), McDonald's (NYSE:MCD), or Johnson & Johnson (NYSE:JNJ). Of course, since the screens change each month, I imagine that a smorgasbord of stock ideas becomes available if one checks back each month.
To my mind, though, a far better source of ideas is David Fish's Dividend Champions document. That document is also updated monthly, but unlike the AAII screens, the stocks in it usually remain for a long time. They are dropped only if they cut their dividend, are merged out of existence, and similar reasons. There is nothing like a 20%-per-month turnover rate. If you are skilled in Excel, you can use the spreadsheet to make your own screens, or you can accomplish the same thing with a yellow highlighter.
Disclosure: I am long MCD, KO, JNJ. I wrote this article myself, and it expresses my own opinions. I am not receiving compensation for it (other than from Seeking Alpha). I have no business relationship with any company whose stock is mentioned in this article.